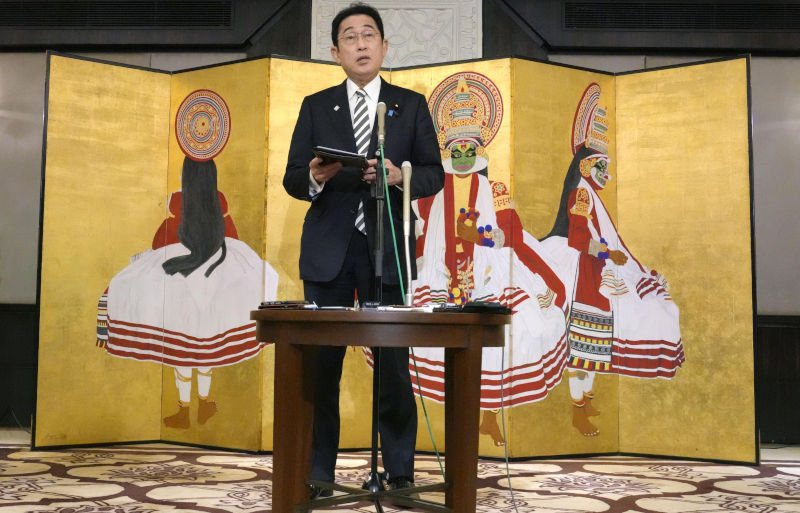 In Asian Media this week: Japan woos Global South to counter China. Plus: Xi's Moscow visit – China plays it cool; Would Anglosphere nations welcome others in Aukus?;  US Mid-East power waning; Sri Lanka gets aid, with conditions; media present differing views on China.
Japan's Fumio Kishida has backed up his decision to double the country's defence budget with a diplomatic offensive.
The Japanese PM tried to put his stamp on the concept of a "free and open Indo-Pacific" during a visit to India this week.
His plan included a promised $US75 billion in investments to aid economies in the region – and beyond.
The Japan Times said Kishida aimed to bolster ties with countries of the Global South.
"The plan… was widely seen as a bid to counter Beijing's attempts to expand its influence among developing nations," the paper said.
An editorial in The Hindu newspaper said the timing of Kishida's meeting with Indian PM Narendra Modi was pointed, coinciding with Xi Jinping's visit to Moscow.
The paper said an end to the Ukraine war and opposition to China's aggression in the neighbourhood were common goals.
"However, it would be wrong to assume that they share common positions on them," the editorial said.
"Unlike India, Japan is part of the US's alliance. Japan has also joined sanctions against Russia, while India has refused to do so.
"…[A]ny shift in New Delhi's tightrope balancing act on geopolitical issues would seem a stretch."
Note: After his trip to India, Kishida made a visit, planned in secret, to Kyiv for talks with Volodymyr Zelenskyy. He is the last G7 leader to meet the Ukrainian president.
The Asahi Shimbun newspaper said Japan's support for Ukraine centred on humanitarian aid and help with reconstruction efforts.
It said that in helping Ukraine Japan should continue to draw on its experience and know-how as a nation that had embraced pacifism since the end of World War II.
Xi's visit more show than substance
Before Xi Jinping's meeting with Vladimir Putin this week, Western media speculated that the Chinese leader would try to burnish his peace credentials by pushing his Ukraine war peace plan.
Alternatively, some followed US official warnings that he might start selling weapons to Russia.
Jonathan Eyal, global affairs correspondent of Singapore's The Straits Times, noted the visit did not include a diplomatic effort to end the war. And there was no hint of Chinese military deliveries to Russia.
A joint statement by the two leaders included shots at the West over Ukraine, effectively backing Putin's stance.
But overall the meeting was an attempt to provide political support for Russia while not unduly angering the US.
The joint statement said the close partnership between the two countries did not constitute a "military-political alliance", did not have a "confrontational nature" and was not "directed against third countries" – phrases, Eyal said, that were undoubtedly inserted at China's insistence.
These qualifications were duly included in reports by the official English-language newspapers, Global Times and China Daily.
Global Times said relations between the two countries were not a Cold War-style military-political alliance and China Daily reported Foreign Minister Qin Gang as saying the visit was a historic trip of friendship, peace and co-operation.
Hong Kong's South China Morning Post said the two leaders agreed to work together on a wide range of issues in Southeast Asia, the Middle East and Latin America.
Plea for Aukus to become Jaukus
As a close US ally and member of the Quad security grouping, Japan could be expected to look favourably on Aukus. And an editorial in the Japan Times newspaper has backed the pact, saying the US and its allies need extra capabilities to maintain regional peace and stability.
Its assessment of the purpose of Aukus is more direct than some Australian commentaries. "The ambitious project is designed to help check China's growing power in the Indo-Pacific," the editorial says.
But, it says, one criticism of Aukus deserves attention – that it represents the reassertion of the Anglosphere. "There is something anomalous about an alliance of just those three nations in this part of the world," the editorial says.
"Australia, the US and the UK should consider taking on other partners, to share the fruits of the pact and to soften its image.
"Aukus can be a bulwark of regional security but it will be even more effective with additional partners," it says. "Japan among them."
Shifting sands of the Middle East
The US has long regarded the Persian Gulf as an exclusive sphere of interest – as president Jimmy Carter declared in 1980. But the Carter Doctrine has practically come to an end with the agreement for Saudi Arabia and Iran to normalise relations, a deal brokered by China.
The US over the past 20 years has made a host of mistakes, says an analysis in The Hindu newspaper by journalist Stanly Johny. This has led to a decline in its overall influence and a policy recalibration by its old allies.
The mistakes were: the invasion and occupation of Iraq in 2003; its reluctance to become involved in the Syria civil war, ceding influence to Russia and Iran; and the decisions to reach the nuclear-program deal with Iran, only to later rescind it.
"It is too early to say whether the regional realignments, including the Saudi-Iran reconciliation, would survive the famously fractious geopolitics of West Asia," the article says.
"But there are three constants in this whirlwind – America's declining ability to shape geopolitical outcomes in the region, China's continued rise and a growing appetite for the US's allies to make autonomous foreign policy choices.
"This is new terrain for America in West Asia."
An article in Hong Kong's South China Morning Post says Beijing deserves credit for seizing the opportunity to support Saudi-Iranian rapprochement. The opinion piece by Raffaello Pantucci, a senior fellow at Singapore's S. Rajaratnam School of International Studies, says the agreement highlights the appeal of Beijing's foreign policy approach to a bigger audience than is appreciated in the US and Europe.
"The world order might not have been transformed but it is shifting," Pantucci says.
"The West needs to find a better way to answer the offer Beijing is putting on the table than simply dismissing it.
"The deep skepticism many Chinese efforts receive is understandable but it misses the reality that this is not how the rest of the world always sees things."
Big creditors back Sri Lanka debt restructuring
Sri Lanka has a chance to start digging its way out of its deepest economic crisis since independence 75 years ago.
The country has gained a $US3 billion loan from the International Monetary Fund.
Rohini Mohan, India correspondent of The Straits Times, reported the bailout gave Sri Lanka access to $US7 billion, with extra funds coming from such institutions as the World Bank and the Asian Development Bank.
China, India and Japan, the biggest bilateral creditors had guaranteed to support debt restructuring.
The IMF programme required that the government work towards economic recovery targets – boost revenue, raise electricity and fuel prices to reflect costs, sell off loss-making public enterprises, bring in a property and wealth tax, recover stolen state assets and introduce anti-corruption laws.
China – a threat or a challenge?
Media in Asia publish as a matter of course differing views of China and its role in the region. Here are three examples this week.
"In the Middle East, China seeks peace but in the Himalayas and the South China Sea, China has been behaving like a bully" – an article in India's The Statesman.
The piece was written by Narain Batra, who is affiliated with Norwich University, an American military college. Batra says China made itself indispensable to Barack Obama in dealing with North Korea, climate change and other issues.
"The United States lowered its guard (and) overlooked what was happening in the South China Sea," he says. "China plays a long-term game. Its slow and gradual manoeuvres leave its opponents puzzled as to what kind of response would be proportionately adequate."
"China's efforts to bully its neighbours in acquiescing to its demands and preferences have not only failed; they have led to the emergence of a kind of anti-China coalition" a Project Syndicate article published in several outlets, including Bangkok Post, The Japan Times and The Korea Herald.
The writer, Yoon Young-Kwan, a former South Korean foreign minister, worries that the dynamic that led to World War I, when Germany challenged Great Britain and France might be at play now.
"Ensuring that dark history of the 20th century does not echo today will require sound judgment from both sides," Yoon says.
"China must recognise the fear it has incited with its bullying and democracies across the Indo-Pacific must take care to ensure that their responses do not heighten tensions excessively."
"Most countries in Southeast Asia are democracies and while China presents challenges, such as territorial disputes in the South China Sea, it is not seen as an existential threat. These challenges should be managed diplomatically" – an opinion piece in the South China Morning Post.
Peter T.C. Chang, deputy director of the Institute of China Studies at Kuala Lumpur's University of Malaya, says Asean is not taking sides in the US-China rivalry.
"Southeast Asia's pluralistic world view holds that liberal democracy is not the only way to achieve good governance," Chang says. "Just as the world is multireligious, the ideological landscape should also be diverse.
"No one religion or ideology has a monopoly of virtue and few are inherently evil. The responsibility lies with both democracies and non-democracies alike to strive towards their ideals."