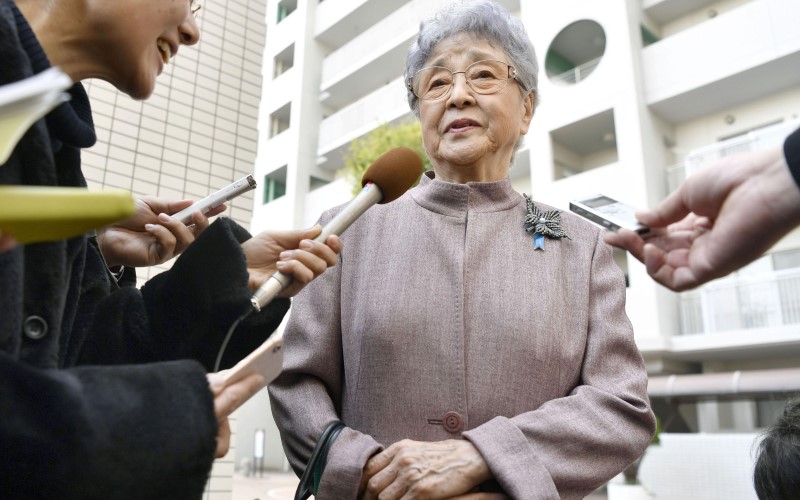 Japan's commitment to a campaign to return citizens abducted by North Korea decades ago betrays its desire to ensure North Korea remains an enemy.
Japan has just finished its Save the Abductees Week. Using symposia, posters, and conferences Tokyo still seeks to mobilise national opinion for the rescue of some Japanese said to have been abducted from Japan in the late 1970s/early '80s by North Korea.
If still alive today, their average age would be close to 80. But Tokyo insists they must all be searched for and returned to Japan.
North Korea admits to having abducted some Japanese citizens in the past. Agents on spy-ships would randomly abduct Japanese from beaches and byways.
The purpose was never clear. Some may have been used to provide false identities in spy operations, but Pyongyang already had a large army of Koreans long resident in Japan and able to handle that work.
Most of the known abductees seemed to have ended up as translators. But North Korea with its several million population educated in Japanese during Japan's long era of colonial domination ending only in 1905 would not seem to have a sudden need to import monolingual Japanese to translate for them.
In any case the numbers abducted seem to have been so small as to be irrelevant (North Korea at the time was much more interested in smuggling drugs into Japan rather than stealing Japanese civilians.)
Even so Tokyo was determined to follow up on the rumours of abducted citizens firmly denied by Pyongyang and pro-Pyongyang elements in Japan. A senior Japanese Foreign Ministry (MOFA) official, Tanaka Hitoshi, was delegated to negotiate in secret with a Mister X, a Pyongyang insider said to be close to North Korean leader Kim Jong-il.
The negotiations seemed to succeed. In September 2002 Tokyo was able to announce that Kim had apologised for the illicit ship operations and had admitted North Korea had abducted or otherwise held 13 Japanese citizens. Eight had died. The remaining five — two married couples and the Japanese wife of a US deserter — could visit  Japan.
To mark what was seen as a major negotiating success, prime minister Koizumi Junichiro would visit Pyongyang immediately for a summit meeting with Kim to confirm the abductee return arrangements. In addition he would sign a remarkably dovish document — the Pyongyang Declaration — in which it was promised that:
Japan would express "deep remorse and heartfelt apology" for the tremendous damage and suffering it caused the people of Korea through its past colonial rule;
Pyongyang would apologise for abducting Japanese citizens;
Relations would be normalised;
Japan would provide North Korea a variety of economic and humanitarian aids;
Both sides would co-operate "to maintain and strengthen the peace and stability of North East Asia"; and
North Korea would place a moratorium on its missile-launching activities.
In 2014 Koizumi made another visit to North Korea to reaffirm the Pyongyang Declaration. He was also to collect the promised five abductees. Their arrival in Japan was a major media event.
But Japan's powerful right wing was not happy. With the Koizumi delegation to Pyongyang in 2002 had been the hawkish deputy chief cabinet secretary Shinzo Abe. Even before his return to Japan he had begun to claim North Korea was holding many more abductees than it had admitted to.
As early as January 2003 the government began to claim it had firm evidence North Korea had in fact abducted 17 Japanese citizens, with another 875 possible abductees to be accounted for.
Tokyo also decided that the five Japanese brought to Japan in 2004 by Koizumi would not be allowed to return to their families in North Korea — a move which Pyongyang saw as a serious breach of the original 2002 agreements.
Tokyo said the families would have to come to Japan.
Tokyo also began to make repeated demands for North Korea to search for other alleged abductees. Pyongyang would dutifully agree to search but claim zero results. (Tokyo found one, dead under a boat near where I live.)
In 2019 North Korea's new leader Kim Jong-un decided to cancel the declaration his father had signed in 2002.
Meanwhile a new issue had emerged. Tokyo had placed enormous emphasis on the fate of one Megumi Yokota, known to have been abducted from a beach in 1977 at age 13. (She had probably been abducted because she had witnessed another real or attempted abduction.)
Pyongyang admitted her abduction and said she had married, had a daughter but had also died. (From other sources it was learned she had been made to marry a Pyongyang apparatchik, and had suicided after a bout of depression.)
As proof of her death North Korea it handed over what it said were the charred bones from her 1994 cremation. Shinzo Abe, now promoted to party secretary-general, declared that a DNA test proved they bones were not hers. There could be no resolution of the abduction issue until Pyongyang ceased its falsehoods. And Tokyo would refuse further testing.
At this point two respected UK scientific magazines, Nature and Science, weighed in saying that DNA tests on charred bones were impossible. (I was told the same, privately, by the head of the government funded Kazusa Academia DNA research centre.) Nature went on fiercely to criticise the use of false scientific data for political purposes.
Undeterred, Tokyo began a strange campaign for Megumi's return. Films, comic magazines, websites, songs, monuments were created across Japan to commemorate her existence. Delegations were sent abroad to remind us all of the Megumi abduction tragedy and the need to keep the pressure on North Korea.
Megumi's bereaved parents were taken a range of national and international symposia, including meetings with three US presidents.
In 2014 Tokyo finally agreed the Megumi parents could meet the daughter of Megumi's marriage, Kim Eun Gyong, provided it was in a third country, Mongolia. But for some reason media reports of that meeting made no mention of whether the parents had asked what had happened to Megumi.
Soon after at yet another Tokyo abductee campaign meeting I had the chance privately to ask Megumi's mother, Sakie, why the omission. She replied with a dignity and honesty absent from Tokyo's crude, over-hyped abductee return campaigns: "I have seen my role as providing support for the parents of other abductees."
It was an answer that made me realise the dilemmas and hopes of those calling for abductee return. But without wanting in any way to play down the genuine suffering of those who have seen their kin disappear into the maws of a rather despicable regime one is entitled to ask a few questions:
Why would North Korea be willing to suffer severe and prolonged sanctions simply for the sake of holding on to a random collection of Japanese of little possible use to Pyongyang?
And why has Tokyo made almost desperate efforts to silence critics of the abductee story?
In 2009 an influential commentator, Tahara Soichiro, said in his regular TV program that a MOFA source had told him that they knew at least two alleged abductees had already died.
Tahara was roundly condemned by the government, sued by one of the abductee relatives for mental distress, fined, made to apologise and promise not to repeat his error again.
(I too was to be labelled in 2015 as an abduction denier by a commentator for the hard-right Sankei Shimbun newspaper. Letters of protest poured into the university where I worked. My appointment as outside director of Mitsu & Co, was abruptly cancelled.)
It was an alarming example of how easily opinion in Japan could be mobilised against imagined enemies.
Are things changing? Not yet. A member of Japan's main opposition Constitutional Democratic Party, Ubukata Yukio, told a recent election meeting he too had information from a MOFA source that Megumi Yokota was no longer alive.
But he too was immediately hit by the powerful government subsidised abductee support groups with an October 11 statement criticising his remarks. He has now dutifully apologised. No one in the media has emerged to support him.
What we see in this is alarming: continuing efforts by Japan's powerful hawks to kill leaks from what seems to be a small group of MOFA doves — the people who almost certainly drafted the remarkable Pyongyang Declaration.
For the hawks, North Korea has to remain as the enemy.