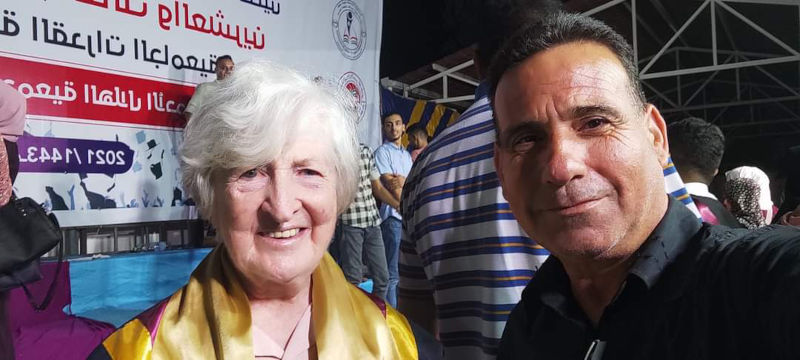 In a week full of politics and with a heavy focus on soccer and cricket, the ABC brought news from Gaza. News from this part of the world is usually tragic and while last week's report was sad, it was also uplifting. Dr Jean Calder AC, an extraordinary Australian, died at Khan Younis in the south of the Gaza Strip on 28 November, aged 85, after a long life filled with service to others.
Jean Calder was born near Mackay, Queensland. She graduated from the University of Queensland with studies in education and teaching disabled children. She spent 25 years teaching physical education and recreation in Australia. While studying for her PhD at Penn State University, USA, Jean met students and academics working on the Palestinian Issue. She found their stories compelling and after attending a screening of the film The Palestinians, narrated by Vanessa Redgrave, she knew where her path lay. For a short time, she returned to Queensland as a lecturer at UQ's School of Movement where she conducted research into the role of play for children with physical and intellectual disabilities.
By 1981 Jean had found her way to Beirut where she worked as a volunteer for the Palestinian Red Crescent Society at the Haifa Rehabilitation Hospital in the Burj Al-Barajneh refugee camp. This so-called camp had been established by the United Nations in 1948 for Palestinians fleeing Galilee in what is now Israel. Originally tents in the sand, it is now a crowded precinct of multi-storied apartment blocks and home to generations of Palestinians.
From Beirut Jean moved to Cairo to head the Palestinian Red Crescent Society's Ain Sharns Rehabilitation Centre which included an institute to train rehabilitation workers. Then finally in 1995 Gaza became her home. Jean helped develop the Palestine Institute of Rehabilitation Studies and went on to lead the Rehabilitation Department at the new Al Amal City Centre of Ability and Development, developing rehabilitation and educational services for the disabled.
Starting in an old garage, the school now has more than 700 children on and there is a training centre for adults. The name of the centre is significant – ability not disability. It is a place where children and young people of differing abilities can study, grow and flourish, their potential carefully nurtured and nourished. Jean became a world authority in the field of physical education and structured play for such children. To have achieved such a level of success in besieged, occupied, deprived Gaza, is nothing short of miraculous.
It was in Beirut that Jean met three children whom she would later unofficially adopt – she said they actually adopted her! Dalal, Jean's daughter, who is blind, is now a highly qualified academic with a Master's Degree from a scholarship won to study in Scotland. She is currently Director of Continuing Education at the College of Ability and Development in Gaza, founded by Jean. One son, Hamoudi, has sadly died, but Badr and his wife lived in an apartment close to Jean and Dalal in Gaza.
Jean's work was recognised with awards from many organisations such as the Red Cross and the Palestine Red Crescent and her alma mater, the University of Queensland. In 2005 she was made a Companion of the Order of Australia, the highest level in the Australian civil honours system. Her citation reads "for inspirational humanitarian service in the Middle East, leadership and commitment to international relations and academic and professional training in rehabilitation." She was kind and compassionate and her success would not have been the same without these enduring qualities.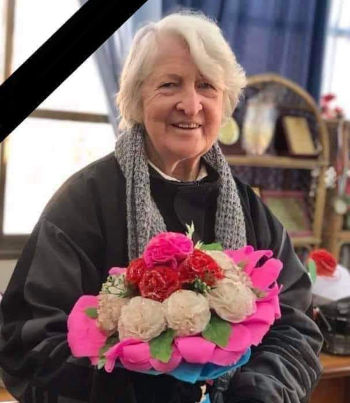 With characteristic modesty in a 2020 interview with the ABC, Jean Calder felt she was "just starting" and always thought she "could do more". Even though in her life she had been threatened with kidnap, held at gun-point, and endured the dangers and hardships of life in war zones, she felt luckier and safer than others in Gaza who lived closer to the borders.
After 2006 Jean was unable to leave Gaza for the West Bank, so she lived as other Gazans do, with all the restrictions placed upon them by the Israeli Government. Had she left, return would have been impossible, so this courageous humanitarian stayed on and she knew that at her life's end, she would remain. The name Gaza loosely means "strong city". It is a strong place full of strong people. Jean Calder, a proud Australian, was imbued with a similar strength to the place which became her home.