The collapse of Sydney arts and entertainment centre Carriageworks has sent tremors through the besieged arts sector; but it also shows up the deep flaws in the NSW Government's cultural policy, and is fuelling demands to halt its disastrous $1.5 billion plan to relocate the Powerhouse Museum to Parramatta.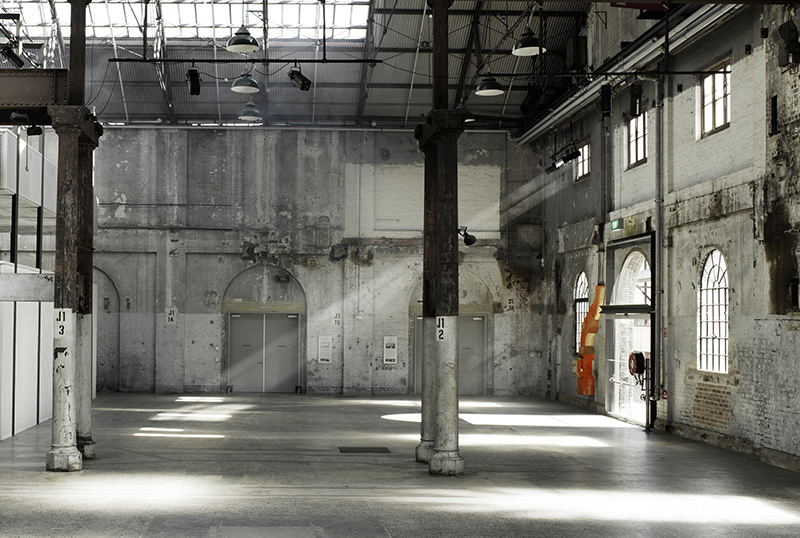 In November 2018 then NSW Arts Minister Don 'Holiday Home' Harwin plucked Lisa Havilah from her job as boss of Carriageworks to become the first CEO – not director – of the Powerhouse Museum, reporting directly to him.
She had no significant museum experience but was credited with making a commercial success of the inner-west Carriageworks venue. In the six years she held the role, visitor numbers had skyrocketed from 110,000 per year to 1.327 million, and were forecast to double.
Eighteen months on, after weeks of private talks, the arts centre has formally called in KPMG, the Government's favourite administrator. The 4 May statement cited loss of income because of COVID-19 restrictions; but the financial problems are not new.
The annual report for 2018, which was Lisa Havilah's last year in charge, shows that Carriageworks had gone from making a small profit to making a loss of $550,000; and more worryingly, that its liabilities exceeded its assets by almost the same amount.
When the old railway workshops at Eveleigh were repurposed into an arts centre in 2007, under the Labor Government of Premier Morris Iemma, it seemed a great idea: an inner-west venue that could attract big local audiences to an exciting program of festivals, exhibitions and performances, as well as becoming home to resident arts companies and making additional income from markets and corporate hire.
But it required substantial public funding to be sustainable, and that was never guaranteed. State Coalition governments from 2011 onwards have been unwilling to provide support for such an eclectic, innovative program. In 2018 grants totalled only a quarter of the centre's revenue.
During big events like the Sydney Writers' Festival, the Sydney Contemporary Art Fair and Mercedes-Benz Fashion Week, the cavernous space of the former railway sheds was flooded with visitors, but it proved difficult to sustain income when transient audiences ebbed away.
In January this year the Government appointed a Treasury staffer as a board observer, and then Create NSW, which provided $2.5 million for the current funding year, refused to commit funds for the coming year on the grounds that Carriageworks had yet to prove its solvency.
Now the Berejiklian Government is canvassing what even by its own standards must be one of the barmiest cultural policies ever proposed: a takeover by the Sydney Opera House (board chair: Nicholas Moore, formerly of Macquarie Bank) of Carriageworks (board chair: Cass O'Connor, formerly of Goldman Sachs). The two organisations are chalk and cheese; it sounds like the corporate merger from hell.
In addition to having worked for Goldman Sachs, aka the Vampire Squid, the unfortunate Ms O'Connor is also a former chair of the troubled McGrath property company, and a current director of both Prime Media and digital marketing company Tribe ("Branded content that converts").
When on earth will NSW have boards run by people with expertise in the arts rather than the governance-challenged finance and big business sector?
Key figures with precisely the right expertise have slammed the merger proposal. Michael Lynch, the former Opera House director who is widely considered Australia's most experienced arts administrator, said it "seems like a corporate power grab". It was "a reprehensible step… Carriageworks is a centre focused on the future and future audiences and arts practitioners, whereas the Opera House is very much focused on traditional well-heeled people."
Kim Williams, a former chair of the Opera House board, wrote that the senior institution "has been literally prowling, aiming to take over Carriageworks in an egregious piece of empire-building worthy of robber barons".
There is an obvious solution: halt the $1.5 billion Powerhouse plan, and put the money into bailing out crisis-hit arts organisations, including Carriageworks.
Proponents of the idea include Sydney Lord Mayor Clover Moore, the NSW Greens, Labor's shadow arts minister Walt Secord and the Powerhouse Museum Alliance. Arts consultant Kylie Winkworth has pointed out that the cost of an arts bailout would be a tiny fraction of that being spent on football stadiums or on the Powerhouse plan, which has so far cost the public purse $40 million in consultancies without creating a single job in Parramatta.
A rescue plan for Carriageworks would require both funding commitment and the appointment of a suitably qualified board. That's a big reach for this State Government. Premier Gladys Berejiklian has retained the arts portfolio, vacated by the forced resignation of Don Harwin, not out of devotion to the arts – no Premier in living memory has shown less interest – but because of the problems she faces in managing her faction-ridden Cabinet.
Berejiklian remains committed to the Powerhouse plan with a stubbornness inexplicable unless there is a secret deal with developers. Rumours are now swirling that the Ultimo site has already been sold. The Government's asset sales mania bodes ill for Carriageworks, which has only a short-term tenancy on the big Eveleigh site. And it lends added urgency to a fresh examination of the Powerhouse issue by State Parliament's Upper House committee, which is taking submissions up until 17 May.
The Carriageworks crisis has exacerbated fears for the arts sector, which is among the hardest-hit by pandemic restrictions. Statutory institutions like state galleries and museums are comparatively well placed to survive, and so are some smaller companies like Sydney's Belvoir Street and Griffin theatre companies, which have built a loyal subscriber base through the sheer quality of their programs. But more casualties will certainly follow unless both Federal and State Governments accede to the rising demand for a comprehensive bailout.
The campaign is gaining momentum. Respected actor Noni Hazelhurst has accused the Federal Government of "waging a culture war" that is devastating the arts. She is backing the Greens who this week, following consultation with a range of arts organisations, put forward a three-part rescue package, "Create Australia": for live performance, Australian screen content, and artists in residence for schools and libraries.
It's a plan with a lot of support.