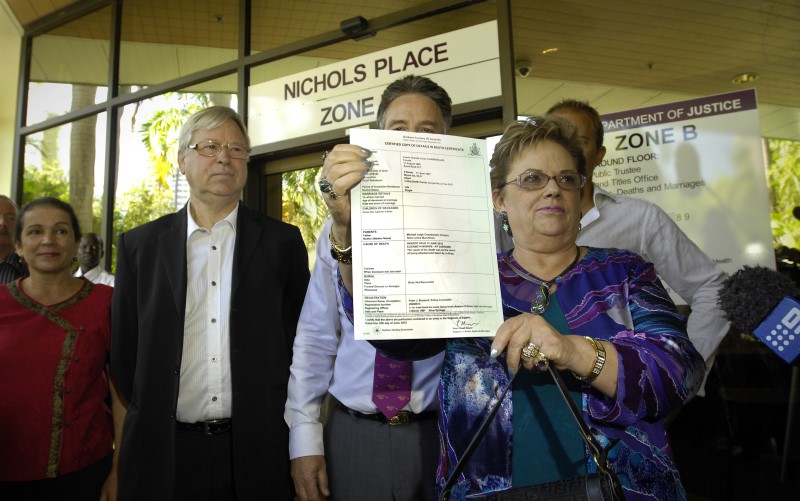 A new book asserts that Robert Farquharson, condemned over the deaths of his three sons, was wrongly convicted, writes Kerry Breen.

For most of my long life, the possibility that our adversarial legal system and its dependence on juries should be seen as inherently unreliable had never crossed my mind. This naïve view has been challenged in recent years, beginning when I researched and wrote a biography of one of Australia's leading forensic pathologists, the late Professor Vernon Plueckhahn. His evidence helped to eventually overturn the horrific miscarriage of justice endured by Lindy and Michael Chamberlain and to correct a similar fate suffered by Edwin Splatt in South Australia. One of his trainees is now helping in the campaign to have the dubious conviction of Kathleen Folbigg overturned.
In Australia, when a child or children die in unusual circumstances, the community generally and the legal system in particular appear to be determined to find someone to blame, a process that seems primal and that I compare with historic attempts to label people as witches and warlocks. This primitive need is almost surely unconscious but in my view it colours and pollutes reporting by the media, community discussion, approaches taken by police in their investigations, and the methods used by those who prosecute criminal allegations before a jury. It may even influence the thinking of jury members.
A new book has now appeared that deserves to be widely read as it makes a very strong case that yet another supposed 'child killer' has been wrongly convicted. Author Chris Brook in Road to Damnation: The wrongful conviction of Robert Farquharson has researched the issues thoroughly and the arguments he raises I find compelling. Victorians will probably recall the case readily as on the night of Father's Day in 2005, a car driven by Robert Farquharson, and carrying his three young sons, ran off the highway near Winchelsea, a town west of Melbourne, and ended up in a deep dam.  Farquharson survived but the three boys did not. Farquharson claimed that he had a coughing fit and lost consciousness while the prosecution accused him of deliberately drowning his sons. In the Supreme Court of Victoria, he was found guilty of murder, a finding confirmed in the Court of Appeal two years later. He was sentenced to life imprisonment with a minimum term of 33 years. He continues to claim his innocence.
The author of Road to Damnation, Chris Brook, is an astrophysicist with degrees in law and science and a deep interest in how science can be misused and misunderstood by the criminal justice system. He is also critical of the lack of genuine science in many aspects of what we call forensic science. He maintains a blog here.
Only a small element of his book relates to new material that emerged after the two trials. What I found compelling was the depth of Brook's analysis of the court transcripts of both court cases, the extent of his research, and his critical re-evaluation of the evidence provided by accident reconstruction experts. The central issue in question was whether there was evidence of the car being steered into the dam. If there was not, then Farquharson's account of a coughing bout causing a blackout (cough syncope) gains credence. A secondary issue was how long it took for Farquharson's car to sink.
On both issues, Brook provides convincing reasons to conclude that the work of the accident reconstruction experts was faulty and that the evidence they gave represented assertions and not scientific evidence. In addition, his research establishes that cough syncope is more real and more common than was presented at the trials and he helpfully explores and explains the problems that witnesses have in precisely recalling conversations.
This is not just a book about Farquharson's court cases. Brook provides a valuable description of what is meant by science and scientific method. He highlights many forensic "science" methods that are in use in our courts but which have never been validated scientifically. He argues that investigators can be misled by confirmation bias and by the influence of colleagues who have prematurely jumped to a conclusion of guilt. He also discusses with insight, and some dismay, the methods used by the prosecution in their effort to convince jurors of the strength of their case.
This is not the only book written about that sad event. Noted writer Helen Garner sat through every day of both trials and then wrote a book entitled This House of Grief: The Story of a Murder Trial. It is a well-written account of what she saw and felt during those long weeks. It helpfully portrays the emotional and other pressures that all participants in such difficult trials must experience. She ends her account with zero doubt about Farquharson's guilt. I suspect that she too has fallen into the trap of our primal need to find a warlock. However, I recommend that you read both books and then make up your own mind.
Brook also makes a strong case for the establishment of a Criminal Cases Review Commission (CCRC). A well-resourced and well-structured CCRC will provide a crucial layer of protection for citizens from the inherent frailties of our adversarial legal system. I suggest that a CCRC, when established, should be given the power to recommend a pardon directly to the state attorney-general where the case for such is compelling. This would be far preferable than to simply force the convicted person back into another bout in the adversarial legal appeal process. If this power were to be given to the CCRC, we would in effect be grafting on a safety valve with some similarity to the Napoleonic inquisitorial legal system and thereby getting the best of both legal worlds.