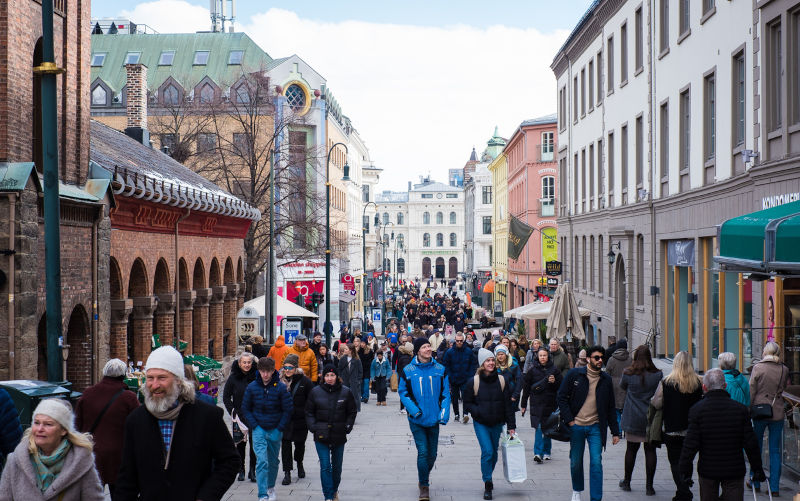 As Australia nears its referendum, Karla Grant takes a closer look at Norway's Voice To Parliament.
The next four weeks are monumental in the lead-up to Australia's referendum, which will ask voters whether an Indigenous Voice to Parliament should be enshrined in the constitution. Representing Aboriginal and Torres Strait Islander people, the 'Voice' would be a permanent body advising the government on Indigenous policy.
However, many people are still unsure of how this will work in practice. As debate around both the 'yes' and 'no' campaigns continue, there's not only more information, but some misinformation and racism that has added to the noise.
Looking at how another country's Indigenous Voice to Parliament operates could help many people better understand how a similar model may exist in Australia. This is exactly what journalist and Western Arrernte woman Karla Grant has done, recently travelling to Norway with SBS show, Dateline, to understand how their Indigenous Voice to Parliament has worked over the past three decades.
The country's First Nations people, the Sámi people, live in Norway, Sweden, Finland and Russia. While Australia's referendum question asks for an amendment to the constitution, Norway didn't change its constitution to recognise Sámi people. Instead, the parliamentary Sámi Act that established their parliament has been upheld since 1989.
Having the Sámi parliament has secured the right for Sámi to have a say on matters concerning the Sámi people. Democratically elected by and among the Sámi, it consists of 39 representatives elected by seven constituencies every fourth year.
While attending Riddu Riđđu, an annual Sámi music and culture festival in Norway in July, Grant spoke to members of the Sámi community about the impact of having a Sámi parliament. She learnt of how it has helped revitalise First Nations language and culture, but that Sami people still face challenges in areas such as land rights.
Like Aboriginal and Torres Strait Island people in Australia, the Sámi faced forced assimilation, displacement, and land dispossession as a result of colonisation, meaning the preservation of language and cultural practices became harder.
In visiting Matti, a security guard and bodybuilder-turned kindergarten teacher, Grant learnt of how the Sámi parliament has helped in keeping traditional language alive in schools.
"They have the power to dictate what the Sámi curriculum is for Sámi students," she said, explaining this particularly struck a chord with her, as she wasn't ever able to learn her own language.
When Grant's grandparents moved from the Northern Territory to South Australia in the 1940s for work, they weren't allowed to speak their language or practise their culture.
"That meant they didn't teach and didn't pass on the language to my mum when she was born, or to my aunties and uncles. So that meant that I missed out and was impacted by that," she says. "I didn't find out until I was in my 20s that my grandfather spoke about six different First Nations languages, because he never spoke about it because he wasn't allowed.
"I wish that I could have learned my language when I was younger. It'd be so wonderful if we could have Indigenous languages here in Australia taught in kindergartens across the country."
Meeting Matti and his family helped her learn of ways in which the Sámi parliament is creating positive change. However, in speaking to the Sámi President, Silje Karine Muotka and a Sámi reindeer herder named Reiulf, Grant also discovered that it still goes unheard by the Norwegian government at other times.
"Where it is struggling is on the issue of land rights, and that's because of Norway's shift towards green energy," says Grant. "There are a number of controversial green energy projects that have been set up on Sámi lands, and that's having a real impact on the Sámi reindeer herders."
Herding reindeer, which are sacred to Sámi, is a traditional practice that's at threat for people like Reiulf, who has had over 60 wind turbines built on the land that his reindeer inhabit.
Reiulf is just one of many Sámi reindeer herders impacted by the developments. In 2021, Norway's supreme court ruled that two wind farms in the Fosen region of Norway would be stripped of their operating licences, as they violated the cultural rights of the Sámi by infringing their grazing lands. However, two years later, the wind farms still stand.
Similar to the various discussions taking place in Australia at the moment, Grant explains that there was a diversity in views within the Sámi community before the Sami parliament was formed 34 years ago.
"There was a lot of debate and discussion by various Sámi interest groups and organisations when this Sámi parliament was being talked about," she says. "They had the same questions in terms of what is the role of this parliament and how will it work? Will it give Sámi people and communities a stronger voice or will it put a block between Sámi interest groups and the government?
"No model is perfect, there's always going to be criticisms of it," she adds. "Even as the Sámi president said to me, she conceded that they wish they had more power to affect change on issues like land rights. They really want to strengthen their position, and I guess over time that's happening, but like I said, no model is perfect."
The journalist hopes Australians consider this in the coming weeks ahead of the October 14 referendum. While "there's no quick fix to complex issues and problems that First Nations people experience", it's worth being aware of what impact similar models have had on Indigenous people overseas.
She encourages people to educate themselves before casting their vote because regardless of the outcome, this referendum will be "a defining moment in our history".
"It's going to say something about this country in terms of its treatment of First Nations people," she says.
"Everyone has a right to their opinion and views and, and we all have different perspectives. But I feel that people just need to stick to the facts and have respectful debate and discussion and conversations around this. There's no room for racism or scaremongering tactics."
Grant's episode of Dateline filmed in Norway aired on Tuesday September 19, at 9:30pm on SBS and SBS On Demand and in October on NITV.
First published by Missing Perspectives September 19, 2023