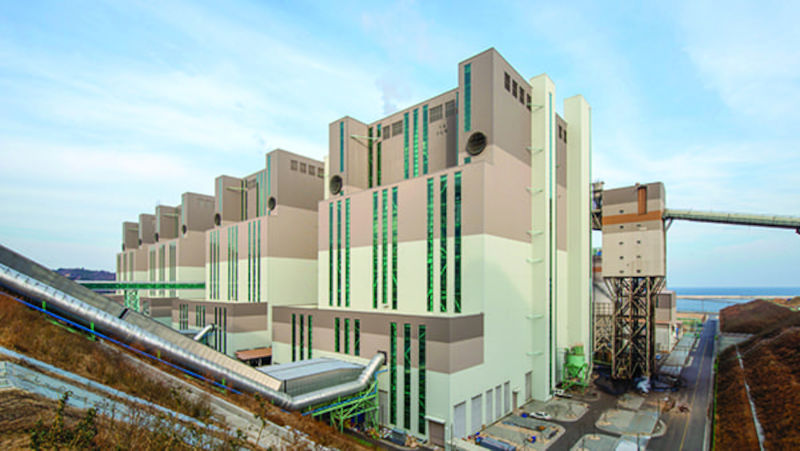 South Korea is among the nations with the highest coal power generation.
South Korean government is moving ahead to launch commercial operation of the Samcheok coal power plant in Gangwon-do province in October defying opposition from civil society groups and the Catholic Church.
Since October 2021, Catholic groups have been staging protests every month at Maengbang Beach close to the construction site.
The plant is expected to generate 2,044 megawatts of power. The government says the plant uses "green technology" with a focus on reduced emissions.
Catholic climate action groups joined hands with environmental groups to form an alliance, the Committee for Struggle Against Samcheok Coal Fired Power Plant.
The group has drawn local residents and people from other provinces who say the nature of Samcheok including the famed Maengbang beach would be in ruins when the power plant starts operating.
Media reports say parts of the beautiful beach turned black recently following the construction of a seaport to transport coal to the power plant.
"The crying sea over the praying people may soon turn into the tears of the people of Samcheok," a protester said.
Environmental groups alleged South Korea's heavy dependency on coal for power generation has become "a disaster" for mankind.
Currently, the East Asian nation has 58 coal-fired plants – 29 in Chungnam, 14 in Gyeongnam, 7 in Gangwon, 6 in Incheon, and 2 in Jeonnam.
This comes despite South Korea being the 14th nation to pass a carbon neutrality law in 2021.
The law requires the government to reduce greenhouse gas (carbon) emissions by 35 percent or more from 2018 levels and achieve the vision for carbon neutrality by 2050.
Carbon neutrality refers to achieving net zero carbon dioxide — the balance between carbon emissions and absorbing carbon emissions, according to Plan A, an organization promoting carbon neutrality.
Observers say reliance on coal power is a quick solution to meet energy needs as coal is relatively easy to procure and inexpensive compared to other energy sources.
Coal power, however, is a source of enormous environmental pollution.
Carbon emissions from coal power generation are more than twice that of liquefied natural gas (LNG), and the same as fossil fuel burning.
Greenhouse gas emissions from 58 power plants in operation in Korea are estimated to be 200 million tons per year.
In 2021, coal-fired power generation accounted for 41.9 percent of total domestic power generation in South Korea, the highest among power generation sources.
Apart from Australia, a major coal exporter, and Germany, a manufacturing powerhouse, Korea's share of coal-fired power generation is very high compared to other developed countries.
Korea was ranked fifth among the nations with the highest coal-fired power generation. In 2019, Korea accounted for 2.5 percent of the world's total 9,914-terawatt hour (TWh) coal power.
The TWh is a unit of energy used for expressing the amount of produced energy, electricity and heat, according to Statistics Finland.
Coal-fired power generation emits not only carbon dioxide but also various pollutants such as fine dust, nitrogen oxides, and sulfur oxides that produce them.
Health experts warn that coal power not only contributes to global warming and climate change but also threatens public health.
Once fully operational, Samcheok coal-fired power plant is expected to emit 570 tons of ultra-fine dust annually.
A climate action group claimed that during its projected 30-year operation, air pollutants from the plant could cause 1,081 premature deaths.
Reliance on coal power has continued to plummet in developed nations due to its long-lasting dire impacts.
The United Kingdom, which first started coal power generation in 1882, has reduced its proportion of coal-fired power generation to 5 percent and planned a phase-out of coal by 2025.
Germany is already at the forefront of the energy transition, with renewables generating more than coal. The United States is also joining the global energy transition trend, with its coal consumption in 2018 hitting its lowest level in 39 years.
While climate action groups have continued to oppose the Samcheok plant, civic groups have been pushing for a law seeking phase-out of coal power.
The Civil Society Solidarity for the Enactment of the Coal-free Law, formed last August, collected more than 50,000 signatures.
Catholic Church has been pushing against coal power and urged the government to implement the carbon neutrality law.
Since 2020, the Daejon Diocesee has held a Carbon Neutral Declaration Mass every month and appealed to Catholics to sign a petition for a coal phase-out law.
In May, Catholic bishops paid a visit to the construction site of the Samcheok coal-fired power plant and urged the authorities to do away with coal power.
Bishop Blasio Park Hyun-dong, chairman of the Ecological Environment Committee of the national bishops' conference, issued a statement to demand a coal-free nation.
"The Korean government must make practical changes to transform into a sustainable society, including enacting a coal-free law," Park said.
This report is brought to you in partnership with the Catholic Times of Korea
First published by the Catholic Times of Korea and UCA News. September 4, 2023