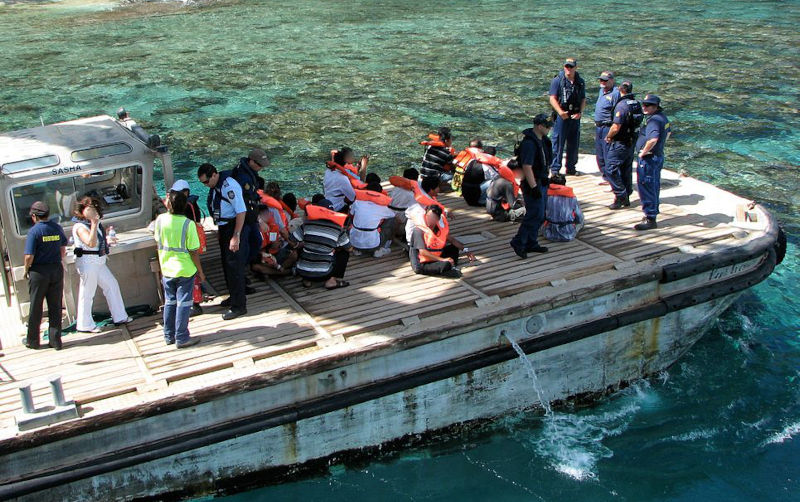 Attorney-General Mark Dreyfus says the Government will shortly announce a 'humane resolution' to the situation of 31,000 legacy boat arrivals who have been living in Australia for over a decade.
Like night follows day, Peter Dutton will immediately react with hysteria about re-starting the boats, as he does whenever there is discussion of this. The Greens and asylum seeker advocates will also seek to misrepresent the issues, particularly the role of offshore processing.
Brief history of boat arrivals
To understand the issues the Albanese Government is wrestling with, it's worth reviewing the history.
Offshore processing of boat arrivals and turn back policy was introduced by the Howard Government during the Tampa affair in 2001. Howard opened processing centres on Nauru and Manus Island. By around 2003, most boat arrivals had either been re-settled in a third country, including New Zealand, but mainly in Australia on Temporary Protection Visas (TPVs).
Between 2003 and 2007, few boats arrived.
In 2007-08, the Rudd Government provided permanent protection to all people on TPVs. Under pressure from asylum advocates, it also abolished offshore processing and turn back policy.
That re-started the boats and a huge build-up of asylum seekers who were detained in Australia. The Gillard Government negotiated an agreement with Malaysia to accept boat arrivals in exchange for Australia re-settling a larger number of recognised refugees living in Malaysia. Announcement of that agreement slowed boat arrivals.
Boat arrivals increased again when that agreement was first scuttled by the High Court and subsequently by Parliament. The Abbott Opposition, in an unholy alliance with the Greens, ganged up to defeat Gillard's legislation. That subsequently cost the taxpayer billions of dollars and misery for thousands of refugees – an astonishing failure of public policy.
Abbott's objective was to stop Gillard from stopping the boats – otherwise he would lose that slogan for the 2013 Election. What the Greens and asylum advocates were thinking remains a mystery.
In mid-2013, the second Rudd Government re-introduced offshore processing. Boat arrivals slowed dramatically. Subsequently, Immigration Minister Scott Morrison re-introduced turn back policy, frequently claiming responsibility for having designed that policy and that he had stopped the boats – a classic Scomo exaggeration.
During the following decade, the Coalition Government gradually released the legacy boat arrivals who had been recognised as refugees into the community either on TPVs or a Safe Haven Enterprise Visa (SHEV). Those who were refused or are still being processed were released on bridging visas. Less than 200 remain in detention in Australia, most likely due to unresolved character or security issues.
What will happen to asylum seekers currently in Australia?
There are three broad groups the Albanese Government must consider. 31,000 legacy boat arrivals; people who arrived by boat after Rudd re-introduced offshore processing; and almost 100,000 asylum seekers who have arrived by air since 2014.
The 19,000 out of 31,000 legacy boat arrivals who are owed protection and are on TPVs/SHEVs will be offered a quick pathway to permanent protection. That will require regulation changes, budget funding to provide for the wider range of services and benefits these permanent residents will have, systems changes as well as space in an enlarged Humanitarian Program.
As turn back policy and offshore processing will remain in place, this will not re-start the boats as it did in 2007-08.
The more difficult cohort will be the 12,000 legacy boat arrivals who have already been refused a TPV/SHEV or are likely to be refused. Returning these people to their home countries is an impossible task. Just remember the difficulties the former Coalition Government had trying to return the Biloela family who were part of this cohort.
They could be allowed to either:
reapply for protection;
apply for any existing visa they consider they are eligible for; or
apply for a newly created state nominated visa based on a minimum period of any full time employment in the relevant state.
The first option carries significant costs and uncertainties – would these people meet the criteria for protection a second time around? It would lead to criticism from Dutton that giving these people a second crack at demonstrating they meet the criteria for protection sets a poor precedent.
The second option may be more attractive but it is likely few of this cohort would meet the criteria for another visa. It may only resolve the situation for a very small portion of the 12,000.
As most of this cohort would currently be in some sort of employment, the third option provides the greatest potential for ensuring the bulk of the cohort secures permanent residence. It is the option I would be recommending.
For people who arrived by boat after Rudd re-introduced offshore processing, the Albanese Government has made clear they will not be re-settled in Australia but has accepted the NZ Government offer to resettle 150 refugees per annum.
Asylum seeker advocates are pressing to change this policy. This is not only futile but will also encourage many of these asylum seekers to not accept the NZ offer. That would be the worst outcome of all.
The best available outcome is for the places offered by NZ to be fully taken up thus putting pressure on the Government to negotiate additional places with the NZ Government. This may already be happening.
The final and by far the largest asylum seeker cohort are those who arrived by air since 2014, particularly as part of a massive labour trafficking scam that started under Peter Dutton's watch. While Minister O'Neil made oblique reference to this in her speech to the National Press Club, there is no immediate political pressure on the Government to act. After all, the problem started under Peter Dutton and he will be reluctant to draw attention to the issue.
The Albanese Government may choose to sweep this under the carpet, just as Dutton did. That would be a mistake.
Editor's note:
To support Pearls & Irritations to publish more articles like this one, please consider making a financial donation by clicking here:
Defend independent media: Pearls and Irritations needs your support