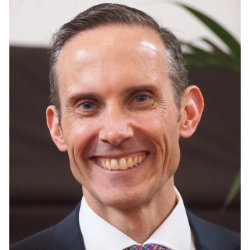 The beginning of 2022 sees an urgent need for long-term thoughtfulness which diagnoses current threats to existence and creative ways to respond.
In the run-up to a federal election, existential dangers will persist if political leaders, devoid of ideals and ethical considerations, display only a pragmatic, national interest view of domestic and foreign affairs. Yet the history of Australian leadership in international relations has recorded times of inspiration, as when Dr John Burton was head of the Department of External Affairs.
Burton was an original thinker and an influential writer. On ABC Radio's Late Night Live, Phillip Adams has observed: 'John Burton was probably the most controversial and visionary public servant of the 20th century.'
A graduate of the University of Sydney, he became private secretary to Labor external affairs minister Dr H.V. Evatt and together they shaped foreign policy. Their priorities included an examination of the causes of conflicts and of conditions necessary for a lasting peace. Committed to dialogue, influenced by second track diplomacy, as in using contacts with diverse citizens not just politicians and diplomats, Burton encouraged conversations between warring parties.
In 1965, with the blessing of British prime minister Harold Wilson, and even while Indonesia, Malaysia and Singapore were still in conflict, he brought the leaders of those countries to London for peace talks.
Intellectual, innovator and humanist, Burton broke boundaries. He argued that all conflicts had at their roots the search for and the denial of basic human needs; and to pursue that theory, in 1966 at University College London, he founded The Centre for the Analysis of Conflict.
The beginning of 2022 sees an urgent need for long-term thoughtfulness which diagnoses current threats to existence and creative ways to respond, at which point I'll refer to a current Australian politician whose work most matches Burton's analyses and vision.
In his recent book, What's the Worst that Could Happen? Existential Risk and Extreme Politics, the significant Labor MP Andrew Leigh argues against mediocrity, against the absurd Palmer paid noise about Freedom (my words and interpretation not his) of a populist politics which divides rather than unites people. From his Burton-type perspective, Andrew identifies dangers from climate change, artificial intelligence, the Covid pandemic and the threats of nuclear war, but these he says are not the worst that could happen.
Leigh concludes that the worst prospect is the proliferation of political leaders who would rather pursue the politics of ignorance, fear and division for short-term advantage, rather than address big, existential issues.
In a culture affected by a Prime Minister's attacks on the ABC and by his disdain for universities, election campaigning may give more oxygen to a crude anti-intellectualism than to visions for equitable, non-violent, survivable futures.
Burton would have agreed with Leigh's appraisal of destructive parochialism and ignorance.
In common with physicist Stephen Hawking's plea to reach for the stars not look down at our feet, this former head of Australian External Affairs created alternative, humanitarian agendas,  in politics, in academia and in the demanding world of conflict resolution.
In several books, such as International Relations: A General Theory (1965), World Society (1972), Deviance, Terrorism and War (1979), Burton identified back-channel support from NGO's in negotiations to end any conflict. He highlighted what he called soft power through conversation, dialogue, flexibility and informality, and he shared with the inspiring peace theorist Johan Galtung, a focus on the destructive consequences of unequal power and unequal life chances.
It would be amazing, but for public good so beneficial, if debates in the coming federal election were peppered with ideas recalled from  Burton's contribution to social science, to civility and to peace with justice. Even if his ideas started to infect the deliberations of public servants, and of a few journalists in mainstream media, that could hinder the facile populism which uses sloganeering to disguise the connection between an absence of ideas and abuses of power.
The vision of Burton could offer the country a political booster vaccine. In the interests of a potential few weeks of enlightenment, politicians of every persuasion should be encouraging all voters to hurry to get that jab.