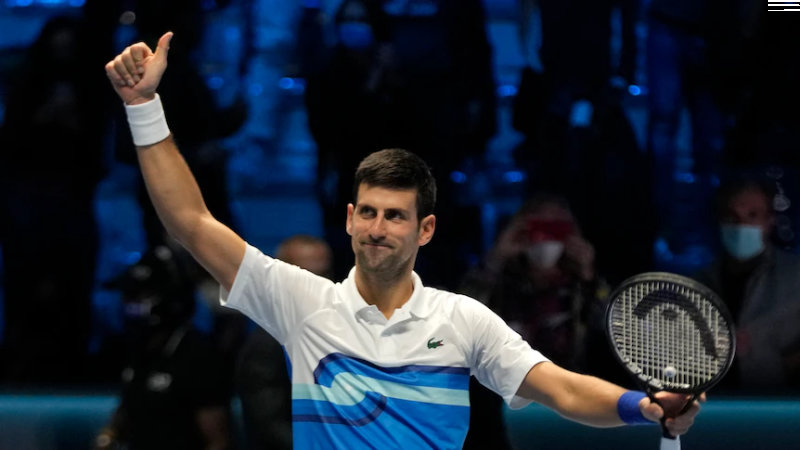 A touch of the Balkans skulduggery has marked out our PM's less than deft handling of the Djokovic deportation.
Divided opinions about Novak Djokovic's Australian visa and court cases aside, one fact cut through all the hoopla for me. On the day of the first federal hearing, in a pure Freudian political slip, my Serbo-Croatian wife referred to our Prime Minister as "Scott Milosevic."
When I said 'You mean Scott Morrison?" she said: "Oh, my.  Did I really say that?  I've been feeling unsafe for the first time in Australia.  Because Scott Morrison reminds me so much of Slobodan Milosevic.  And I guess his name's similar."
There's a sibilance I suppose.  So I suggested she agglomerate it to "Sloboscott Morrisonevic."
All jokes aside, however, what are the relative political positions of Djokovic and Morrison, and how do these play out in the politics of the 'West'?
Conditioned by the negative press around Serbia in wartime, Australians, Brits and Americans are inclined to see an intense, square-jawed Serb with a peculiar fastidious diet and medical beliefs as some sort of fascist. Subliminally, at least.
Along with the popularity of anti-elitism, and Covidism on the left and right, this is exactly what made him such an easy target for Scott Morrison's government. They wouldn't have dared do the same to Roger Federer or Rafael Nadal.  But who likes a Serb, especially an angry one?
And boy, does he look angry in all those newspaper photos, especially the one on the front page of the Tele with the headline, "Return Serb" or the photo above the wholly unbiased poll in The Australian in the midst of a devastating critique of Djokovic. (It wasn't far off asking: "Would you deport THIS HOMICIAL MANIAC? Yes or No?")
The spitting image of Sirius Black in Harry Potter's Daily Prophet, that mouthpiece of the Ministry of Magic, disguised as a newspaper, with the headline 'WANTED: HAVE YOU SEEN THIS WIZARD?' About to leap out of the page and beat the reader to death with a racquet. That the female line judge in the US Open, scoring a direct hit in the throat with an unnervingly accurate reverse-shot from his magic tennis-wand, escaped with her life is a miracle.
Yet Djokovic is on the other side of politics to Morrison, and does not possess a single QAnon friend. More a downtown urbanite from Belgrade, what we in the Anglosphere might call "liberal left."  A Sydney Morning Herald, Melbourne Age or Observer reader.  He joined the protest movement against the Rio Tinto lithium mine in western Serbia, as a committed environmentalist.
When you've lived in an oppressive country through a war, you value political freedom as highly as the air you breathe and the water you drink. You equally value clean air and clean water. You equally value your freedom from politics.
And herein lies the real irony.
Men such as Djokovic, and his family too, who have endured the worst in the world, are political liberals in the classic or progressive mould, eschewing conflict and valuing diversity of opinion. Morrison is a Cold War populist.  While modern Serbs cleave to progressive centrism, a pluralistic world-view under which they all lived in peace under Tito, or humanism, or alternate health beliefs devoid of politics, Morrison is all politics, all populism and all about military strength.  Which as much as his abuse of their tennis star, is why Serbs viscerally mistrust him.
The neutral Titoism during the Cold War made Serbia attractive to experienced American statesmen posted there, like a future secretary of state, Lawrence Eagleburger. But their fondness for Serbia and Belgrade sealed their fate, too, when the neo-con and Democrat hawks in the White House wanted to dismantle Yugoslavia, and they were purged.
Throughout the Soviet era, the Americans ran an effort to keep Tito and Titoism alive. How do people imagine Tito survived so many assassination attempts by Stalin, until Tito promised that with the next one, he would send his own assassin to kill Stalin?
It helped that Tito and his people had also effectively fought the Nazis in World War II, something of which many Australians seem unaware.
Tito's centrism was familiar to American CIA. strategists, too, starting with Thomas Braden, first author of the dedicated US propaganda effort against the Soviet Union.  His successors have used the moderate left in the West as a bulwark against communism to this day, and because their thinking aligns, progressives in the US and Australia to this day are as vehemently anti-China and anti-Russia as even hardest-line Republicans.
After the fall of Soviet Russia, however, Yugoslavia was no longer a useful standout against communism and fascism, but a liability, as a potential post-Soviet Russian ally across the strategic Balkans. Hence the war.  But that's another subject.
Today Novak Djokovic appears to be caught in a trap, demonised by populist politicians as radical-populist, yet buying none of their divisive, radical populism.  He is neither anti-vax, giving to hospitals to treat Covid patients, as former world doubles champion Paul McNamee has pointed out, nor pro-vax.  But certainly 'freedom of choice', something that used to align with liberalism in the West.
He is certainly a committed multiculturalist, as our government has never denied for fear his deep commitment to multiculturalism might emerge in defence, and reveal him as the anti-fascist he is. The opposite to the helpful, unstated popular opinion they've allowed to roll through the Australian community.
To show how thin is the ice, just last year our Minister for Immigration, Alex Hawke, praised Djokovic as "a great ambassador for Serbia," as none other than Fox Sports has revealed.
And that wouldn't do, because it might show Morrison as Morrisonevic.