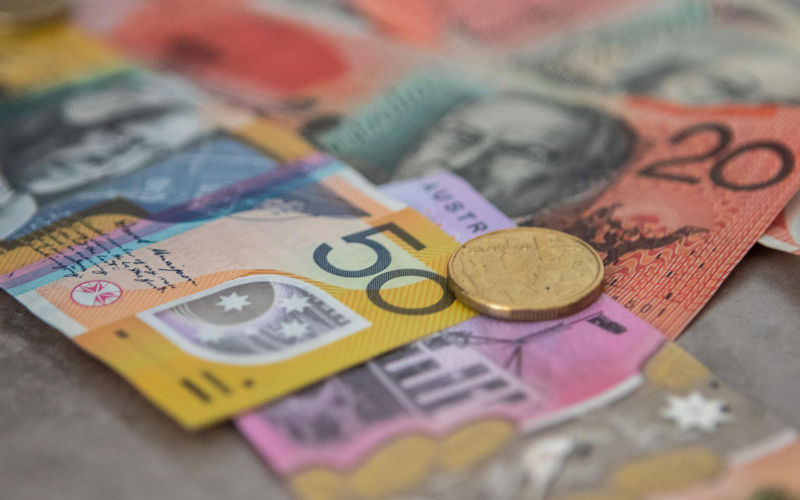 Wages are depressed by several forces. Workers bargaining power has been reduced by declining union density and changing industrial laws. There is growing pressures on firms to sell products at cheap, non-negotiable prices. And there are tight public sector salary caps.
Yesterday's wage price index (WPI) figures were disturbing news for workers.
Why this focus on the WPI? It's because the WPI is the most useful indicator of wages growth. The Australian Bureau of Statistics (ABS) introduced this measure in 1997 to supplement and effectively replace the average weekly earnings (AWE) series (which now comes out a day after WPI). It did this because AWE was distorted by compositional change in the labour force (eg as the number of jobs in higher-paid occupations increases).  The WPI is a fixed-composition index, meaning it directly compares, over time, hourly wages for workers in the same job.
The WPI grew by just 2.4% over the year to the March quarter 2022.  This was up only slightly from the 2.3% in December quarter 2021.  Yet over this time there had been a sharp acceleration of inflation.
Source: ABS, Cat No 6345.0 Wage Price Index, Australia
Indeed, with that acceleration of the growth in prices, but not in wages, real wages — that is, the purchasing power of your wages — have gone down.  As inflation is at 5.1%, real wages fell by 2.6% in the year to March quarter.
It's been happening now for some time.  Real wages fell in six of the last seven quarters (that is, over most of the past 21 months).
One of the more concerning aspects of these data is that there is less sign that expected of the surge in wages that a lot of people thought would happen in the tightening labour market. As annual wage growth was 2.3% in the previous quarter, and the Reserve Bank forecast it would be 2.7% by June, the markets were expecting the midpoint, 2.5%, for this month. Missing that by just 0.1 points might not seem much, but it suggests that June quarter expectations might not be reached.
And that means further real wage cuts. Because the Reserve Bank is forecasting inflation will hit 5.5% in June and 5.9% in December.
(Forget the Budget forecasts, which had lower inflation and slightly rising real wages. They were rendered irrelevant by the CPI data a few weeks later and the Reserve Bank's subsequent forecasts. Indeed, Budget forecasts have undershot actual wages growth most years since 2014.)
A bright sign was that, for those workers who got a wage increase in the March quarter, it was quite good (3.4%).  But only 15 per cent of workers got a wage rise. That was the equal lowest for March quarter since at least 2012. That bright sign started to look a lot dimmer.
This might not be such a big concern, were it not for the fact that this is happening in the context of the tightest labour market in decades.  The number of job vacancies is at a record high.  The number of unemployed people per job vacancy (the U:V ratio) is at a record low.  In such a tight labour market, you would expect to see employers climbing over each other to offer higher wages to attract workers to fill those vacancies.  They're not, or at least they're not doing it much.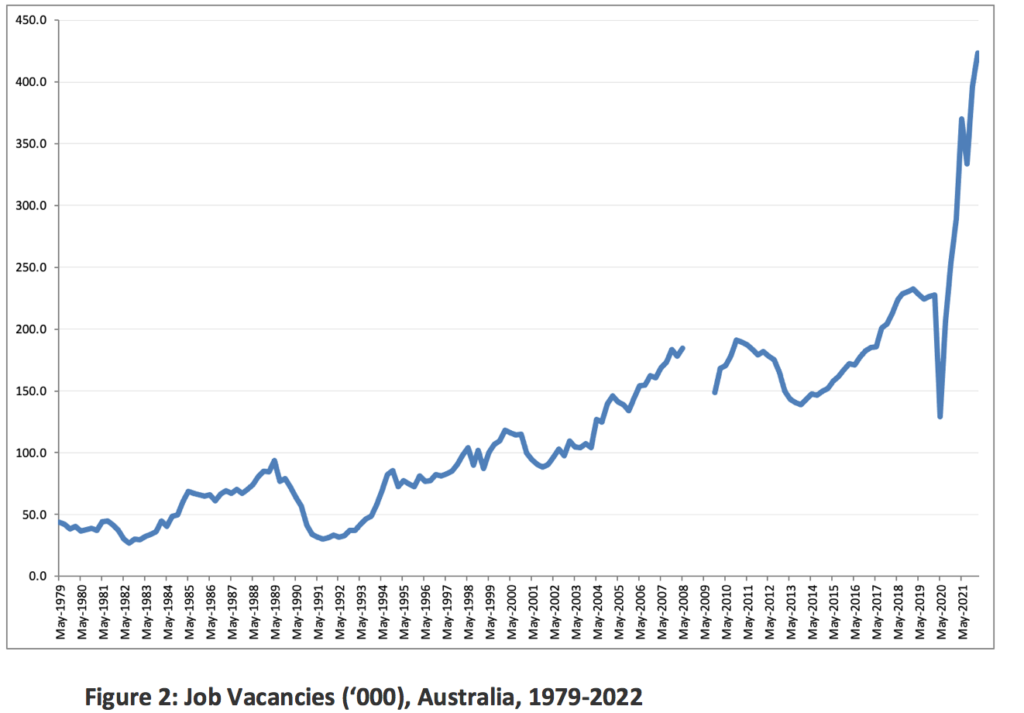 Source: Derived from ABS, Cat No 6354.0 Job Vacancies, Australia.
Some might think that these labour shortages are just a COVID-19 phenomenon. But look at the charts and you will see that the growth in job vacancies and the fall in the U:V ratio are both long-term trends.  The number of job vacancies shortly, before the pandemic hit, was already at an all-time record, while the U:V ratio was at virtually the lowest it had been since a new data series started and similar to the lowest it had reached before the break in the series.  There is a long-term trend decline in the U:V ratio and rise in the number of job vacancies that existed before the pandemic and will continue after it.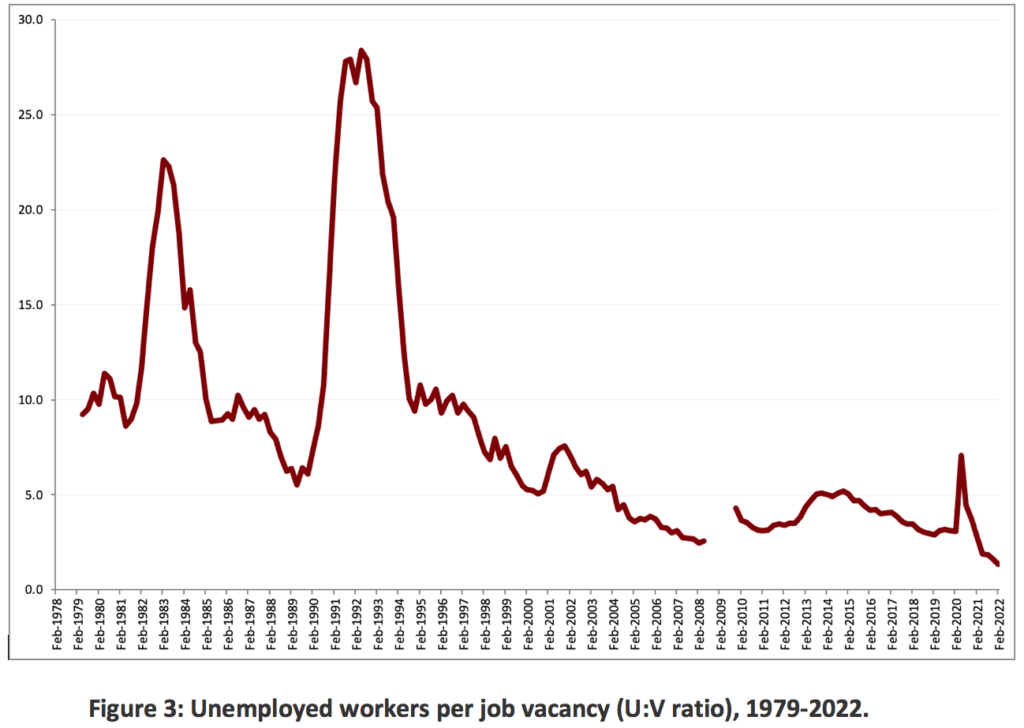 Source: Derived from ABS, Cat No 6354.0 Job Vacancies, Australia; and ABS, 6202.0 Labour Force, Australia.
Today's unemployment figures — showing unemployment at 3.9% — reinforce the tightness of the labour market.  You'd have to go back to 1974 to find an unemployment rate lower than that (though in 2008, under the Rudd government, before the global financial crisis hit, unemployment went down to 4.0%).  In those years, wages growth was considerably higher than it is now.  What gives?
In an earlier article in this series I explained why farmers were not willing — mostly, not able — to offer higher wages to agricultural workers to solve labour shortages there. It's a similar story across the economy. There are all sorts of barriers that stop 'market-clearing' wages being paid. Those barriers influence wage norms, and reflect government policies — low wages have been a 'deliberate design feature of [the government's] economic architecture' — and the way product markers and labour markets have evolved.
There are long-term changes happening in labour markets. That's why Budgets keep getting wage forecasts wrong. Those long-term changes are pushing wage norms downwards, while hundreds of thousands of vacancies go unfilled. It means the links between wages and employment are very different to what politicians expect.
Those wage norms are depressed by several forces. Workers bargaining power has been reduced by declining union density, changing industrial laws and insecure work. There is growing pressure on firms to sell products at cheap, non-negotiable prices. And there are tight public sector salary caps.
Until government changes those things, real wages growth, if it happens at all, will continue to be very poor.