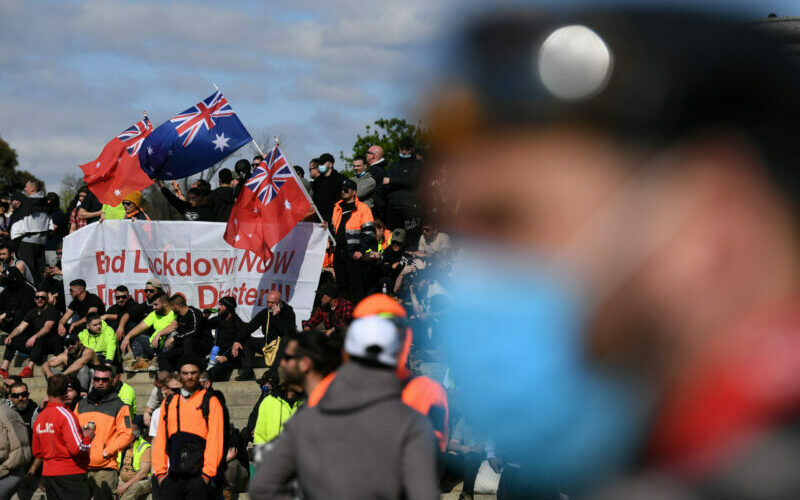 There is strong evidence that Melbourne's four days of street riots by angry young men claiming to be construction workers were fomented by right-wing extremists who used social media to radicalise unemployed or locked-down young men. They look to have modelled themselves on Trump supporters storming the Capitol.
Over many months, some people who follow such matters have been warning that far-right groups have been using Covid lockdowns to expand their footprint in Australia.
There has been infiltration by right-wing extremist groups into young unemployed, casually employed or locked-down workers in and around Melbourne's construction industry. These young men — not generally highly unionised, and often from second-generation right-wing migrant family backgrounds — have had the spare time at home  to follow social media and to get involved with extremist conspiracy and anti-vaccination groups.
A recent article compared the process of radicalisation of these young men  to "grooming" by predators.
The mob violence and street affrays that erupted in Melbourne, with surprisingly large numbers (estimated at 1000–2000) of active participants, is reminiscent of the January 6 Capitol Hill riots.
There has been no comparable level of recent mob violence in other Australian capitals: Sydney and Brisbane in recent weeks have gone quiet.
The Andrews government, Victoria Police and the CFMEU leadership are well aware of the dangerous connections between the rioters and right-wing political extremists.
CFMEU secretary John Setka said the trade union movement rejects those who took part in the violent protests. He said that far-right groups were leading these protests, rather than construction workers and CFMEU members.
Well-regarded union leaders like Sally McManus also wrote on Facebook that far-right extremists had played a significant role in stoking the protests.
On Wednesday, Premier Daniel Andrews condemned the "ugly" activity of the previous day, when West Gate Bridge was mobbed and blocked by rioters, describing the rioters' actions as "not only appalling but unlawful" and "an insult to the vast majority of people in the building industry who are not about wrecking, but building".
Representatives of Victorian medical and nursing bodies have rightly condemned how damaging are as potential COVID-19 super-spreader events, thus risking more strain on the public hospital system's Covid and non-Covid emergency care resources, thereby putting more lives needlessly at risk. Then to top it off the anti vaxxers  spat on and abused health staff who were vaccinating the public.
It appears that faced with such firm and widespread condemnation, the wave of riots may have passed its peak, at least for now.
With the two-week government-imposed lockdown of the construction industry, a new potential flashpoint awaits.
I have been disturbed to see how long it has taken for the ABC as the major curator of mainstream public news to get on top of and broadcast these facts — which are very accessible from news footage, Victorian government and official televised briefings, and social media traffic, all of which I follow daily.
Saturday's first violent protest in East Melbourne was initially sloppily reported by ABC and other mainstream media (most blatantly, by the Murdoch-owned Herald Sun and television networks) as a trade unionists' riot.
The Victorian government played a long game. Andrews did not front the media until September 22, leaving Treasurer and Minister for Industrial Relations Tim Pallas and Chief Police Commissioner Shane Patton to deliver firm initial warnings to the rioters.
It took several days for mainstream media commentators — including some very eminent ABC voices – to grasp that because most rioters were dressed in suspiciously clean and new hi-vis jackets and shiny work boots did not necessarily mean they were even construction workers, much less CFMEU union members. At various times anecdotal claims were made on air that "over 50 per cent" or even "80-85 per cent" of rioters were estimated to be CFMEU members.
These claims were firmly denied by members of the Andrews government and by Setka.
The violent street attack on CFMEU headquarters and on Setka on Monday, with Ustasha Croatian fascist insignia being displayed, gave visible lie to this claim.
But the ABC carried an online story on Tuesday quoting unnamed union figures (who were said to have feared reprisals if their names were cited) saying that CFMEU leaders close to Setka were prominent in the riots.
On the ABC's RN Breakfast program, Fran Kelly questioned at one point, with no evidence cited, whether Antifa elements (ie left-wing anti-fascist extremists posing as right-wing rioters) might be  taking part in the riots as well. The same blame-shifting tactic was used by pro-Trump apologists after the Capitol Hill attack.
It took a long time for any federal government minister to condemn the riots. Scott Morrison had left for Washington. Most federal government figures seemed happy silently to enjoy watching the pressure mount on the Andrews government .
A Facebook post on Monday by Melbourne-based federal Education Minister Alan Tudge appeared to side with the rioters:
"I do not recognise our city or state anymore. The normal democratic checks and balances are gone. Basic freedoms are denied. The community is fracturing. Whole industries, like construction, shut down at random. Kids are not allowed to go to school or play with their mates. My office is inundated with desperate people, who are often in tears. Sometimes grown men because their business has been decimated. It is not right and cannot go on."
There was silence on the riots from acting Prime Minister Barnaby Joyce, Attorney-General Michaelia Cash and Defence Minister Peter Dutton. Finally on Wednesday, four days after the initial riot, Prime Minister Scott Morrison said somewhat ambiguously from the US:
"My message is very straightforward and that is none of us are above the law. The events in Melbourne of the protests are very concerning and that is unacceptable behaviour and particularly at a time when those in Victoria are dealing with lock downs and many other stresses. We will get through this but protest activity and what we have seen there is highly distressing and that is not an appropriate response to try to deal with an outbreak of this nature."
Readers could be excused for wondering what the federal government's real view is of the wild street affrays Melbourne has had to suffer over the past few days.