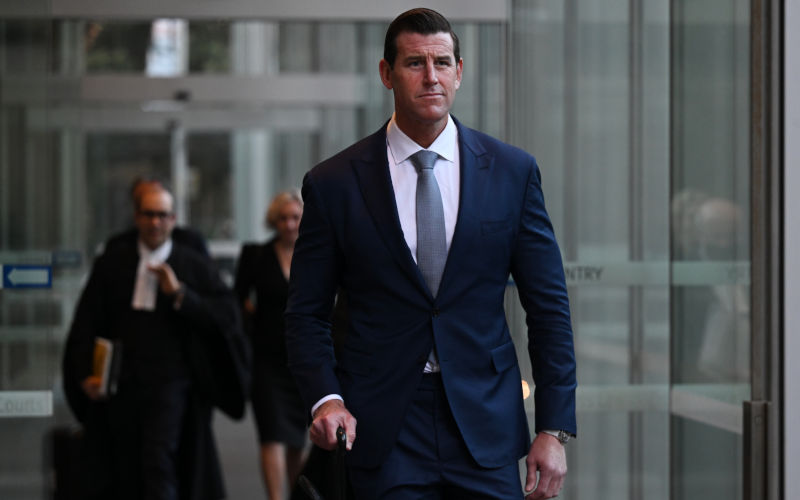 There may be an upside to the Ben Roberts-Smith case. Not for the family of Ali Jan or the people of Afghanistan. Not particularly for Roberts-Smith and the men of the SAS, past and present, or their commanders, only some of whom deserve an upside. No, an upside for the rest of us, Australians all.
First and foremost, we may be able to retrieve from the mess a useful version of Anzac and Anzac Day. Six years ago, a young Muslim African-Australian woman, Yassmin Abdel-Magied, got herself into trouble around Anzac Day by saying this: "Lest. We. Forget. (Manus, Nauru, Syria, Palestine …)". Fairly mild, you would have thought, but Yassmin suffered so much backlash she left Australia for good.
The present author copped a bit also (over 10,000 Facebook shares, 80 per cent of them nasty) after writing in Guardian Australia in 2017 that 25 April was a good day to raise important issues like offshore detention:
We are told that the men of Anzac a century ago – and servicemen and women since – were fighting to defend our values. So why not bring out some values along with the medals, some things we care deeply about? Abdel-Magied could have added: 'Lest We Forget: domestic violence, child sexual abuse, post-traumatic stress disorder, poverty, Indigenous disadvantage, frontier wars'.
In 2023, the year of the Voice Referendum, when we are becoming more aware of our history – all of it, not just the comfortable bits – that last possibility, extending the coverage of Anzac Day to include the Australian Frontier Wars, is particularly worthy of consideration. If all our overseas wars killed around 100,000 people, almost all of them men in uniform, the Frontier Wars also may have killed that number of women, children, and men. (We do not know the exact figure because killings were hushed up and bodies burned and buried.) That, surely, is something to which the old words Lest We Forget rightly apply, on Anzac Day and throughout the year.
In 2017 also, in The Honest History Book, I compared "Anzackery", extreme, emotional, jingoistic, with a useful version of Anzac, private and dignified rather than public and showy, focussing on the consequences of wars as well as on what soldiers do during them, honest rather than euphemistic ("the dead" rather than "the fallen"), and universal rather than parochial (the impact of our overseas wars on Australia and Australians is modest compared with their impact on the rest of the world and its people). That version of Anzac would be better for all of us.
Many Australians believe Ben Roberts-Smith trashed Anzac as national icon and role model. The bigger problem, however, has been the use made of him by panting fanboys, such as the then Director of the Australian War Memorial, Dr Brendan Nelson, who wanted a larger-than-life mascot for the Memorial, and the then Chair of the Memorial Council, multi-billionaire Kerry Stokes, who liked collecting Victoria Crosses and the men who received them. The version of Anzac that these urgers peddled – Anzackery – was always unsustainable. (Flawed Hero, the new book by Chris Masters, is particularly good on the Nelson-Roberts-Smith-Stokes relationship; also read Nick McKenzie's Crossing the Line.)
The second consequence of the Roberts-Smith implosion is that it may help us to take a more realistic view of awards for gallantry in war. A few years ago, Professor Peter Stanley and post-graduate student Victoria D'Alton researched the politics attached to the award of the Victoria Cross. They found "pragmatism and political opportunism" rife in the stories behind the VCs awarded in World War I. These VCs were not just recognition of bravery but "very much the product of an imperial system under stress", particularly by 1918.
"Awards were intended to bolster Australia's faltering commitment to the war", wrote Professor Stanley in The Honest History Book. Imperial connections under stress in a prolonged, increasingly unpopular war sounds a bit like Afghanistan. The Roberts-Smith defamation trial also revealed some of his fellow soldiers doubted whether he deserved his VC, awarded for the 2010 action at Tizak (see chapters 71 and 73 of Chris Masters' Flawed Hero).
Then there is the mental damage suffered by soldiers, damage that can extend to the bravest of the brave. There was a recommendation in 2012 that Ben Roberts-Smith be "monitored for psychological injury" following his involvement in the killing of an elderly imam in Afghanistan. Rather than medals, a far more useful outcome from war would be better psychiatric and other support services from the Department of Veterans' Affairs. An even more useful lesson would be the one about not sending people to unjustified wars.
One of the VC winners from the Great War, Lieutenant Hugo Throssell of the 10th Light Horse, suffered physical and mental injury from his service and killed himself in 1933. He received his medal for bravery at Hill 60, Gallipoli, in August 1915, where he and others fought Ottoman forces at close quarters, throwing bombs back before they exploded.
Throssell's story illustrates another aspect of awards for war gallantry – the role of chance. Besides Throssell's VC, Hill 60 led to the award of two Distinguished Conduct Medals (DCMs), the next ranking award after the VC. Throssell's corporal, Sutton Henry (Sid) Ferrier, was at the centre of the action, was wounded and had his arm amputated, then died of gangrene on a hospital ship. He, however, received no medal. Later investigation revealed changes of command, inadequate paperwork, the classic cock-up – chance.
A century later, the rules about posthumous gallantry awards had changed, the relevant authorities considered Sid's case and, in April 2021, his descendant, Stuart Ferrier, received from the Governor of Victoria the Medal for Gallantry (the successor to the DCM), awarded for Sid's bravery at Hill 60. Sid Ferrier was my great-uncle.