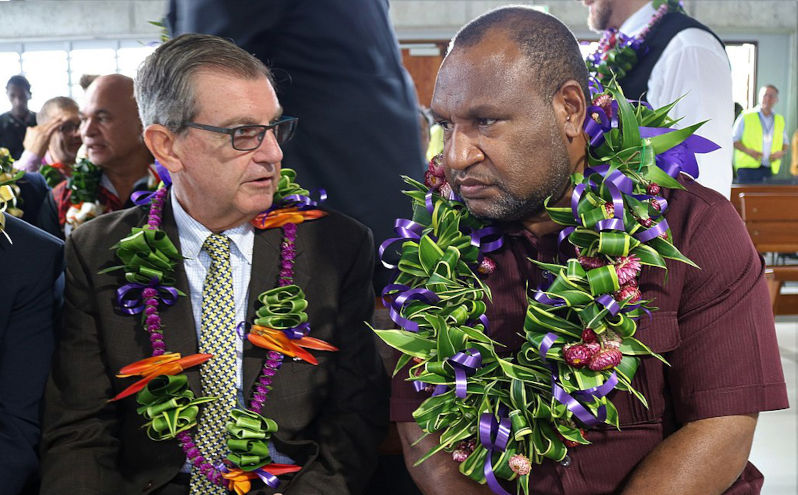 On 9 August, with the date for the extension of writs having been extended by a week but still only 99 of the 118 seats declared in country's recent national election, Papua New Guinea's National Parliament met to elect a prime minister.
As the leader of the party with the largest number of successful endorsed candidates, the outgoing prime minister, James Marape, was invited by the governor general, as mandated by the country's Organic Law on the Integrity of Political Parties and Candidates, to form a government and was duly returned, unopposed, as prime minister. The man generally seen as Marape's principal rival for the position, Peter O'Neill, walked out before the parliamentary vote, complaining, unrealistically, that the vote should not have been taken while some seats had not been declared; the other members of his People's National Congress (PNC) party, however, did not follow him. [At the time of writing several seats are still being counted and at least three seem to be headed for a supplementary election.]
Marape, who claimed before the vote was taken to have 82 supporters, heads a coalition of seventeen parties and some independents. His election unopposed is unusual. As explained in an earlier comment on the election (Pearls and Irritations 15 July 2022) political parties do not play a significant role in determining how people vote but are significant in the formation of governments, which since independence in 1975 have always been coalitions.
Of the 99 seats declared at the time, the Marape-led Pangu Pati had won in 36 electorates. A number of these 36 MPs had been members of O"Neill's PNC during the 2017-2022 parliament but had shifted allegiance after Marape's split with O'Neill in 2019. PNC managed to win only 16 seats. Of the other parties the United Resources Party (URP) had won 10 seats, the National Alliance 5, the People's Party 4, the United Labour Party 3, and another sixteen parties each gained 1 or 2 seats; 8 members were elected as independents. On past performance most of the small parties and independents will join larger parties during the early months of the new parliament. Of the 99 declared seats at 9 August, 51 successful candidates had been sitting MPs in the previous parliament, a percentage in line with the turnover in previous elections.
Efforts to increase the vote for women candidates had only moderate success, with fewer women standing and only two women elected, an infinite percentage increase, however, on the zero women MPs in the 2017 election.
As in other recent elections, the incoming prime minister takes office with an apparently large majority. But coalitions in Papua New Guinea are fragile. Sir Michael Somare had a large majority when he was re-elected prime minister in 2007 but effectively lost office in a political coup by supporters of Peter O'Neill in 2011; O'Neill had a large majority before his coalition disintegrated and he was forced to resign as prime minister in 2019, and Marape had a large majority when he replaced O'Neill in 2019 but nevertheless faced a vote of no confidence in 2020 which he avoided by adjourning parliament. Historically, despite attempts to strengthen political parties, party allegiance is generally weak and coalitions have been unstable. Marape will enjoy a grace period of eighteen months free from a vote of no confidence, but beyond that nothing can be taken for granted.
When Marape took office in 2019 he announced his intention of 'taking back the economy' (while still encouraging foreign investment). His government's attempts to extract better terms from international mining and petroleum companies resulted in delays in negotiating new projects and suspension of operations in the country's largest gold and copper mine. Concerns about the consequent loss of revenue lay behind the attempted vote of no confidence against Marape in 2020. Papua New Guinea can expect to benefit from the present higher price of LNG, but the incoming government faces high levels of debt, shortages of foreign exchange, and problems in meeting demands for local service delivery, especially in health and education, and infrastructure.
After another election plagued by inadequate electoral rolls, logistic problems with polling and counting, theft and destruction of ballot boxes, vote buying and intimidation of voters, and violent incidents ('election-related deaths' – at best a nebulous concept in a country where intergroup and domestic violence are endemic – have been estimated at around 50 in 2022, compared to 200 in 2017), prime Minister Marape has promised to review and reform the electoral process. But after almost fifty years it is hard to dee how patterns of electoral violence and poor governance can be reversed.
Ron May is an emeritus fellow in the ANU's Department of Pacific Affairs and a former director of Papua New Guinea's National Research Institute. His latest book, State and Society in Papua New Guinea, 2001-2021, has just been released by ANU Press.