The Turnbull government is set to introduce a new levy on telecommunications companies that offer 25 Mbps or faster internet connections to contribute towards regional and remote broadband. 
The levy, starting at $7.10 per subscriber increasing to about $8 per subscriber in 2022, is set to be passed straight to consumers by the affected telecommunication companies. The government aims to raise between $40 million and $60 million annually to subsidise NBN Coo's provision of broadband to regional and remote regions.
The rationale for this levy is reasonable, but this government has a habit of bungling telecommunications reform and the implementation of this new telecommunications levy is no exception.
The Coalition's plan for a National Broadband Network (NBN) that was to be provided "fast, affordable and sooner" has now become an example of a "bungled" high-speed Internet rollout according to the New York Times.
As the second rate obsolete fibre to the node (FTTN) is rolled out, unsurprisingly, Australians are opting to stick with slow connections lest they pay for connection speeds they're not going to get. This is compounding the financial woes besetting NBN Co and highlights why the second-rate option was always going to destroy NBN Co's business model.
The Coalition government correctly identified that the internal cross-subsidy being utilised by NBN Co to fund the NBN in regional and remote areas puts it at a disadvantage with other telecommunication companies that offer 25 Mbps or faster Internet connections in urban areas.
At the time the focus was on the now defunct TPG rollout of fibre to the basement (FTTB) in urban areas.
In 2016, the Department of Communications and the Arts stated in a Regulation Impact Statement on Establishing an ongoing funding arrangement for nbn's fixed wireless and satellite networks that "the current method of funding non-commercial services is not aligned with greater competition for high speed fixed line infrastructure provision. As currently structured, nbn is at a competitive disadvantage to comparable providers that do not face similar costs of providing fixed wireless and satellite broadband services. As competition intensifies, there is a risk that nbn will be less able to support its internal cross subsidy."
"Under Option 3 [from the Bureau of Communications Research (BCR) report] the opaque cross subsidies which are currently embedded in nbn's wholesale prices will be replaced by transparent funding provided via contributions sourced from owners of high‐speed broadband access networks—i.e. nbn and networks comparable to the nbn. The proposed funding arrangement does not represent a new cost for the industry—or consumers—as a whole, although the distribution of the cost would now extend to fixed line networks competing with the nbn."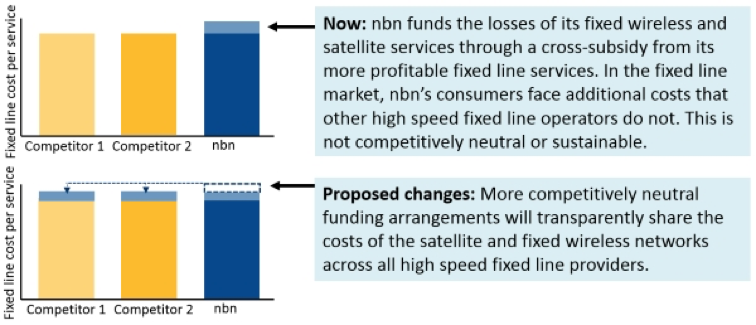 Source: Department of Communications and the Arts
At first glance, the industry levy seems a reasonable approach to ensure that NBN Co's competitors do not get an unreasonable advantage by not contributing towards the higher cost of providing telecommunications in regional and remote areas.
But the industry levy is only targeted at carriers providing high speed broadband over local access lines, which is a term found in the Telecommunications Act 1997 (Act) to describe fixed-line connections.
Apparent exclusions to the industry levy include mobile broadband services, fixed-wireless broadband services, satellite broadband services, exchange based xDSL broadband services and inactive super-fast carriage services.
It is inexplicable as to why companies offering super-fast broadband using FTTN/B and FTTP to residential customers should be levied, whilst companies offering super-fast broadband using fixed-wireless (microwave) and mobile broadband are not.
The draft legislation and the report that it is based upon are now out of date and have been overtaken by the effects of the Turnbull Government's shift to a second rate, multi-technology mix NBN.
There is no justification for the mobile network operators to be exempt from the industry levy as they are also competitors to NBN Co that will benefit by not contributing to the provision of fixed-wireless and satellite broadband services in regional and remote areas.
Over the next decade the mobile network operators will rollout 5G and potentially super Wi-Fi providing gigabit connections speeds.
Armed with this technology the mobile network operators will ramp up their competition with NBN Co and in regional and remote areas they will seek to capitalize on their ability to offer gigabit connections whilst NBN Co offers download speeds of between 25 Mbps and 50 Mbps.
The government appears to be, yet again, sidelining the Productivity Commission. By now the Minister for Communications and the Arts Mitch Fifield will have received the Productivity Commission report into the telecommunications universal service, that was recently completed after a year-long study.
By pushing ahead with the telecommunications levy and other aspects of the flawed telecommunications reform package the government will make future telecommunications reforms much harder to implement, as there will first be a need to unwind the mess that this government has created.
Part of the lunacy is the government's decision to remove small business customers from Part 8 of the Act.
This change would only benefit the larger telcos at a time when further division of the telecommunications market is unwarranted.
The Department of Communications and the Arts explanatory notes to the draft legislation state that "this means that lines used to supply superfast carriage services to small businesses will no longer be subject to structural or functional separation requirements."
"This creates greater flexibility for network operators in the supply of superfast carriage services to small business customers."
This is simply nonsense.
Companies focused on supplying super-fast broadband to small business will be able to do so without the need to provide infrastructure sharing and this sets the scene for the larger carriers to be able to target business customers without the need to open their networks to wholesale based competition.
At a time when NBN Co is building an obsolete second rate NBN there is justification for strong criticism of further reforms by a government that has a habit of bungling the telecommunications portfolio.
The government's failure to force NBN Co to introduce a business model that adequately reflects consumer complaints about the NBN coupled with the $7.10 price rise per annum should achieve little more than an increase in consumer complaints and disdain for the NBN.
Rather than building a next generation national telecommunications network, the Turnbull government is doing its best to tear it down.
Dr Mark Gregory is an Associate Professor in the School of Engineering at RMIT University