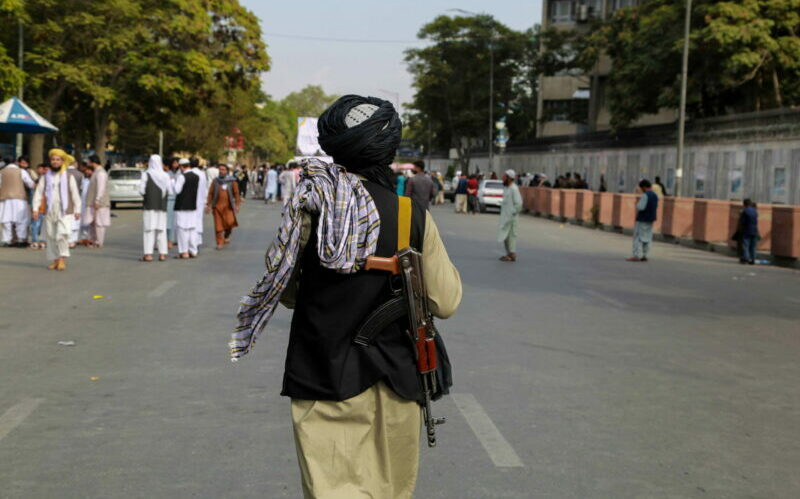 Australia has allocated 3000 places for Afghan refugees. In October, the number of applicants exceeded 100,000. So far no Afghans have been resettled.

On Sunday, August 15, 2021, Horse woke up at dawn and fled his home in the mountains of central Afghanistan. The Taliban had invaded.  As a member of the Hazara ethnic group,  and a person who performed peace-building work with the international community, Horse had good reason to think the Taliban would want him dead.
He gathered the documents he would need to assist him to seek asylum abroad, documents that proved his association with foreign organisations and could be used against him if he was caught. He arranged for a car to take him and his mother to Kabul. Other family members escaped into the mountain passes. His colleagues who dared not risk the road to Kabul went into hiding.
By this time, the Taliban controlled the majority of the country and were circling in on the capital. Horse and his mother were stopped by Talib soldiers. The interrogation was interrupted by gunfire; armed men rushed to join the battle until Horse's car was surrounded by roughly 200 fighters. An airstrike decimated the area; dismembered bodies littered the road. In the confusion, Horse and his mother escaped.
Any relief quickly dissipated when they reached Kabul, where Taliban forces and the Afghan national army were fighting. The fall of the national government was imminent. Up until Sunday people from all over the country had been seeking refuge in Kabul. Displaced people were sleeping on the street. Now they were forced to flee once again. The roads were clogged. Robberies and violence had made the streets unsafe. The lines to embassies were hours long.
Hundreds of people stormed the airport believing that US forces could evacuate them. The few remaining military airplanes left at the airport were surrounded by US soldiers who fired guns into the air in order to intimidate and deter the swelling crowd. The departing foreigners were taking very few people.  A desperate few climbed onto a departing plane, eventually falling to their deaths.
The day Horse and his mother arrived in Kabul, the Taliban took control of the city. This story of escape is particularly personal to me because Horse is my friend and an important contributor to the story of The Kabul Peace House.
The Kabul Peace House
In 2016, I visited Afghanistan with the Edmund Rice Centre to report on the safety of asylum seekers returned to the country by the Australian government. I met a multi-ethnic community of peace activists in Kabul suburbia, led by the charismatic and idealistic doctor, Insaan. There were close to 100 active members who worked on a variety of community-building projects: they founded a school for street kids, grew permaculture gardens, ran a food co-operative, employed seamstresses to sew duvets which would then be donated to war widows or veterans of war. They wanted to build a critical mass of non-violent relationships by building a green, equal and non-violent world.  Keep in mind that most of the young people involved in this community had never experienced peace. They were born into gunfire and warfare.
The compelling stories prompted me to make a second trip in 2017. Their stories became the book, The Kabul Peace House, and I have remained in contact with them ever since.
The fall of Kabul
The fall of Kabul had serious consequences for human rights defenders. It has been reported that the Taliban have executed individuals who collaborated with foreign forces, whether military or civilian. The Taliban have performed targeted killings of journalists and civil society activists and are scouring the Internet searching for Afghans who have been involved with the international community. Reports suggest that Hazaras are being killed and forced from their homes and there are accounts of women being married off to jihadists. Once the Taliban took control, some citizens revealed themselves to be Talib supporters. Now there are fears they were spies. All of this occurred in the backdrop of severe drought, food insecurity, economic collapse, and the Covid-19 pandemic.  Few people thought that two decades and trillions of dollars of international involvement would fall apart so quickly.
The roads are controlled by Taliban forces and visas to safe countries are difficult to come by. Those who can't leave are in hiding. One of the peace house members, Muslimyor, tried to collect his passport but was detained and beaten for nine hours by Talib soldiers. Despite the dangers of travel, refugees are spilling across borders into Iran and Pakistan. Many have relied on people smugglers. Horse tried to cross the Iranian border but was shot in the legs by guards. Another peace house member carried her two-week old baby across the Pakistani border. It took them four days without food but they made it to Quetta where they now live a precarious life as undocumented migrants without work or education rights, fearful they may be deported or targeted by extremist groups.
Amid the devastation and destruction, there is a keen sense of abandonment. Those who bought into the dreams of freedom and equality have now been left exposed. For the past years of conflict, thousands of Afghans who fled to Europe were deported back into danger. Afghan refugees who sought asylum in Australia have been held for years in immigration detention centres in Australia, Nauru and Manus Island. As of October 2021, there were 50 Afghans in immigration detention. A small few have been deported, many others "voluntarily" returned after their claims for asylum were rejected and they faced a lifetime in detention.
The several thousand Afghans who have been offered temporary protection visas live in fear that one day they too could be forcibly returned. Another 7,490 reside in Indonesia, barred from legal resettlement to Australia due to legislation steered by then immigration minister Morrison in 2014. There were a few stories in the media of Afghans being evacuated to Australia as Kabul fell but they are vastly outweighed by accounts of people being left behind. Even the Afghans who worked as interpreters for our Defence Forces have not been guaranteed safety in Australia. The government has allocated 3,000 resettlement places for Afghan refugees out of the annual quota of 13,750 places. In October, the number of applicants exceeded 100,000. So far no Afghans have been resettled from this number.
The Kabul Peace House has ceased operating since the fall of Kabul and its members remain in grave danger.  Refugee advocacy groups continue to demand the government offer additional refugee resettlement places for Afghan refugees and extend permanent protection to those Afghans on temporary protection visas. So far, these calls have fallen upon deaf ears.