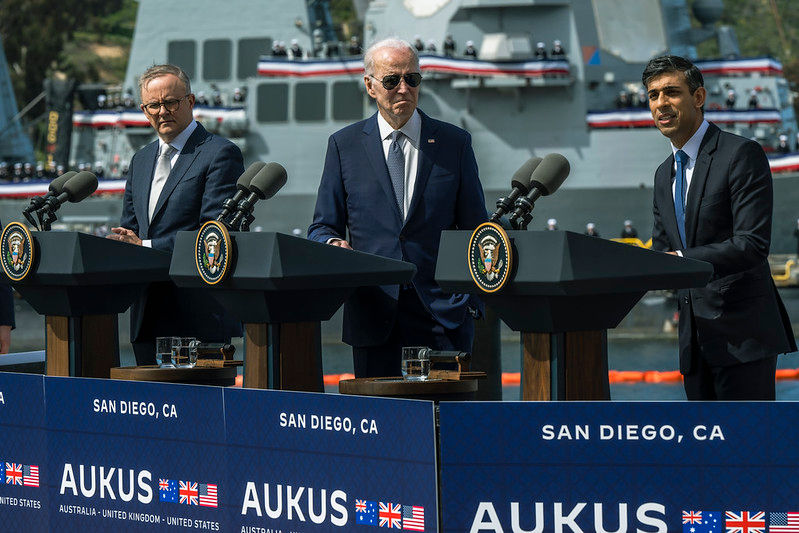 Richard Marles said the quiet bit out loud ahead of the ALP conference AUKUS debate while Prime Minister Anthony Albanese seems to have been, er, "economical with the truth".
The Sydney Morning Herald reported that the Defence Minister had been "urging colleagues to back the statement and prove to Australians that Labor is the better party to manage defence".
Ah, yes – it's all about the political optics.
The only policy area in which Labor does not have a clear lead over the Coalition is defence/national security. In the lead-up to last year's election, the then defence minister, Peter Dutton, pushed it hard.
"When we came in to government [defence] spending was at 1.56 per cent of GDP – the lowest level since 1938," Mr Dutton declared at a United States Studies Centre event.
Mr Dutton warned that "ominous clouds are forming" in the Indo-Pacific, that China and Russia's "unholy alliance" should ring alarm bells, and that countries in the region must confront the "mounting threats to regional stability".
It looks like Mr Marles retained his predecessor's speech writer and fascination with the defence industry's share of the economy.
Labor boosts defence budget
The SMH reported Mr Marles told Labor Party members before the debate that the Coalition were defence dilettantes and the defence budget would reach 2.3 per cent of GDP over the next decade.
So there you go – Labor is the party of military might, boosting the defence spend by 15 per cent above what used to be the bipartisan target of 2 per cent of GDP. Peter Dutton ain't got nuthin' no more.
Just by way of perspective, Germany, with a real live war happening down the road, is aspiring to get its defence spend up to 2 per cent by the end of 2025.
In 2021, as Russia was preparing to officially invade Ukraine and seven years after it annexed Crimea, the total European Union expenditure on defence was 1.3 per cent of GDP. Only Greece and Latvia were spending in Marlesian proportions.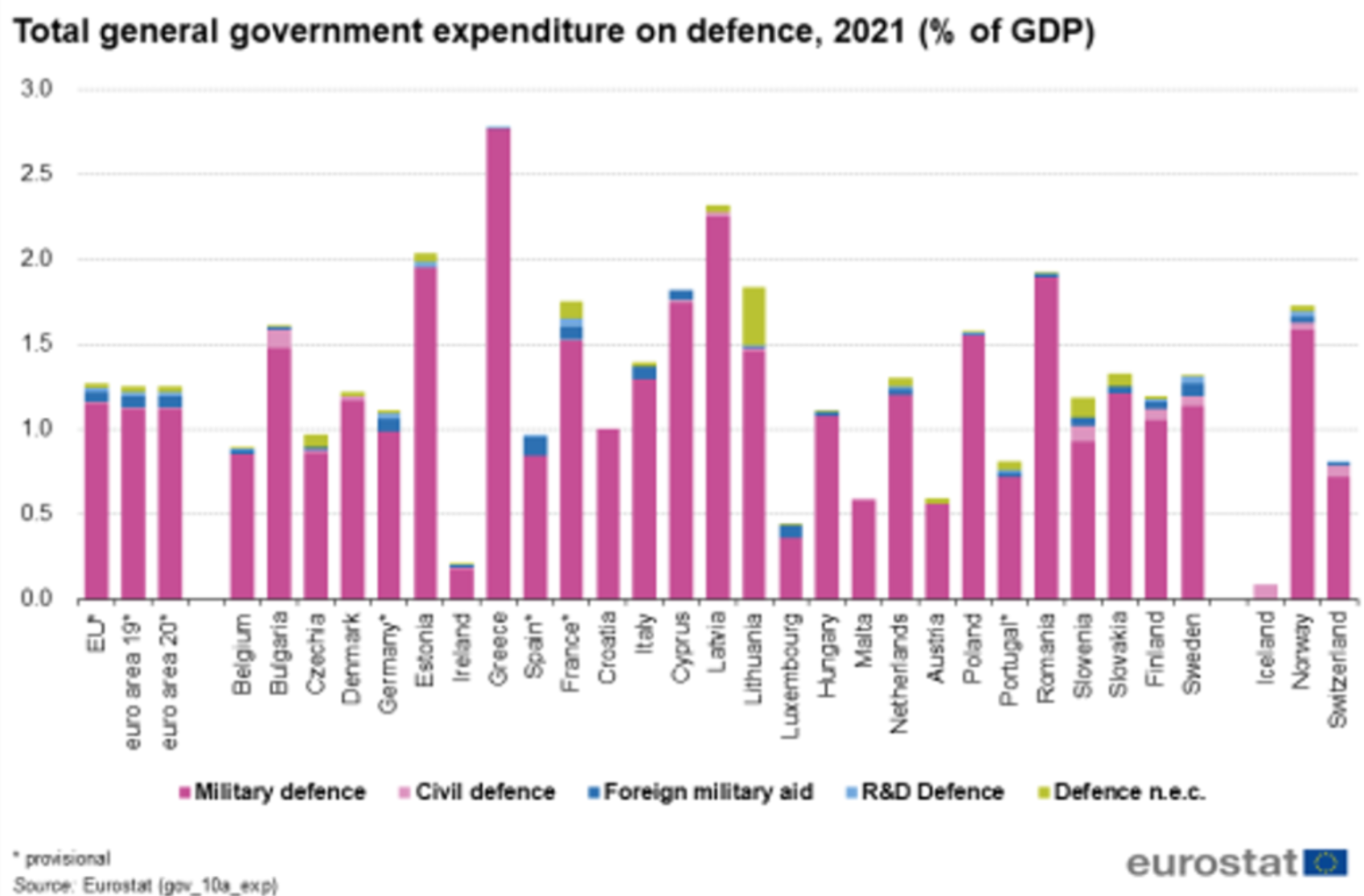 Of course, the misnomer in the "let's spend big on defence to prove we can spend bigger on defence than the Coalition" is that the big spending is increasingly on offensive weaponry, not "defence".
Offensive weaponry
Instead of a fleet of quiet new-generation submarines defending Australia, we're buying several nuclear-powered submarines in order to have a couple operational and sitting off the coast of China as part of the United States' military strategy; Tomahawk missiles fired from ships at land targets up to 1500 km away; 75 Abrams main battle tanks to do heavens knows what, their 73-tonne weight precluding them from travelling much from wherever they're parked.
Labor's central political strategy is to be seen to do a bit more than the Coalition, but on defence it is determined to do much more.
Having been blindsided by Scott Morrison on the AUKUS nuclear-powered submarines deal he had kept secret even from his own colleagues, Labor is making a virtue out of being wedged into instantly agreeing to it.
Which is where the Prime Minister championing AUKUS as the best thing since sliced bread can fairly be described as being of dubious truth.
"I have come to the position based upon advice and analysis that nuclear-powered submarines are what Australia needs in the future," he declared, adding that there's "no security in isolation".
Mr Albanese gave the distinct impression he had thought long and hard about Mr Morrison's surprise packet, that he had investigated the various options and multi-generational implications at length with a variety of experts, debated their analysis and carefully weighed the competing views.
And that is not true.
The Morrison trap consisted of a verbal briefing with only one message from a stacked deck of alleged "experts" pushing a single option – the option that Mr Albanese and Mr Marles immediately swallowed.
Paul Keating, someone with experience in bulldozing policy through when it suited him, declared Labor's acceptance of AUKUS with little thought and no debate was all about avoiding Mr Morrison's attempt to wedge them as being soft on defence – not what was in Australia's best interests.
There has been no credible contradiction of that view – the timeline precludes it.
Lopsided debate
Subsequently, Mr Marles has used the circular argument of his second-rate National Defence Statement to justify the decision.
The quickie review was designed to rubber stamp the submarine deal and did so, its outcome determined by the politics before it was started, right down to only consulting the AUKUS partners on it.
The lopsided debate at the ALP conference quickly descended into farce – Mr Albanese promising 20,000 well-paid jobs for union members in return for the hundreds of billions of dollars to be spent on the submarines; opponents of the submarine purchase being labelled appeasers in the style of Chamberlain and Menzies; Mr Marles hilariously claiming there was "self-reliance" in becoming totally dependent upon and enmeshed in the American military industry.
Yet that was the only political debate Australia has been afforded on the major recalibrating of its sovereignty, right down to turning itself into an American airbase for long-range B52 bombers.
And that is more farce – the Australian government pretending it's not hosting a US Air Force base in the Northern Territory because the bombers will only be on "rotation".
Such nonsense is what we are reduced to in considering what is best for our national interests.
First published in THE NEW DAILY August 23, 2023