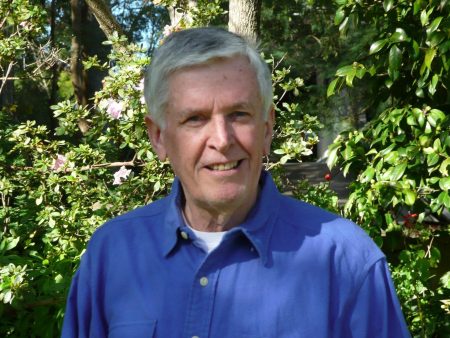 Friends and fellow journalists are paying tributes to my brother, John Tulloh, who died at the age of 82 on the 20th August. I'd like to share the reasons why I believe he became the person he was; a loyal brother and friend, as well as a journalist who loved his job.
Our father, J.K Tulloh born in 1905, was a journalist at "The Age" in Melbourne and was one of the chosen "lads of good families" to represent the Australian youth in the Young Australian League which travelled to Europe and America in the 1920's. The purpose of the trip was to demonstrate that, despite the enormous losses in WW1, Australia was still up and running. They wore uniforms and kepis – his articles sent back to "The Age" were stuck on big sheets of copy paper for us to read.
As children over the family meal our Dad told stories about hiking in the Black Forest and the Lake District, ski-ing in Austria (imagine those wooden skis!), and doing the walk from London to Brighton. Lots of interesting stories to soak up; the seeds were sown! Learning at an early age about far distant places instilled in John a curiosity to travel and discover for himself how the world operated.
Following our father's travels, he worked at the "The Age" and married our mother, Gweneth McClelland, whose parents had selected land near Birchip in the Victorian Mallee. Returning to the family property "Sunnyside" on school holidays John developed a great love for the Australian countryside.
Our parents shifted to Adelaide and father worked for Keith Murdoch at "The News" as a sub editor.
Both parents staunch Christians, Father, Church of England, Mother, Presbyterian. At home and at school, we were fed with values, morals, a strong work ethic, and an interest in the world.
John was born 22 minutes after his sister, Helen, in June 1940. Being a Mallee farmer's daughter mother was very frugal, making sure they'd get through the war. Two daughters arrived after the twins and we all got special rations as there was fear of malnourishment. John was the tallest by far. Our mother was a good cook, providing copious meals and putting up with our whims including John's loathing of cauliflower. We ate at a small table in the kitchen and woe betide anyone interrupting or saying anything like gossip. All sorts of subjects were discussed; this education was so much more interesting than school.
John left school with his Leaving Certificate including a good result for maths despite the fact his teacher had gone around the class telling each student whether they'd fail or not. Such psychology! Initially John worked at the Elder's travel agency near Dad's office so they took the train together.
One day John confided in his father that he wanted to become a journalist, so a phone call was made to a colleague at "The News" and John was "in" as a copy boy which was probably just above the tea lady. From then on only Dad and John talked during meals which we all lapped up – well I did anyway!
During that time John did a few interviews for ABC TV, his first steps into what became a long association with that media. Much later, he was invited to talk to journalist students at a Sydney University; they were fascinated that he hadn't needed a degree to succeed in his career.
John left Australia on a Greek ship when he was 20, found work immediately in Geneva before starting at Visnews in London. He bloomed – he'd found his place. He was later based in New York, Singapore and Hong Kong and on his holidays home to Australia he brought his own wonderful stories to share around the meal table.
John never had his any children of his own, but he was the best uncle our kids could have had. He'd come to my village in Provence and play out in the street with the kids even though his French was zero. They loved him. And how he loved hearing about our dogs!
I'm so glad that medical progress gave him a long and full life; curious and interested in world affairs until the very end.
Ann Tulloh, 22nd August 2022.
ABC statement on John Tulloh
The ABC is saddened by the news that distinguished journalist John Tulloh has died in Sydney at the age of 82. Tulloh, affectionately known as "JT", was the ABC's international news editor from 1985 to 2000 and then head of international operations until 2004.
Tulloh began his career in newspapers in South Australia before striking out for London in the 1960s, where he joined the international TV news agency Visnews. He was based at various times in Ho Chi Minh City (then called Saigon), Singapore, Hong Kong and New York, helping to shape how television audiences around the world saw major news events.
During his later leadership of the ABC's international newsgathering he directed coverage of stories ranging from the two Gulf Wars and the breakup of the Soviet Union to the Balkan civil wars and the Bali bombing.
Justin Stevens, ABC Director, News: "Our condolences are with John's family and friends. John led the ABC's correspondents during a tumultuous period in history and the ABC's international coverage benefitted immensely from his experience.
"He was an outstanding correspondent and editorial leader who mentored many of the great correspondents, international staff and camera operators. The reason the ABC is respected around the globe for its coverage of foreign affairs is to a large degree due to brilliant individuals such as John, and we stand on his shoulders today."
Craig McMurtrie, ABC Editorial Director: "Calm in a crisis, unfailingly supportive, JT seemed to watch, read and listen to everything you filed and didn't duck tough feedback when it was needed. Old school, a gentleman and a wonderful editor."
Tulloh's friends and former colleagues have also paid their respects.
Ian Macintosh: "Wise, warm and unfailingly affable, JT encouraged and was an inspiration to countless Visnews and ABC colleagues with his dedication to their professional success and support for their personal well-being.
"He maintained a career-long and unremitting commitment to journalists' safety, especially for those on hazardous assignments in hostile lands. That dedication, and the priority he placed on correspondents, producers and crews working as a team, endeared JT to all who were fortunate enough to work with him.
"John's innate modesty and self-deprecating persona belied his standing in the international broadcast news community, respected and admired by his peers around the world. A fine writer and keen analyst of world events, he was still turning out thoughtful, perceptive articles on international affairs long after his retirement."
Walter Hamilton: "John's concern for the welfare of reporters, camera crews, locally engaged staff –– everyone involved in the news gathering process, from the "stars" to the hidden faces –– was legion. His memory for names, his great store of anecdotes, going back to his days as a copyboy in an Adelaide newspaper office, and later running coverage for Visnews all over the world, made him wonderful company.
"John oversaw a great and glorious period in the ABC's history of international news coverage, a period when the ABC performed alongside, and often outperformed, the NBCs, BBCs, CBSs and CNNs. He played a major role in ensuring Australians were well informed, via television and radio and the then newly emergent internet, about the world in which we live. We may not see his like again."
Greg Wilesmith: "For a correspondent John was the best editor one could have – worldly, interested, tireless across time zones and long-running stories, always providing feedback and encouragement. In the international news business he was a giant and his reputation endures in London, New York and elsewhere."
John Tulloh is survived by his wife Barbara and friends and family around the world.
John was a very valued and regular writer for Pearls and Irritations, particularly in our early years. He will be sorely missed. Australian journalism and the ABC is very much in his debt. John Menadue