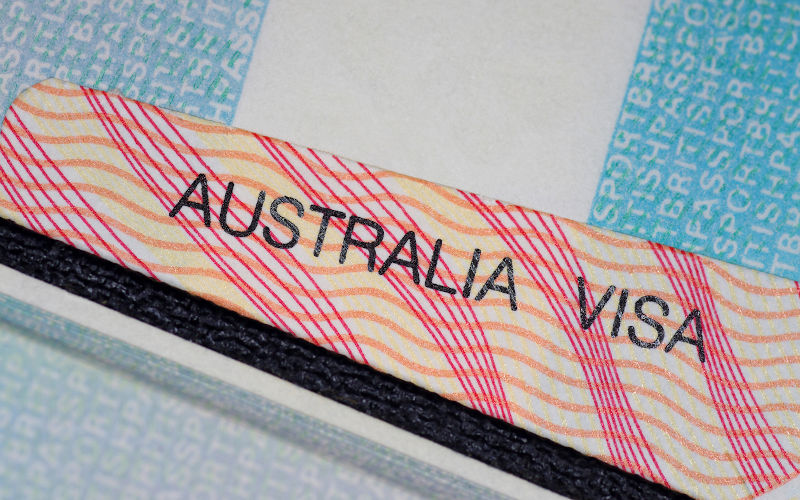 Policy and administration of migrant farm workers will be one of the new Government's biggest immigration challenges.
Over the past 5-10 years, Australia has significantly increased reliance on dedicated visas for migrant farm workers as well as allowing a massive labour trafficking scam supplying farm workers.
Coalition's approach to supplying migrant farm labour
The Coalition's approach to migrant farm labour firstly involved steady shifting of costs associated with Pacific farm worker visas, now known as the Pacific Access Labour Mobility (PALM) scheme, from employers to workers.
Secondly, making changes to working holiday maker (WHM) visa policy to reduce incentives for these visa holders to work on farms. The new three-year WHM for UK citizens will ensure very few of these visa holders work on farms. Allowing WHMs to work with a single employer for 12 months and to obtain a further WHM visa without having to work on farms will mean few WHMs from other nations will work on farms.
This does not seem to have overly concerned farmers. Many did not like employing WHMs as they were too quick to complain to authorities and on social media if treated poorly. Farmers were promised cheap migrant farm labour through other means.
Thirdly, from 2015 Australia experienced its biggest ever labour trafficking scam abusing the asylum system to supply easily exploitable and cheap migrant farm labour. Around 100,000 asylum seekers are now living in the community, predominantly working on farms.
They are gradually being refused at both primary and AAT stages – over 31,000 so far. These people have no work rights and must work illegally to survive. For more unscrupulous farmers, undocumented farm workers represent an opportunity to cut costs.
Fourthly, after committing to stronger laws against exploitation of migrant labour, the Coalition Government failed to introduce even the very weak draft legislation it had developed. This was combined with a massive unfunded increase in the workload of the Fair Work Ombudsman (FWO) and the Australian Border Force (ABF) largely abandoning measures to penalise farmers for employing undocumented labour.
Finally, from September 2021, introduction of regulations to establish a dedicated Agriculture Visa. While former Agriculture Minister, David Littleproud, promised workers under this visa would start arriving before Christmas 2021, none had arrived by the time of the Election in May 2022.
The Agriculture Visa was the ultimate victory for farm lobby groups who have long been jealous of the access US farmers have to cheap, easily exploitable migrant farm labour. The US situation is essentially a combination of millions of unsuccessful asylum seekers and the US version of the Agriculture Visa which has often been described as little short of slavery.
Like Australia, the US also provides totally inadequate funding to enforce even limited migrant worker protections.
What could the Albanese Government do?
The new Government has announced it will abandon the Agriculture Visa. That will mean Australia may avoid the worst excesses of migrant farm labour abuse and exploitation that have been taking place in the US and Europe for decades.
It is also likely the Albanese Government will accelerate introduction of stronger laws penalising exploitation of migrant labour, hopefully much stronger than the draft legislation developed by the Coalition.
It will also need to ensure the FWO is better funded to deal with its massive workload, the ABF to resume penalising farmers (and other employers) for employing undocumented labour and encourage a stronger role for unions in assisting migrant farm workers. There would be merit in a greater level of union membership of migrant farm workers to ensure they get the representation they need.
Future of Pacific Access Labour Migration (PALM) Scheme and Labour Trafficking
A key issue will be the future of the PALM Scheme. Since around mid-2021, net arrivals under the PALM Scheme have steadily picked up and become more diverse (see Chart 1). This is forecast to grow strongly under the Albanese Government.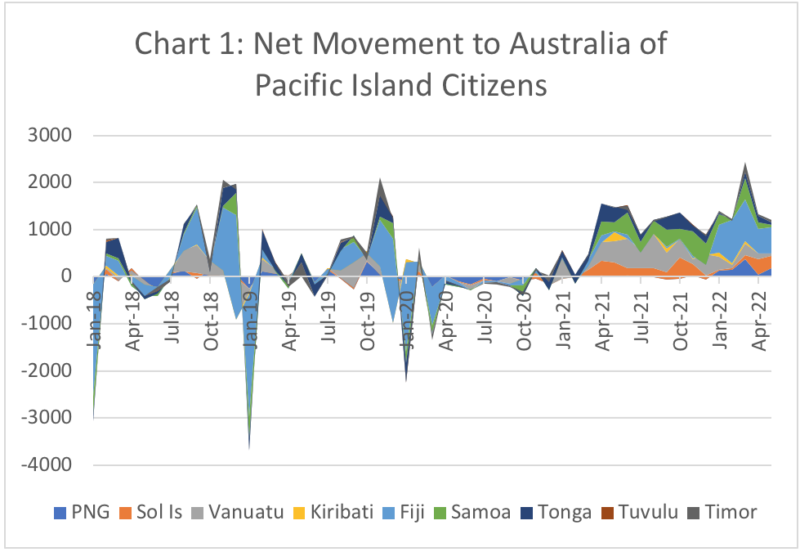 Despite former Foreign Minister Marise Payne crowing about the success of these visas, they have been plagued with problems.
Between 30 and 40 people on these visas have died while in Australia – yet no systemic review of these deaths has taken place.
PALM Scheme workers absconding from their employers increased to over 1,200 over the most recent 12 month period. The Government issued an advertisement warning of severe consequences of absconding rather than dealing with the cause of the absconding – essentially blaming the victims rather than dealing with the source of the problem.
Despite that warning, the number of Pacific Island nationals who have run away from their employers and applied for asylum has continued to escalate with over 3,600 asylum applications since November 2019 (see Chart 2).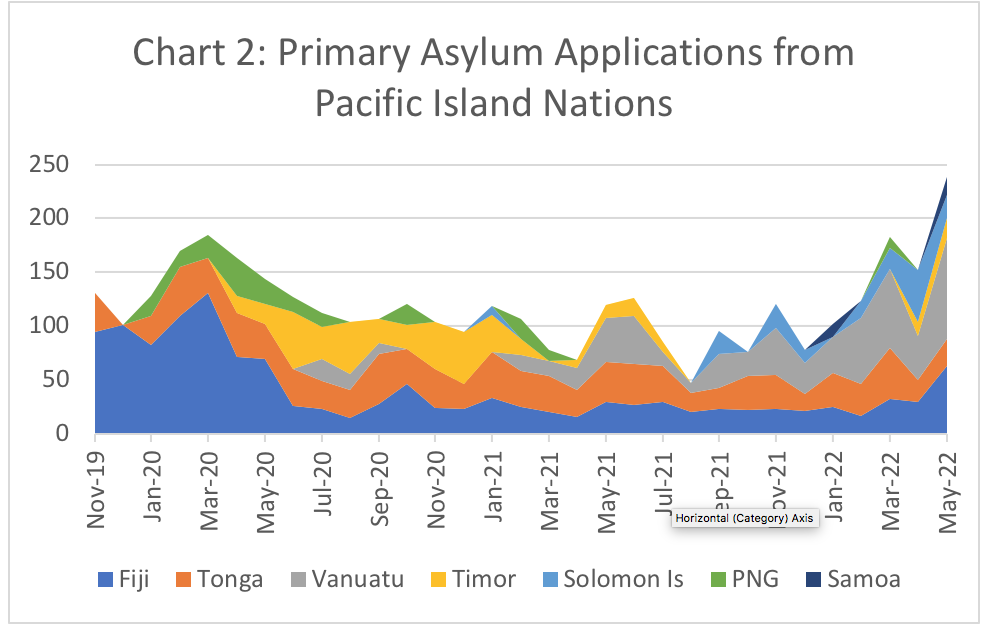 Source: DHA Monthly Asylum Report and AATJust in May 2022, over 238 asylum applications were received from Pacific Island nationals, including 94 from Vanuatu nationals; 63 from Fiji; 25 from Tonga; 22 from the Solomon Islands; 18 from Timor and 16 from Samoa.
Very few of these asylum claims are successful as they are mostly just a sham taking advantage of the massive asylum seeker backlogs at the primary and AAT levels.
Exploitation of PALM Scheme workers has been extensively documented.
A Senate Committee has heard evidence of appalling abuse of PALM Scheme workers.
When in Opposition, the Labor Party announced significant reforms to the PALM Scheme (in addition to abolition of the Agriculture Visa). The key changes proposed were:
travel costs of Pacific migrant workers to be paid by the Federal Government;
allowing Pacific migrant workers to bring their families with them; and
providing a pathway to permanent residence for 3,000 PALM visa holders annually.
The second and third of the above are closely aligned as families will settle in Australia and will inevitably seek a pathway to permanent residence.
But how will that be done?
There has been a suggestion the Government may use a visa lottery – a mechanism other nations use but would be a first for Australia. Visa lotteries are generally used when policy makers cannot think of a logical way to achieve a particular outcome.
This visa lottery may only be available to Pacific Island nationals thus further eroding the non-discrimination principle in permanent migration established by Gough Whitlam and reinforced by Bob Hawke in 1989.
It would set a precedent for other groups to also argue for a 3,000 place visa lottery. For example, why not one for Indonesian nationals? Aren't they also close and important neighbours? Why not one for UK citizens given Australia's past links to the UK and the new AUKUS agreement?
Depending on how the lottery and permanent residence pathways are designed, there is also a risk that:
employers would use that to exploit workers until they secure permanent residence (eg don't complain about your treatment or you won't get in the queue for the permanent residence visa lottery);
workers would leave employers (and regional Australia) as soon as they secure permanent residence – there is nothing in the policy to keep them working on farms; and
the workers will almost forever be consigned to low skill jobs even when they move to a city and specially if they are subject to the four year wait for social security. This would reinforce racist attitudes to Pacific Island people such as that expressed by former Deputy Prime Minister Michael McCormack.
A better approach would be to assist PALM Scheme workers to develop relevant trade skills (eg farm machinery mechanic; agricultural or horticultural mobile plant operator; meat boner and slicer; meat grader; livestock truck driver; wool grader) that give them better long-term job prospects while remaining in regional Australia and ideally in the employ of their PALM Scheme sponsors. It would give them the option of taking these skills back home if they chose and to make larger remittances.
This approach would remove the need for a visa lottery or a discriminatory permanent visa dedicated to Pacific nationals and enable farmers or state governments to sponsor PALM Scheme workers for permanent residence under existing visas. That eliminates the need for discrimination on a nationality basis in permanent migration.
This could involve:
requiring PALM Scheme visa applicants to show they have a basic level of English. This would reduce occupational health and safety risks; enable workers to better argue for their work rights; and attend TAFE to develop trade skills. Pacific Island governments should assist their citizens to develop English language skills before they apply for a PALM Scheme visa;
state governments to waive TAFE fees for PALM Scheme workers and international student fees for the children of PALM Scheme workers;
sponsoring farmers be required to provide paid time off for PALM Scheme workers to attend TAFE classes and unpaid time off during peak season to travel to work on other farms as needed. Adherence to these requirements would need to be closely monitored, including via relevant TAFE institutions. No labour hire firms should be allowed and each PALM Scheme worker should have a single sponsor to ensure clear lines of accountability. Significant penalties should apply to sponsors who fail to meet their obligations to the workers they sponsor; and
the Commonwealth to waive Job Ready Program fees on behalf of PALM Scheme workers and the Skilling Australia Fund payments on behalf of sponsoring farmers. The Commonwealth should also provide PALM Scheme visa holders with access to Medicare given the high death toll and the risks of injury working on farms.
This approach would create a greater incentive for PALM Scheme workers to not run away from their sponsors and apply for asylum – which inevitably involves an enormous waste of taxpayer money in processing resources and compliance work – but rather dedicate themselves to enhancing their skills to improve their income and permanent residence prospects.
These arrangements are likely to be attractive to farmers and meat processing companies looking for a longer-term and more skilled workforce. It may not be as suitable for farmers just looking for cheap, short-term temporary labour, other than during peak season.
This represents a fundamentally different visa and business model to the one that has existed in the US and Europe for decades.
But is the human exploitation and abuse inherent in the US and Europe migrant farm worker model something Australian farmers and regional Australia really wants to aspire to?