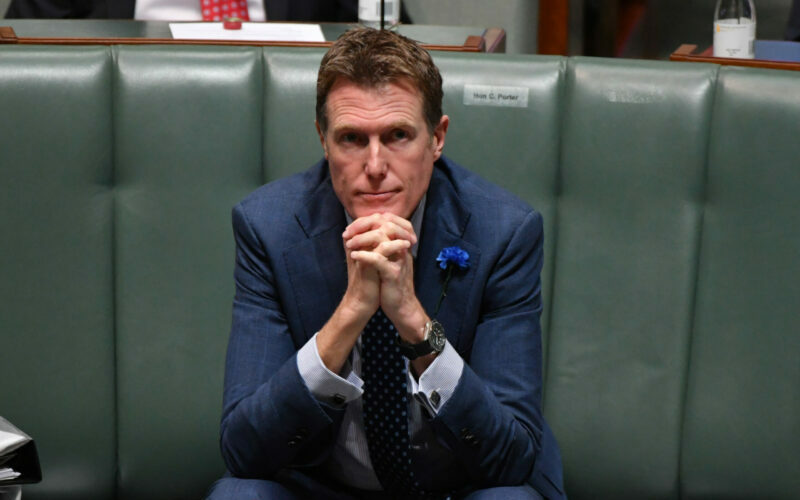 Until last week, "blind trust" seemed to mean the faith that many Australians  put in their political leaders. However we have been better educated by the revelations that Christian Porter was given money by a blind trust.
How much money has not been revealed by Porter — but it could be a seven figure sum. Porter claims not to know who has given the money: "As a potential beneficiary I have no access to information about the conduct and funding of the trust."
Anthony Albanese and other have expressed scepticism that Porter knows so little.
Porter told federal Parliament that, "the following contributions have recently or may shortly be made" (emphasis added). The words in italics seem to suggest that Porter knows more about the source of his financial windfall than he has revealed: presumably he would not know about a gift that may shortly be made unless somebody has told him something.
Scott Morrison has followed his usual response to political hot potatoes — flick them on to the safe hands of his old mate, Phil Gaetjens, head of the Department of Prime Minister and Cabinet. In the past, that approach has proved reasonably successful politically to buy time and take the heat off — think of both sports rorts and Brittany Higgins.
Morrison knows that most of us can't keep concentrating on an issue for the weeks or months that it takes Gaetjens to respond; and that Gaetjens' eventual response can be prevaricated over as it was with sports rorts. Like Mr Micawber in David Copperfield, Morrison also well knows that often "something will turn up" — as it did with Brittany Higgins —– because the matter has now gone to court, Gaetjens has been able to shelve his inquiry into who knew what when within the Prime Minister's Office about Higgins having allegedly been raped in the office of the defence minister by another staffer there. Embarrassment avoided!
During the best part of a week between the story about Porter's good financial fortune breaking and his resignation as a minister there was speculation that he might return the gift. But apparently the gifted money — however much it was — is more important to Porter than being a federal minister, so he has left the ministry. Do his ambitions to lead this nation survive? Or does Porter see that his reputation — in particular for repeated gross errors of judgment — has closed that door?
As I recall, it was then federal treasurer Phillip Lynch who brought the issue of trusts into the political realm. In 1977 Lynch was forced to resign from the Fraser ministry when it was revealed that he was using a family trust to minimise his tax obligations, which was perceived as a conflict of interest. In the process, political junkies learned a bit about the law of trusts and the then burgeoning practice of monied people using trusts to save tax.
Now it is blind trusts that we have to get our heads around.
In fact, although Porter called it a "blind trust", that seems to be a misnomer for what Porter has benefited from. Wikipedia — accurate on this as on most things —– says: "A blind trust is a trust in which the trust beneficiaries have no knowledge of the holdings of the trust, and no right to intervene in their handling. In a blind trust, the trustees … have full discretion over the assets."
True blind trusts are sometimes used by political leader and others so that they can continue a presence in financial markets but not be accused of have a conflict of interest when they make decisions which increase the value of their investments. (In that regard true blind trusts are subject to the same criticisms as are levelled when politicians claim to be ignorant as to who has donated to their party on the basis that such matters are confidential to the party's treasurer).
On the ABC, Malcolm Turnbull gave a colourful analogy for what Porter seems to be describing — it is not a blind trust. Turnbull said:
"It's like saying, 'My legal fees were paid by a guy in a mask who dropped off a chaff bag full of cash.' In Porter's case the trustee doesn't tell him (supposedly) who contributed the money to pay his legal fees. So zero transparency, zero accountability. I don't think that is acceptable in public life. But Porter's case is much worse than a conventional blind trust because we don't even know where the money came from."
I would add, that we also don't know — and Porter claims that he doesn't know — even who the trustee is; or what the source of the funds is. Where did the trustee get the money?
There is a "Statement of Ministerial Standards" for federal ministers.
It is expressed in fairly broad terms, rather than with the precision one might expect to find in a tax Act. For example, this:
"Ministers, in their official capacity, may therefore accept customary official gifts, hospitality, tokens of appreciation, and similar formal gestures in accordance with the relevant guidelines, but must not seek or encourage any form of gift in their personal capacity."
That sentence is not drafted with the precision one expects in an Act: the first part of the sentence refers to the acceptance of gifts; the latter part refers only to seeking or encouraging gifts.
The prime minister's foreword to the standards makes the point well: "This Statement is principles based and is not a complete list of rules."
A problem with the broad standards approach is that, when a breach of the standards is alleged, the defence is mounted on technicalities, as if the statement were a tax Act. For example, the argument has been made that Porter has not sought or encouraged the gift — it is a fortunate windfall.
Another example of nit picking the standards as if they were a tax Act is that both Porter and Treasurer Josh Frydenberg made much of the point that the gift was to pay for legal fees incurred by Porter in relation defamation proceedings he brought on his own behalf, rather than as a minister.
"In a purely personal capacity," were Porter's words. He reinforced the point by saying that no taxpayer funds were being used. That seems to be a red herring; a straw man argument.
Porter claimed that he was only declaring the gift on the register of parliamentarian's interests "out of an abundance of caution".
I would expect that an entity which has, let's say, a million dollars sloshing around would have an Australian Business Number (ABN). Surprisingly, there are three entities with an ABN which could be described as "the Legal Services Trust".
I say surprisingly because corporate affairs rules generally prevent there being one body holding a name, or a misleadingly similar name. The three are "The Trustee for LEGAL SERVICES TRUST", located at 6050 Western Australia; "The Trustee for Legal Services Trust" from 2030 NSW; and "The Trustee for the Legal Services Trust" from 2000 NSW.
Those three locations are respectively Mount Lawley and surrounds (WA), Vaucluse and surrounds (NSW) and Sydney City and surrounds. The Mount Lawley entity has been active since early January 2018, and is described as a discretionary trading trust which is not registered for GST. The Vaucluse entity has been active since early June 2018, and is similarly described as the WA one.
The Sydney City entity has been active since 1 July 2012, which is described as a discretionary investment trust which is not registered for GST.
Surprisingly, the names "the Legal Services Trust" and the "Legal Services Trust" do not seem to be registered as business names. It is unlawful to do business under a name in Australia other than one's own name or the name of a registered company unless the name is registered as a business name. So is somebody telling porkies?
Commentators, including Samantha Maiden on news.com.au, have reported Porter may have to pay tax on the gift, depending on technicalities to do with the trust. So Porter may need to find out a bit more than he says he now knows before he completes his next tax return.