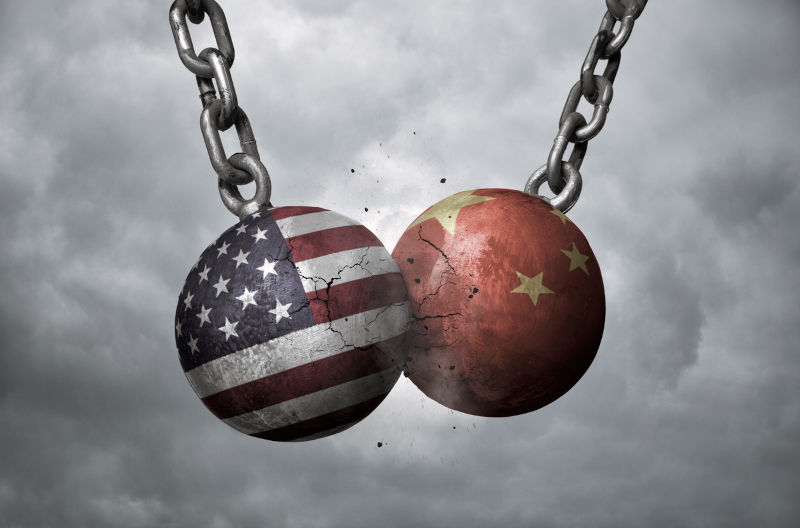 When Nancy Pelosi made her 'woke' flight to Taiwan the U.S. seemed to hope for a Chinese military reaction to it. It positioned an aircraft carrier and two amphibious landing ships in the region. It also shipped additional fighter planes to Japan and South Korea.
Chinese and international commentators drew up potential scenarios for a clash like a forced diversion of Pelosi's plane. However, the Chinese government kept its calm. The reintegration of Taiwan into China is not an urgent matter. It had planned for longer term measures designed to press the pro-independence government in Taiwan into obedience.
Chinese military exercises will now be held around the island without regard for what Taipei claims as its borders. These missile launches, sea and air manoeuvres will not be threatening enough to cause a dangerous military confrontation. But they will be repeated over the next years and will steadily move closer and closer to Taiwan's coast.
bigger
The 
median line
 between China and Taiwan, never officially recognized but adhered to, will now be ignored.
China essentially decided to boil the proverbial frog of Taiwanese independence by slowly, slowly increasing the pressure:
China's People's Liberation Army (PLA) is closing off six areas around Taiwan from Thursday to Sunday and is expected to hold drills, including live-fire exercises, in some areas within 12 miles of the island.

The drills are expected to be bigger than the missile tests China launched during the Third Taiwan Strait Crisis that was sparked in 1995 by the US granting a visa to former Taiwanese President Lee Teng-hui.

Both Chinese and American analysts believe that the unprecedented military exercises could become routine, a consequence of Pelosi's provocative visit.
Taiwan depends on sea trade. The Chinese military manoeuvres will essentially block it for the next few days. It is demonstration of what might come should China get really serious.
This military posturing will be aided by selected economic sanctions designed to remove the support for Taiwan's current pro-independence government:
China also imposed sanctions on Taiwan because of Pelosi, including a ban on the export of natural sand, and a halt on imports of fish and fruit products from the island.
A  ban on the export of natural sand, 90% of which Taiwan imports from China, may sound harmless. But if you live on a rock in an area prone to earthquakes you may want to build your high rises with concrete. No sand no concrete. Building costs in Taiwan will rise and the government will be blamed for it.
Taiwan's soft power will also be curbed:
The authorities will take punitive measures against the "Taiwan Foundation for Democracy" (TFD) and the "International Cooperation and Development Fund" (ICDF), two organisations that have close ties with diehard secessionists, said Ma Xiaoguang, a spokesperson of the Taiwan Affairs Office of the State Council.

Enterprises that have donated to the two funds, such as Speedtech Energy, Hyweb Technology, Skyla Corporation, Skyeyes GPS Technology, are to be prohibited from conducting any transactions or cooperation with mainland organisations, enterprises and individuals. The persons responsible for these enterprises are banned from entering the mainland.
The people of Taiwan did not support Pelosi's grand standing:
News sites ran polls, with almost two-thirds of UDN's respondents saying the visit was destabilising. Talk radio discussed preparation and escape plans, and walked listeners through their growing anxieties.
That wasn't helped by Pelosi's tone deafness:
At a news conference with Taiwanese President Tsai Ing-wen on Wednesday, Pelosi was asked what she could offer Taiwan to offset the possible costs the island would incur — including economic retaliation from China — as a consequence of her visit.She answered that her visit was part of a broader U.S. effort to have "better economic exchanges" with Taiwan, and she said "significant" Taiwanese businesses are already planning to invest in manufacturing in the United States."
"You will get sanctioned while we will steal your prime advantage in chip manufacturing," is not exactly an uplifting message.
Other countries which Pelosi also visited felt sidelined by her anti-China antics:
Ms. Pelosi's visit may also damage a push by the White House to shore up support against China from key allies in the region who analysts say have felt sidelined by the trip, and frustrated by the spiralling tensions. With much recent attention eaten up by China's fulminations over the visit, allies suggested that they wish they had been better consulted ahead of Ms. Pelosi's journey.
South Korea, where a recent economic imbalance and trade deficit has raised concerns, snubbed Pelosi:
President Yoon Suk-yeol plans to speak by phone with visiting U.S. House Speaker Nancy Pelosi later Thursday, his office said, after officials said earlier that a meeting between the two is not planned as Yoon is on summer vacation.
Pelosi wasn't amused:
Korea Pro @southkoreapro – 2:00 UTC · Aug 4, 2022 Yoon administration and the ROK National Assembly did not send any delegation to welcome Pelosi's arrival last night. Pelosi was not pleased about the situation, multiple reports said.
All together Pelosi's trip was not the success she may have thought it would be. It was a trap she had set for herself when it first 'leaked' that she would visit Taiwan. If she had not gone the Republicans would have blasted her as a coward. Now she will carry the responsibility for further deteriorating U.S. relations with China.
Taiwan, which all the brouhaha is allegedly about, will further lose in its economic relations with China and will wither away as an economic power.
Eventually the people of Taiwan will vote for another party and unification will again come into sight.
Posted on Moon of Alabama August 4, 2022
A blogger based in Germany who uses the blog name Moon of Alabama from a Brecht song, a favourite of David Bowie, is a source of good information and analysis.