Politics
Morrison: a more empathetic, consultative bulldozer? It is all about marketing
May 17, 2022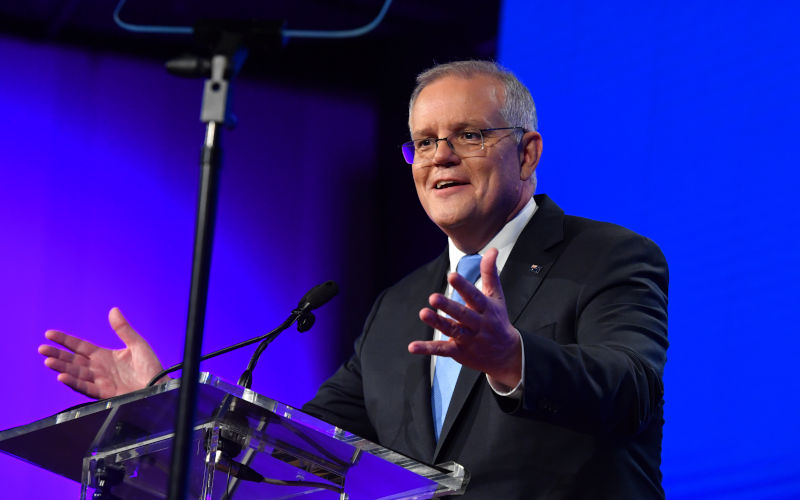 Only a super salesman like Scott Morrison would think of trying to convert a negative attribute – bully – into something that has perhaps a small positive connotation – bulldozer. But that's at least partly what last Friday's makeover was about.
The Prime Minister, in an obviously calculated change of tactics, told the media that he 'can be a bit of a bulldozer' and that things were 'going to have to change in the way I do things.' He would be more empathetic.
Bulldozer? Perhaps someone has accused him of that but if so, that would surely be the least negative characteristic his enemies and his colleagues have attributed to him. 'Bully' is the word that women in particular frequently describe the way he treats them. The last to go public was Liberal Senator Concetta Fierravanti-Wells who told the Senate on budget night he was an 'autocrat and a bully who has no moral compass'. There are other derogatory descriptions of him of course. Like 'nasty, nasty man'.
'Bully' these days has no positive meanings. The primary meaning according to the Macquarie dictionary is 'a blustering, quarrelsome, overbearing person who brow-beats smaller or weaker people'. But 'bulldozer' isn't quite so bad. There is a colloquial meaning that would be very familiar to the Prime Minister: 'to push legislation, a motion, etc, through the process of a parliament, meeting, etc., with undue haste.' Leave aside the last phrase, and its almost a compliment if you aim to be seen as a 'strong' Prime Minister, which is the reputation Mr Morrison would like to have – not least because it can win votes.
But Opposition Leader Anthony Albanese changed that picture with his first response to the 'bulldozer' epithet. 'Bulldozers knock things over. I'm a builder.'
The Prime Minister would have known that promising to recast himself as more empathetic and consultative at this stage of the election campaign had its dangers. For one, it publicly acknowledged that the strategy he had adopted at the beginning of the campaign, insisting that the election was 'not a popularity test', had failed.
Some voters had been influenced by the disturbing, unflattering character assessments made of him, particularly by women. 'Bully' summed up complaints made by so many. It stuck. And while voters might forgive and continue to support a Prime Minister who had demonstrated that he was 'strong', a Prime Minister who was a 'bully' – particularly one who bullied women – was a negative that was difficult to ignore.
Still, he himself could not possibly use, and thereby acknowledge the description, bully.
The Prime Minister's assertion that the election was not a popularity contest no doubt recognised the fact that he had become considerably less popular thanks in part to his handling of the pandemic, bush fires, relations with the States (i.e. clashing with much more popular state premiers) as well as his handling of what tends to be capsulated as his 'women problem'.
He wanted instead to be judged on his record – though that record was not as stellar as he tried to paint it; rather it has contributed to his loss of popularity.
While his attempt to downplay popularity was understandable, it should not disguise the fact that Morrison won the 2019 election in part because of his popularity – and the lack of popularity of the Labor leader, Bill Shorten.
According to the ANU's electoral study of that election, based on voter responses to its surveys 'it is estimated that the net effect of leadership on the vote was 4% against Labor'. Four percent, in an election where the Liberal-Nation coalition had a two-party preferred margin over Labor of just 3.06 per cent. (Of course, other factors also influenced votes aiding one side or the other. But the popularity of the respective leaders was clearly extremely important in helping determine the outcome of the election. The ANU study has found over a long period that at least 8 percent of voters rate party leadership as their most important consideration when voting.)
The ANU's study has been going for more than 20 years. Historically, Morrison's popularity in 2019 was a bit better than half way up the popularity totem poll for leaders – scoring 5.1 where the highest recorded score was by Kevin Rudd in 2007 (6.3) and the lowest 3.9 (Andrew Peacock in 1990). Shorten was the lowest of all the Labor leaders, on 4.0.
For the moment, public opinion polls (mainly Newspoll) suggest that Morrison's approval rating went into negative territory about August last year and currently he is unpopular with just over 10 percent more than those who approve of him. About 10 percent don't know.
Albanese's disapproval rating is slightly less than 10 percent more than those who approve of him, with about 20 percent in the 'don't know' category.
These polls do not appear to have been materially affected during the past 5 weeks by the so-called blunders of Albanese early in the campaign (and during it, according to some media), nor by Morrison's frenetic campaigning.
These approval/disapproval measures are considerably less sophisticated than those produced by the in-depth questioning that the ANU study conducts after the election. Perhaps all that can be said is that there is no hint here of the disparity in popularity between the leaders that was so important three years ago.