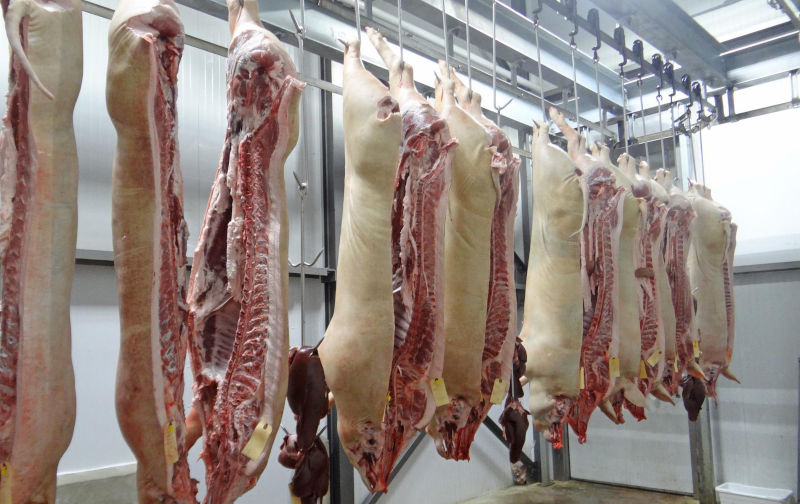 We are on a very slippery slope with these visas towards the slavery-like conditions that have existed for migrant workers in North America and Europe for decades.
Assisted by changes to Government policy, Australian abattoirs are switching from using skilled temporary entry visas to recruit meat workers from overseas to using the Pacific Australia Labour Mobility (PALM) Scheme and soon the new Agriculture Visa.
This will significantly increase the risk of exploitation and abuse and drive down the wages these workers are paid.
For over two decades, the Australian meat processing industry has found it difficult to recruit local residents – seems young Aussies don't want to work in abattoirs even though the jobs pay quite well and much more than that paid to farm labourers.
As a result, the industry has relied extensively on overseas recruitment, mainly using the former Sub-Class 457 skilled temporary entry visa (now Sub-Class 482).
Abolition of the Sub-class 457 visa and its replacement with the new Sub-class 482 visa from 2017-18, plus adoption of a refuse wherever possible approach by DHA visa processing staff under former Minister Dutton, resulted in a dramatic reduction in use of this visa by abattoirs (see Chart 1).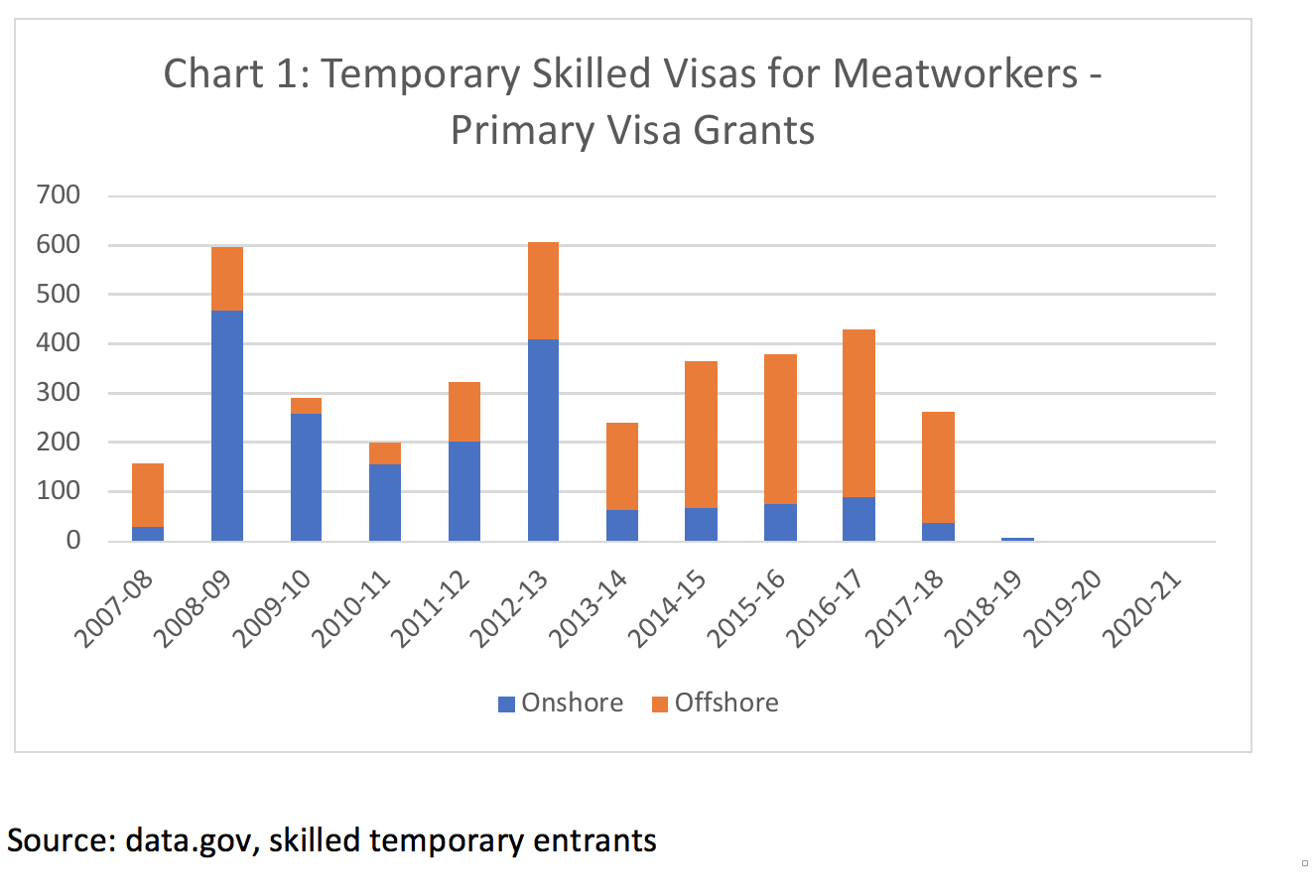 Associated with this there has also been a steady decline in the number of skilled temporary entrants working in Australian abattoirs (see Chart 2).
Despite recent changes to these arrangements to again allow use of skilled temporary entry visas for recruitment of meat workers, it is highly likely there will be only limited use of these visas to recruit meat workers.
This is not because of a lack of demand for skilled meat workers. Australia's meat processing industry is crying out for more such workers. The new free trade agreement with the UK, trade agreements with Indonesia as well as development of a new trade agreement with India will bolster demand for processed meat – possibly offset by a decline in demand from China.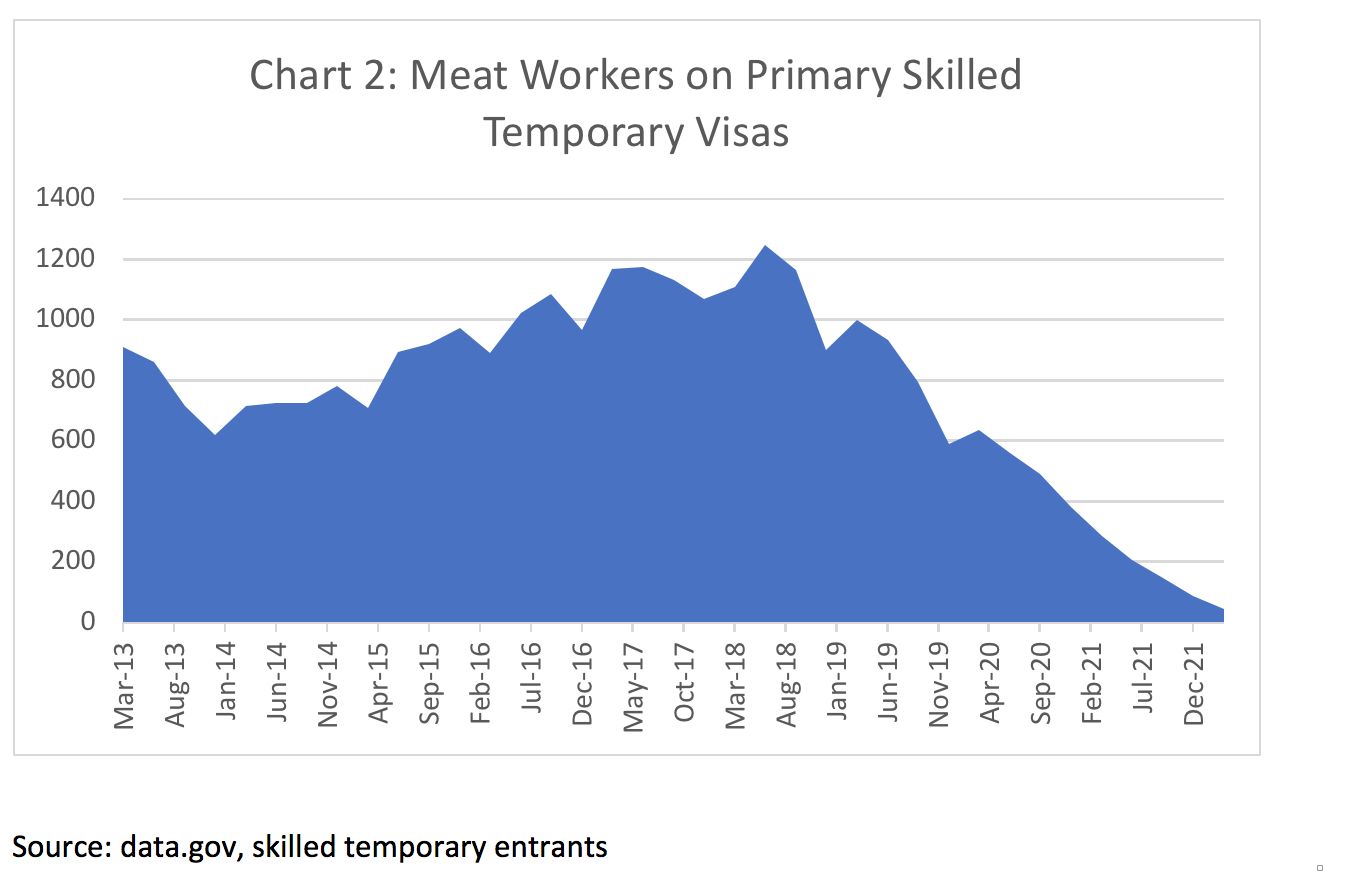 If Australia's live sheep export industry is to be gradually closed down as proposed by some, more of the meat will have to be processed in Australia and then exported.
It is inevitable demand for skilled meat workers will continue to be strong.
However, changes to both the PALM Scheme and introduction of the new Agriculture Visa will mean very few abattoirs will in future choose the skilled temporary entry visa. There have already been reports of an abattoir in WA undertaking negotiations in Fiji to recruit meat workers under the PALM Scheme. I have been unable to find public information on how many other abattoirs have already decided to go down this path.
This is not some arcane switch from one visa type to another that only bureaucrats worry about. There are numerous safeguards in the skilled temporary entry visa which simply do not exist in the PALM Scheme and the Agriculture Visa which make this switch very high risk.
First, the PALM Scheme and the Agriculture Visa require no formal assessment of the applicant's skills. It should not be assumed that working in an Abattoir is an unskilled job. While there are some roles that are unskilled, most meat workers need to go through extensive training in matters such as:
correct method for slaughtering animals to ensure this is done humanely.
strict hygiene measures to protect the quality of the meat.
boning and slicing meat so that it accords with the requirements for sale.
Under the skilled temporary entry visa, applicants go through a strict skills assessment process that is undertaken by the nominated Australian skills assessment body.
While abattoirs can voluntarily put the temporary entrants they recruit through this training and skills assessment process, there is no migration regulation that requires them to do so under the PALM scheme or the Agriculture Visa. The risk is that less scrupulous abattoirs may decide to cut corners and avoid this 'red tape' and cost. This represents a substantial risk to the reputation of the Australian meat industry.
Secondly, the skilled temporary visa requires applicants for a skilled meat worker position to have extensive relevant skilled work experience, usually three years, in a meat works that operates to Australian standards. The PALM Scheme and the Agriculture Visa have no such regulatory requirement.
As a result, for some workers under the PALM Scheme or Agriculture Visa, the first day of working in an abattoir may be after they arrive in Australia. If they find that work unsuitable, they won't have many choices. This may exacerbate the already high rate of workers running away from their employers under the PALM Scheme – well over 1,000 have already done so and a large number have now applied for asylum to avoid having their visa cancelled. The alternative is to work unlawfully as they have no other means of support.
Thirdly, the PALM Scheme and the Agriculture Visa have no regulatory requirement for an English test. Abattoirs are high risk work environments. A limited ability to communicate with supervisors and fellow workers or understand signs written in English places people at risk. It is for this reason there is a strict English language requirement for meat workers recruited under the skilled temporary entry visa.
The English language requirement is not just some bureaucratic issue. To date, well over 30 people on the PALM Scheme have to date died while in Australia – this extraordinary death rate for such a small visa is not just a matter bad luck but reflects poor visa design and administration.
Fourthly, abattoirs will be attracted to using the PALM Scheme and Agriculture Visa because the minimum salary that has to be paid is much lower than for the skilled temporary entry visa.
Fifth, the visa application fees for the PALM Scheme and the Agriculture Visa are very significantly lower and the skills and English testing costs can also be avoided.
Finally, processing times for the PALM Scheme and the Agriculture Visa will be much faster because these have fewer requirements that have to be checked.
The gradual broadening of low skill, low paid guest worker visas was something my former colleagues in the Department of Immigration and I warned against for many years.
Introduction of the PALM Scheme under the Labor Government started with a high level of safeguards that have gradually been whittled down under pressure from the farm lobby. This slippery slope was inevitable. The Agriculture Visa continues that trend.
Part of the problem is that these visas are designed and administered by departments other than the Department of Home Affairs. Taking responsibility for visa design away from the department most experienced in visa design has always been high risk.
No doubt there will be other industries that will soon demand similar concessions (eg cleaning, security, dishwashing).
We are indeed on a very slippery slope with these visas towards the slavery-like conditions that have existed for migrant workers in North America and Europe for decades.
Is this really good policy?