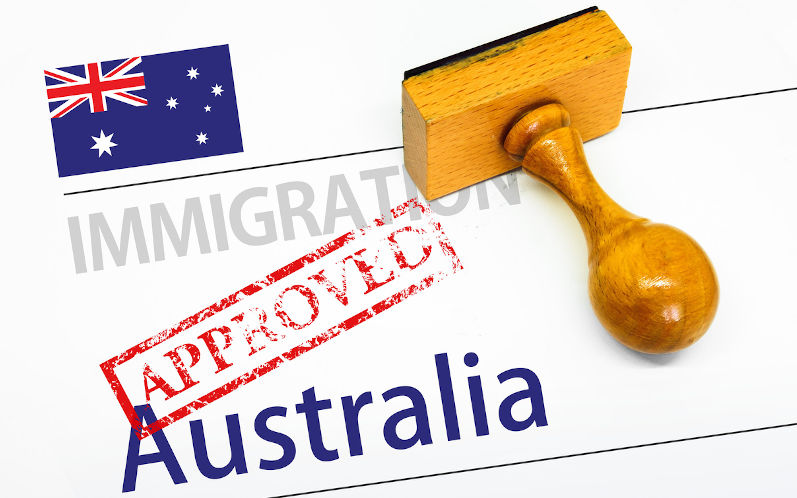 On the 160,000 migration program in 2021-22, the Australian Financial Review reports that Morrison said "we're not even going to get close to that cap (sic) in the short term because we are seeking to rebuild the program, re-open the lines of people being able to come to Australia".
This is just rubbish as the Department of Home Affairs (DHA) will readily deliver the 160,000 migration program visas in 2021-22 and is in fact managing places carefully to not go over 160,000.
The visa application backlogs for many categories are more than enough to deliver the program. It would be more accurate to say the Government is struggling to manage the visa system, which is gridlocked and in chaos.
To avoid going over the 160,000 program set by Cabinet, DHA has resisted pressure from state/territory governments to give them additional allocation to nominate more skilled migrants and has not issued additional invitations in the skilled independent category since January 2021.
The quote attributed to Morrison is likely to be a statement from Morrison's Office that was not cleared with Immigration Minister Hawke's Office.
Morrison's Office has likely confused then permanent migration program which measures visas granted with actual people movements. Morrison has been under intense pressure from the business community to accelerate a return to pre-pandemic levels of people movements.
So let's look at actual arrivals and departures since international borders re-opened (see Chart 1).
How arrivals/departures track now borders are open will have a substantial impact on the economy, including labour shortages and inflation. Hence the business community's obsession with these.
They also give us a glimpse into whether the Government will realise its forecast for the most rapid increase in net migration in our history. That forecast is crucial to delivering the Prime Minister's promise to create 1.3 million jobs over the next five years.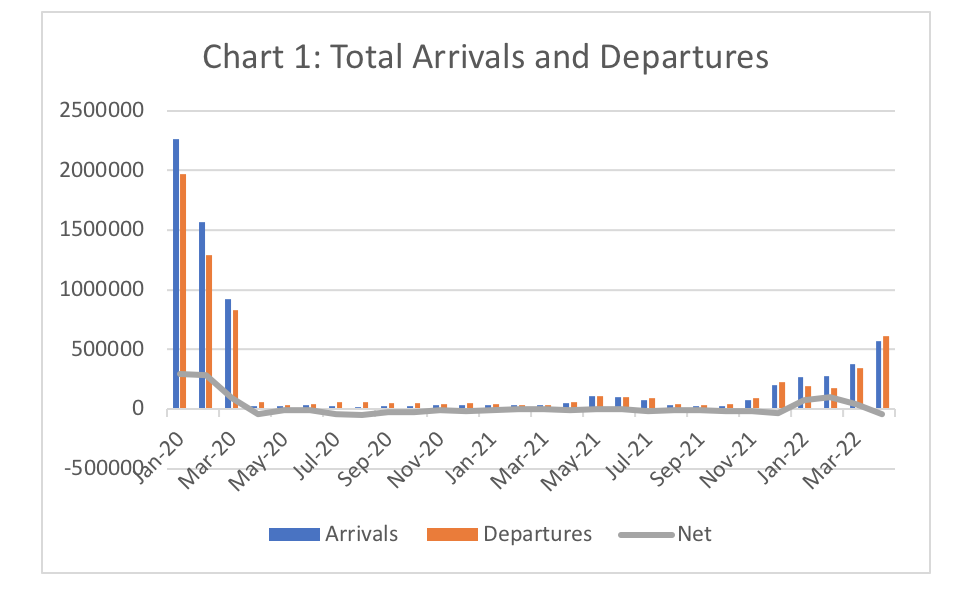 Chart 1 highlights that we are still a long way behind the level of international people movements prior to the pandemic. When international borders were closed, we generally had net negative people movements. While there was a strong increase in net positive people movements from January to March 2022, in April 2022 net people movements fell to negative 40,497.
This will be bothering the business community and hence the pressure on Morrison.
But why were net people movements in April negative?
Movement of Visitor Visa Holders
International visitor visa arrivals steadily climbed from 28,780 in January 2022 to 141,020 in April 2022. Net visitor movements also increased from 9,960 in January 2022 to 44,040 in April 2022. Note April is not usually a high month for international tourist movements so the visitor movements in that month were a good outcome for Australia's tourism industry given the circumstances.
As we go forward, three key questions will arise as visitor movements ramp up.
Firstly, will we see a significant return of tourists from China given the current tensions. Prior to the pandemic, China was our largest source of visitor visa arrivals. Chinese tourists are very high yield (ie they spent a lot of money while in Australia) and hence specially important to the tourist industry.
Chart 2 shows arrivals and departures of Chinese nationals are still a very long way behind pre-pandemic levels. Also note the bulk of the arrivals from January to March were students rather than tourists.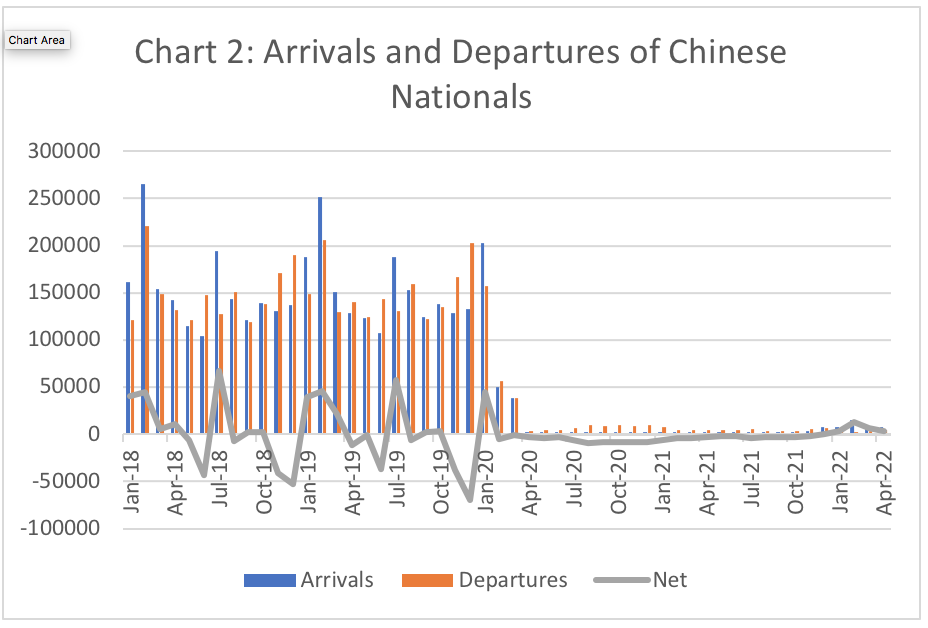 Source: ABS Arrivals and DeparturesSecondly, will we see a repeat of the large number of parent arrivals on visitor visas in 2019 who then stayed long-term? This gave us the oldest age structure of net migration in our history.
Thirdly, given major labour shortages, will there be a re-emergence of Australia's biggest ever labour trafficking scam?
A major contributor to the negative people movement outcome in April was Australian citizens.
Movement of Australian Citizens, Permanent Residents and NZ Citizens
The net movement of Australian citizens was negative 26,940 in March 2022 and negative 70,320 in April 2022 (see Chart 3). This may reflect Australian citizens taking the opportunity for an overseas holiday and/or to visit family and friends. It could also reflect Australian citizens being attracted by overseas job opportunities given the strong labour market in many countries.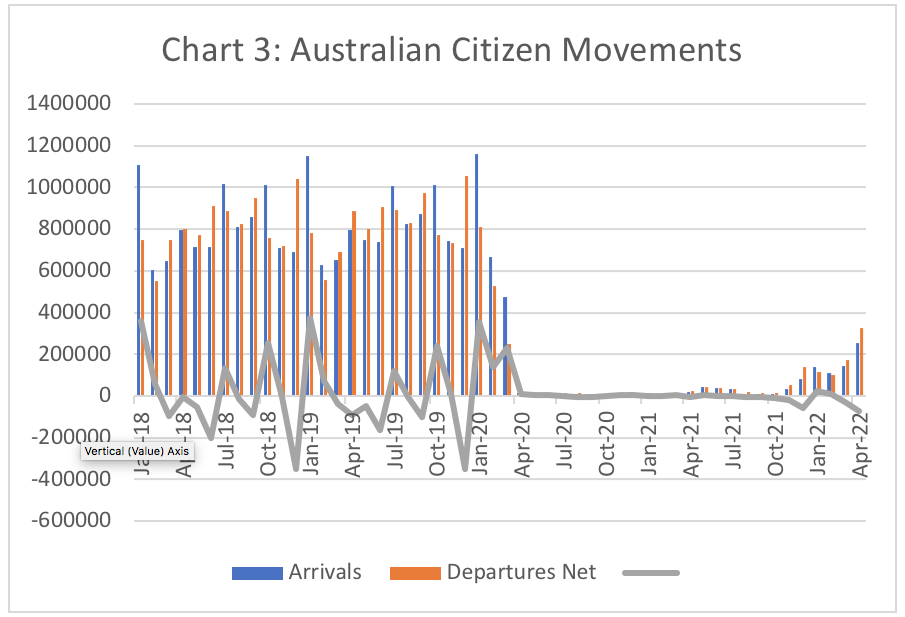 Source: ABS Arrivals and DeparturesSimilar questions arise with permanent resident visa holders where net movement of family migrants in April was negative 3,230. Net movement of humanitarian and other permanent migrants was negative 5,160 and net movement of permanent skilled migrants was negative 4,410.
The total net movement of permanent resident visa holders in April was negative 12,800. Once again, this is most likely permanent residents travelling overseas on short-term holidays to family and friends. But some may have been leaving long-term. We will not know this for some time.
While the net movement of NZ citizens in April 2022 was positive 910, this followed negative net movement of NZ citizens in March 2022 of 6,930.
It should be noted the NZ labour market is currently very strong with an unemployment rate of around 3.2 percent for the last nine months; a participation rate of 71 percent compared to Australia's participation rate of 66 percent. While inflation is also high, average wages have grown by 4.8 percent and the minimum wage in NZ in April 2022 increased by 6 percent.
Movement of Skilled Temporary Entrants
With Australia also facing major skill shortages, it would have been reasonable to expect a substantial increase in the net movement of skilled temporary entrants. But skilled temporary entrants in April 2022 recorded negative net movement of 260 (see Chart 4).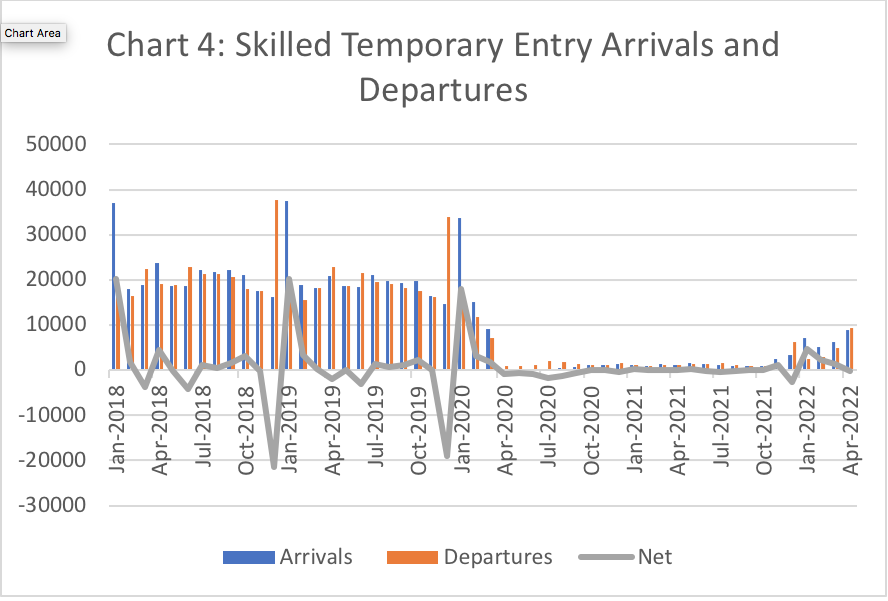 Source: ABS Arrivals and DeparturesWhether this is due to the mess Dutton made of the design of these visas in 2017-18 or because employers are not adequately aware these visas are managed on a demand driven basis is unclear. It is surprising business lobby groups are not encouraging employers to make greater use of these visas to address the skill shortages business lobby groups are complaining about.
Movement of Overseas Students
Australia's international education providers have desperately been arguing for a return of overseas students after a steady fall while international borders were closed. While the net movement of students increased strongly from negative 3,580 in November 2021 to 41,270 in February 2022, this has since fallen back significantly in March and April 2022 (see Chart 5).
This may reflect the fact March and April are usually low months for student arrivals. Offshore student visa applications have increased strongly, particularly from Nepal and we are likely to see a surge in arrivals around the middle of 2022.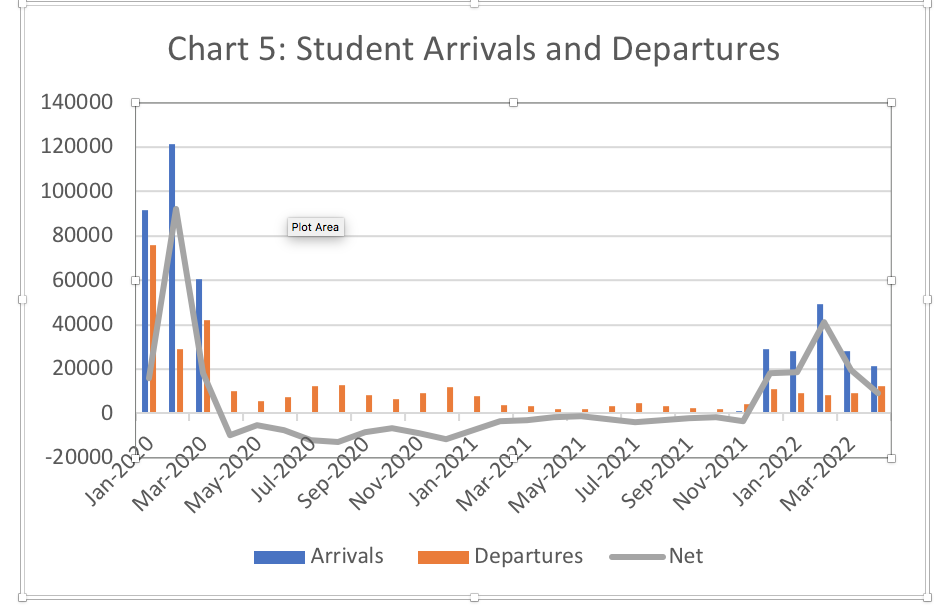 Source ABS Arrivals and DeparturesThe overall level of student arrivals remains well below pre-pandemic levels. This will have to return to pre-pandemic levels if the Government's long-term forecast of net migration of 235,000 per annum is to be realised.
Conclusion
The negative people movement recorded in April was predominantly driven by Australian citizens and permanent residents, most likely going on holidays overseas.
This should reverse over the next few months.
It would be more concerning if these movements turned out to be long-term. That would mean Morrison's forecast of long-term net migration of 235,000 per annum and 1.3 million jobs much more difficult to deliver.
An economic downturn would make it impossible to deliver net migration of 235,000 per annum and further increase pressure from the business community for Morrison to take even greater risks with visa design.
The reported despair of the business community over immigration is understandable. Whoever wins the forthcoming Election has a huge job on their hands fixing immigration policy and the visa system.