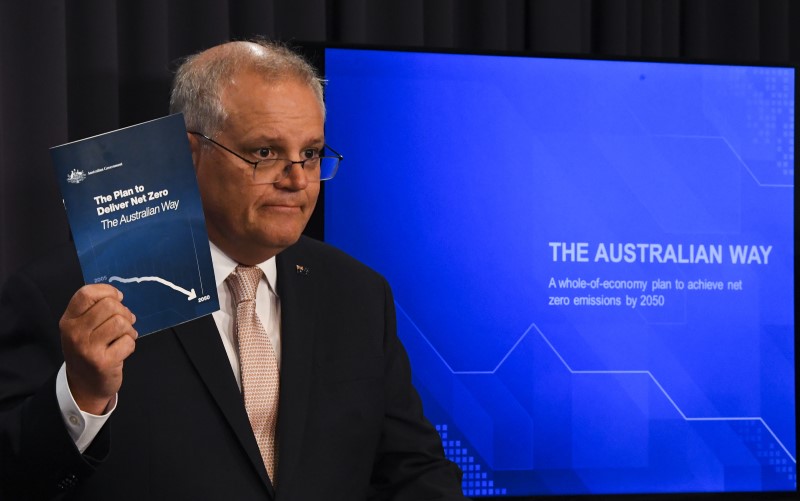 The prime minister's short-sighted climate change strategies have undermined Australia's global standing and ignore the urgency of the threat.
Do Australians understand the artifice underlying the prime minister's "Australian Way" and what they are being globally branded with? This "Way" has been created as a protective shield for Scott Morrison and his government.
The international pressure and opprobrium flowing from our climate change policies are now being offloaded onto our collective "Australian Way" shoulders. Sound familiar? It's the very same shielding device Morrison used when buffeted by his clumsy, rushed and at times dishonest handling of the French submarine deal. It was, Morrison claimed, not so much him but the Australian people who President Emmanuel Macron insulted.
Now the Australian Way envelops Morrison's refusal to embrace the key elements of COP26. Of course, he has never asked for the Australian people's permission to brand them with these policies. He needs to: national polls show an overwhelming majority of Australians want a far stronger climate change policy than the no-policy mirage which is Morrison's Australian Way.
Already the Australian Way is proving to be a COP26 wrecking ball – all the implications of which have by no means been publicly aired in Australia. They need to be unpacked. Here is a start:
 We are to be recognised internationally as a country that refuses to accelerate our emissions reduction over the next decade to keep global warming to 1.5 degrees. We have no compunction in helping the world exceed this critically important limit. We embrace a "plan" which relies on technology doing the heavy reduction lifting in the overheated years approaching 2050.
We are to be branded as rejecting the COP26 pledge (albeit somewhat wrongly described) calling for the phasing out of coal. Once Australians and hopefully journalists take the time to read the resolution, they will understand that the Australian Way's rejection is more profound that it looks. It means we refuse to support the phasing out of new coal fired power plants (CFPPs) without carbon capture and storage (CCS) by 2030. Do we therefore have a new rogue policy here? If Morrison had signed up to the pledge, we would have agreed to have no restrictions on new CFPPs with CCS in the same 2030 timeframe. Given we have now been subjected to relentless spruiking of CCS's merits by the PM and his cabinet (with about $4 billion thrown at its development), we might have thought this albeit flawed resolution was specifically tailored to the PM's policy needs.
The Australian Way is also to reject COP26's pledge to limit methane emissions. Our de facto National Party government has ruled this out ostensibly on behalf of the farming community. In a somewhat bizarre interview on ABC radio this month, National Farmers Federation president Fiona Simpson proudly pointed to the Australian red meat and pork industry associations having targets of carbon neutrality by 2030 and 2025. And while then agreeing that a 30 per cent methane reduction for Australian agriculture was thus doable, she owned up that the federation did not back the COP26 pledge on methane because it "didn't have any detail" on how to get there. That is, the federation is operating in a gaping Australian Way void of specifics on just how agriculture is to decarbonise. In this absence, Simpson just couldn't sign on.
Unfortunately, the interview with Simpson did not unearth the dark underside of the methane issue. The multiply conflicted Department of Industry, Science, Energy and Resources provides us with the following data. In 2021 Australian agricultural methane emissions account for around 7.5 million tonnes of C02 equivalent. Importantly this is less than half (42 per cent) of agriculture's total greenhouse gas emissions. Coal and oil methane emissions amount to over 12 million tonnes (CO2 equivalent) – 6 million tonnes each. The government is emphatic that gas and coal can continue to be used by rapidly becoming "clean" fuels. So a radical reduction of coal and gas methane emissions by 2030 is surely built into the government's (and industry's) assumptions. If only an entirely unacceptable 50 per cent reduction were achieved, agricultural methane emissions could stay the same and we would still achieve the required overall 30 per cent reduction in methane emissions. As some enlightened people are now asking: on whose behalf was the rejection of the methane resolution made?
So, fellow Australians, this is how the Australian Way intends to meet the unfolding unprecedented threat that climate change poses to our economy: "Our plan to achieve carbon neutrality is brilliantly simple: over the next 40 years we liberally douse technology restructuring dust over the whole of the Australian economy and hope for the 2050 best. No, of course we can't specify exactly what all of the technologies are or will be – but be assured some sort of new and improved technology will really kick in after 2030-40. So we don't have to do much at all for a decade or even two.
"No, we don't want any changes to our economy over the next decade which might be caused by over-accelerating the reduction of greenhouse gas emissions. So don't look for plans for a more ambitious 2030 emissions-lowering target. Sorry about the global imperative of keeping things below 1.5 degrees, but you've got to understand: the Australian Way is Australia first.
"There is real beauty in relying on the overarching power of technological change. It's so powerful there is no need to have plans for different parts of the economy. Ergo, no sense in latching onto COP26 targets for methane and coal. They just don't fit into our no-plan plan.
"What are the comprehensive strategies for the approaching fundamental restructuring of the Australian economy? Obviously, we'll create them to fit the technology when it arrives. No, it's neither risky, haphazard nor irresponsible. Mate, it's the no-sweat, no-worries Australian Way."