Morrison's stalwart declaration of independence on climate changer sounded more like a petulant plea: "stop the world, I want to get off."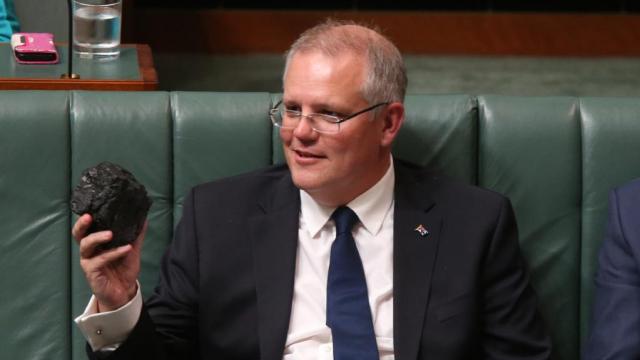 As Scott Morrison's outrage slid seamlessly from Christine Holgate's Cartier watches to Qatar's intrusive body searches last week, the Prime Minister could well have been grateful for the distraction, because he had received some seriously bad news.
And the worst of it was that most of the rest of us would have regarded it as good news, because it showed unambiguously that as ScoMo went on dithering, the world around him was shifting: action on climate change was ramping up on several fronts, and Australia's dilemma was becoming starker by the day.
Two of our most important trading partners, Japan and South Korea, announced policies to eliminate carbon emissions from their borders by 2050, joining the most important of all, China, in a bid to drive down the use of fossil fuels, especially thermal coal. And the result will be to damage Australian's exports to the extent that mining Morrison's pet rock may well cease to be viable in the foreseeable future.
And at the same time one of the big banks, ANZ, is going to put the wood on its lenders to support transition to renewables or face financial penalties. And it will end all direct investment in fossils by mega-corporations – but not, as the Nationals claim hysterically, mum and dad farmers – starting in 2030. Cue further shock and outrage.
But wait, there was more. Our leader received a phone call from his conservative ally from London, Boris Johnson, the point of which was to tell him to stop buggering around and take "bold action and setting ambitious targets to cut emissions and reach net zero."
Morrison's spin dizzies of course saw the conversation somewhat differently. They assured us that it had been a warm discussion, Johnson had welcomed Morrison's emission reduction programs, strongly endorsed the focus on practical pathways and totally understood Australia's sovereign stand.
And just in case there was any doubt, Morrison expostulated: "Our policies won't be set in the UK, they won't be set in Brussels, they won't be set in any part of the world but here." Well, at least in that bit of here inside his office bubble. The commitment to 2050 zero emissions comes not only from most of the industrialised world and much of that still developing, but also from all the Australian states and territories and most of our biggest institutions, even the agricultural sector.
Morrison's stalwart declaration of independence sounded more like a petulant plea: "stop the world, I want to get off." But at least he has some supporters – sections of the union movement, especially the dreaded and loathsome CMMFEU, are urging the ALP not to move to far or too fast in transitionng out of coal.
Under normal circumstances this would provide a splendid wedge for our marketeering prime minister. But the way things are unfolding, perhaps the less said about coal the better. So he is leaving it to the B team (or in Energy Minister Angus Taylor's case, the Z team) to make the running and the ranting.
After all, he has more important things to worry about – Cartier watches and strip searches, to name just two. Oh, and of course COVID 19. How could we forget?