You could be forgiven for missing it, but something quite important happened in politics last week.
Under all the relentless antagonism, the cacophony of Bill Shorten's thunderous denunciations of Scott Morrison's muppet government and our marketeer prime minister shouting about how well he was doing in the job before fleeing to South America, there was the glimmer of bipartisanship over an issue that actually matters.
The joint parliamentary committee on an indigenous voice in parliament – the key recommendation of the Uluru Statement from the Heart rejected summarily by Malcolm Turnbull and then by Morrison – reported that the idea should be progressed and refined with a view to running a referendum aimed at enshrining it in the constitution in the next parliament.
True, there was not total consensus; the Greens Rachel Siewert wants to move to the referendum as soon as possible and sort out the mechanics later, and the LNP's Amanda Stoker thinks there should be regional voices, rather than a national one. But the point is that the proposal is alive and well – there have been no walkouts and dummy-spits  of the kind our last two prime ministers so disgracefully inflicted on indigenous Australians.
And the second best option – a voice based on legislation, but not protected by the constitution – has been effectively dismissed as patronage and window dressing. Furthermore, the idea of a truth commission, leading eventually to a treaty, is still very much on the table.
The report is a tribute to its chairman, the indefatigable and irreplaceable Pat Dodson, but also to all the other members, especially the Liberals Julian Leeser, who effectively defied the contemptuous vetos promulgated by Turnbull and Morrison when they deliberately misrepresented the Voice as a third chamber of parliament – it is, as has pointed out by anyone who can read, nothing of the kind.
It is a well researched and conservative formula which could and should be endorsed by any politician of goodwill, and we can be profoundly grateful that there are a few still in the parliament to reassure the public that the system may be damaged, but it is not entirely broken. Genuine reform is still possible.
It has been a long time coming – my first contact with the idea of a makarrata – a coming together after conflict for reconciliation and friendship – came when the great public servant "Nugget" Coombs began campaigning for it nearly 50 years ago. Since then there have been highs and lows, moments of hope and m times of despair.
But some of us have kept the flame alive, and it may be, finally, that it has kindled enough fire in the torpid bellies of our politicians to ignite genuine progress. It will not happen before the next election of course; Morrison's muppets and the especially the far right (who will insist that they are m not racists, but…) believe that there are no votes in Aboriginals, so what's the point.
But it appears that Shorten, if he comes to office, has been persuaded that constitutional recognition for indigenous Australians is a more pressing priority than the republic, and if there is to be only one referendum in his first term, the one to agreed by the members of the committee and the Referendum Council comprised of both indigenous and non-indigenous experts.
But as the stalwart Marcia Langton has pointed out, it should not be too hard: the Uluru Statement from the Heart effectively said it all. And for the record, here it is:
ULURU STATEMENT FROM THE HEART
We, gathered at the 2017 National Constitutional Convention, coming from all points of the southern sky, make this statement from the heart:
Our Aboriginal and Torres Strait Islander tribes were the first sovereign Nations of the Australian continent and its adjacent islands, and possessed it under our own laws and customs.
This our ancestors did, according to the reckoning of our culture, from the Creation, according to the common law from 'time immemorial', and according to science more than 60,000 years ago.
This sovereignty is a spiritual notion: the ancestral tie between the land, or 'mother nature', and the Aboriginal and Torres Strait Islander peoples who were born therefrom, remain attached thereto, and must one day return thither to be united with our ancestors.
This link is the basis of the ownership of the soil, or better, of sovereignty. It has never been ceded or extinguished, and co-exists with the sovereignty of the Crown.
How could it be otherwise? That peoples possessed a land for sixty millennia and this sacred link disappears from world history in merely the last two hundred years?
With substantive constitutional change and structural reform, we believe this ancient sovereignty can shine through as a fuller expression of Australia's nationhood.
Proportionally, we are the most incarcerated people on the planet. We are not an innately criminal people. Our children are aliened from their families at unprecedented rates. This
cannot be because we have no love for them. And our youth languish in detention in obscene numbers. They should be our hope for the future.
These dimensions of our crisis tell plainly the structural nature of our problem. This is the torment of our powerlessness.
We seek constitutional reforms to empower our people and take a rightful place in our own country.
When we have power over our destiny our children will flourish. They will walk in two worlds and their culture will be a gift to their country.
We call for the establishment of a First Nations Voice enshrined in the Constitution.
Makarrata is the culmination of our agenda: the coming together after a struggle. It captures our aspirations for a fair and truthful relationship with the people of Australia and a better future for our children based on justice and self-determination.
We seek a Makarrata Commission to supervise a process of agreement-making between governments and First Nations and truth-telling about our history.
In 1967 we were counted, in 2017 we seek to be heard. We leave base camp and start our trek across this vast country.
We invite you to walk with us in a movement of the Australian people for a better future.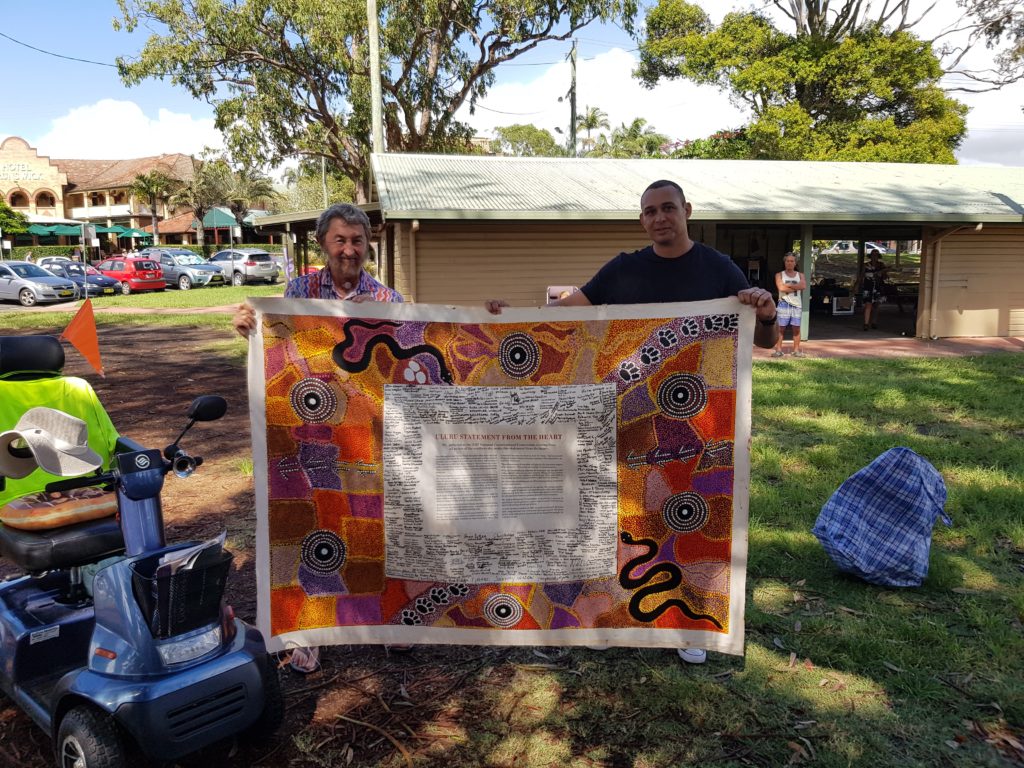 Mungo MacCallum is a veteran political journalist and commentator. His books include Run Johnny Run, Poll Dancing, and Punch and Judy.