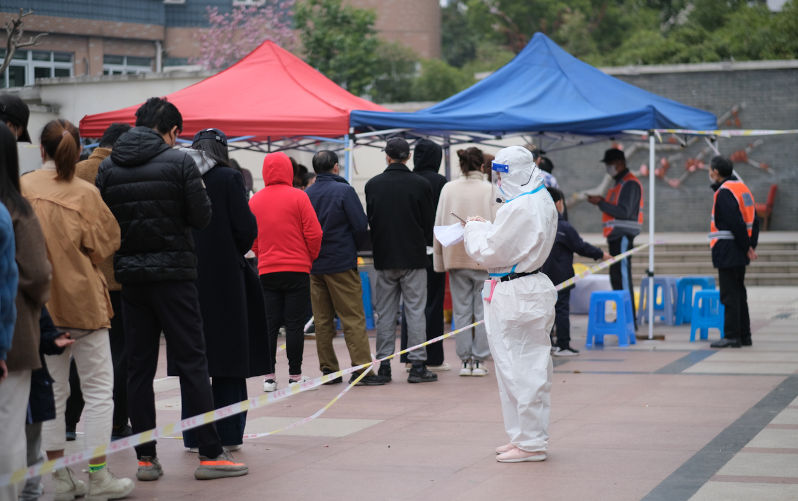 The Chinese government refined its COVID-19 prevention and control measures recently, ushering in a new phase of the country's efforts to prevent and control the disease. The refined measures are in line with people's wishes, conducive to China's economic and social development and world economic recovery, and will inject more stability and positive energy into today's volatile world.
We have seen a positive response and warm welcome from all sectors of the Australian society, who always look forward to further expanding personnel exchanges between China and Australia. Unfortunately, there are still many misconceptions in the Australian community about the current COVID-19 situation in China, which could easily mislead the public. In this regard, I would like to share some facts so that the Australian people can have an accurate understanding of what's going on in China.
Myth 1: "China's COVID-19 situation has been out of control"?
Since the outbreak of COVID-19, the Chinese government has always adhered to the principle of putting people and life first, and adjusted its prevention measures in a scientific and precise manner in light of the time and situation. During the most severe and vicious period of the pandemic, the Chinese government mobilised all resources and spared no expense to protect the life and health of the Chinese people.
At present, the Omicron variant has become the dominant strain around the world. On the basis of scientific assessment of the characteristics of the virus and the pandemic situation, and reference to the prevention practices of other countries, the Chinese government has gradually adjusted its prevention measures. The focus has shifted to prevention of severe diseases with scientific methods and targeted measures. This is an adjustment made by the Chinese government after careful analysis and judgment. The process is under control, and the current situation is also expected.
As China's COVID-19 prevention and control measures is shifting gears, there will inevitably be a process of adaptation, like what other countries around the world have gone through when adjusting their own policies. When the Australian government lifted its COVID-19 restrictions in early 2022, the number of daily infections soared to hundreds of thousands, which should be still fresh in the minds of most Australians.
China has full capability and confidence in the final victory over COVID-19. Recently, the COVID-19 situation in China has been stabilising. Places such as Beijing, Shanghai and Guangzhou have seen infections peaked. Busy traffic has been back to the streets, shopping malls are full of visitors again, and subways are full of recovered passengers. Other provinces and cities in China are also closely monitoring the situation and have adopted graded diagnosis and treatment measures. Normal production and life are expected to resume soon.
Myth 2: "China hides COVID-19 case numbers"?
Some people speculated that China is hiding the case numbers. This is nothing but nonsense. After the adjustment of the COVID-19 prevention measures, China stopped conducting nucleic acid testing for all residents, which makes it difficult to know accurately what the case number is, as is the case in many countries around the world. The US government stopped releasing COVID-19 case numbers in October 2022, and the current numbers released by the Australian government relies entirely on the voluntary report of the infected people, which according to experts and media estimates is far lower than what it actually is.
Some say China is grossly underestimating the number of deaths. They made this conclusion due to lack of knowledge of the facts. There are two main criteria for determining death from COVID-19 globally. One is deaths directly caused by respiratory failure because of infection with COVID-19. Second, full caliber deaths within 28 days of infection. To put it simply, "deaths due to COVID-19" and "deaths with COVID-19" respectively. China has adopted the first category of death criteria since 2020. In times of rapid transmission and infection during a pandemic, it is difficult to tell exactly what the case fatality rate is. But China has begun to collect information comprehensively through questionnaires and surveys. China has always adhered to the principle of truths, openness and transparency in disclosing information about deaths and severe cases, and will continue to uphold this principle in the future.
Myth 3: "China is not ready for adjustment of its COVID-19 prevention measures"?
China's decision to adjust its COVID-19 prevention and control measures was made in a scientific and prudent manner based on comprehensive consideration of the characteristics of the virus, the pandemic situation, vaccination, medical resource preparation and prevention and control experiences.
Over the past three years, China has adhered to the Dynamic zero-COVID policy, taken resolute and forceful prevention and control measures, withstood multiple rounds of global outbreaks, and successfully avoided the spread of the original strain and the Delta variant strain, which are relatively more virulent. In three years, 10 million people have been infected in mainland China and deaths stood at 31,585, compared with almost 100 million infections and 1.08 million deaths in the United States over the same period [https://covid19.who.int/]. In the past three years, China has accumulated rich experiences in COVID-19 prevention and control, which provides favourable conditions and foundation for its adjustment of prevention measures.
China has more than 10 types of vaccines covering various technical routes and vaccination methods, and over 3.4 billion doses of vaccines have been administered in total, with over 92 percent of the total population covered and over 90 percent fully vaccinated. Among population aged above 60 and 80, over 85 percent and 65 percent are fully vaccinated respectively. China has the largest production capacity of antipyretic drugs in the world, and has taken multiple measures to increase production, its drug supply can fully meet the market demand. Chinese authorities have also been promoting international medical cooperation in line with market principles, and have approved the import of COVID-19 treatment drugs produced by Pfizer and other international manufacturers.
Myth 4: "China's vaccine is ineffective"?
It is nothing short of contempt for science and motivated by pure ideological bias to denigrate and smear the efficacy of Chinese vaccines. The truth is that Chinese vaccines have helped prevent severe illness and death for millions of people around the world. According to a study published by the University of Hong Kong, the effectiveness of inactivated vaccine in preventing severe cases caused by Omicron variant after vaccination with booster shots was almost the same as that of mRNA vaccine, reaching 97%. A Lancet sub-journal also acknowledged that inactivated vaccines have similar efficacy to mRNA vaccines.
There is scientific consensus that no vaccine in the world can completely prevent COVID-19 infection. Pfizer's CEO contracted COVID-19 a second time after getting his fourth mRNA vaccine booster shot. Can we conclude that Pfizer's vaccine is ineffective because of this? Obviously not.
Myth 5: "China's COVID-19 situation is a drag on economic growth"?
Thanks to the correct COVID-19 prevention and control strategy and the concerted efforts of the whole country, the Chinese economy has defied the pressure and grown against the trend, showing strong resilience and vitality. In 2020, China became the only major economy in the world to maintain positive growth. In 2021, China's GDP grew by 8.4 percent year on year. In the first three quarters of 2022, China's GDP grew by 3% year on year, consolidating the momentum of recovery on the basis of 2.5% growth in the first half of the year.
China's announcement to adjust its COVID-19 prevention measures and facilitate international personnel exchanges has been widely welcomed by the rest of the world. Many foreign chambers of commerce in China, including the American Chamber of Commerce in China, the British Chamber of Commerce and the German Chamber of Commerce, as well as some foreign diplomatic institutions in China said that the move will help restore personnel exchanges and business travel between China and foreign countries, restore confidence in investment and business, and restore market optimism. China will continue to be a priority destination for foreign investment. According to a recent survey conducted by the Australian Chamber of Commerce in China, 66 percent of Australian companies plan to expand investment in China, and 58 percent of Australian companies regard China as one of the top three investment destinations in the world in the next three years.
Several international agencies have raised their forecasts for China's economic growth in 2023, predicting that China will achieve a growth rate of over 5%, much higher than that of the world as a whole and other major economies. It is believed that as the global COVID-19 situation stabilises and the high-quality development measures set by the 20th CPC National Congress are put in place, the Chinese economy will enjoy faster growth and make greater contribution to world economic growth.
We deeply regret that the Australian government has announced restrictions on inbound travellers from China starting from January 5. China believes that the prevention and control measures adopted by one country should be scientific and proportionate, not targeting at one certain other country, and should not affect normal personnel exchanges and cooperation. China and Australia have just celebrated the 50th anniversary of the establishment of diplomatic ties. China-Australia relations are now showing a momentum of stability and improvement. The two countries need to join hands, meet each other halfway and make more efforts to expand and deepen exchanges and cooperation in various fields. We hope that the Australian side will listen to the voice of the people, view China's COVID-19 situation and prevention and control measures objectively, do more to promote China-Australia relations and provide better conditions and atmosphere for exchanges and cooperation in various fields.