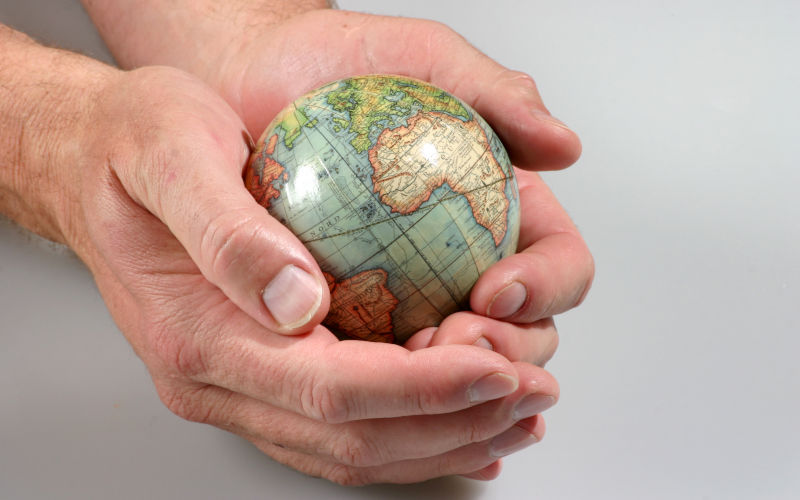 The spirit of the age seems to foster division more than it nurtures unity.
The G7 Summit is meeting in Hiroshima where thousands were killed at breakfast time on a summer's morning, August 6, 1945. The G7 leaders meet as a hostile imagination fuels a terrifying arms race. How can we yet pull out of this spiral?
Division seems to come easily. Once a measure of cohesive cooperation is gone, rebuilding is difficult.
Our Churches are about to enter a Week of Prayer for Unity. The theme is "Do good; seek justice". [Isaiah 1.17]. The Gospel, this Sunday, is Jesus' prayer for unity. [John17.1-11.]
The context is an understanding that Creation is a gift from the living God and it is the Creator's purpose that we should live together in unity and peace.
What else makes sense of the stars beyond Saturn; the sound of a baby laughing; the sight of a kangaroo jumping?
Why conceive this Universe if not for mutual delight?
The One who was before all things and in whom all things hold together, simply asks that we respond to this gift with love.
It's that uncomplicated!
In a true love, which never coerces, we are then left utterly free as to how we respond.
Paraphrasing sacred wisdom:
"..Here is this gift of life on a tiny planet in a vast universe. Here is the invitation to make a loving response …
"What will you now do with your life in the time you have between your birth and death?
"Here is the invitation and the encouragement, dear human family- 'Do good; seek justice."
Put it like this and most people can say that the unloving divisiveness now going on is completely mad.
This madness is vivid at the macro level with weapons of mass destruction and practices that are causing global warming and therefore, catastrophic climate events.
The G7 Summit is meeting in Hiroshima where thousands were killed at breakfast time on a summer's morning, August 6 1945.
The G7 leaders meet as a hostile imagination fuels a terrifying arms race.
Early next month, in Bonn, the 58th session of meetings will convene, looking to progress implementation of the Paris Climate Agreement in Dubai at UNCOP 28,30 November -12 December. The architecture is in place but the progress is too slow.
How can we yet pull out of this spiral? The answer is all around us as people live either with a sympathetic or a hostile imagination.
In order to close any gap between the idea of a unified, radiant humanity and our current divisive reality, it helps if we all cultivate a more 'sympathetic imagination '.
A sympathetic imagination seeks to appreciate the feelings and circumstances of others. It contrasts with a hostile imagination which is indifferent or actively negative.
All it takes is to keep asking "what is it like to be ….this person, that group..?"
We ask and then we act .. I am blessed to be in a role where I find much inspiration. So here are a few cameos from my week.
A leader of the National Unity Government of Myanmar came to our Church and spoke about the plight of his people, after three years of a military dictatorship. Up the back was Shane who said later he and his mates did not know much about Myanmar.
But he could imagine, as can we all, what would it be like, as has happened in Myanmar, if the democratically elected Albanese Government was forced from office by the military, many killed, others falsely imprisoned, including the leader.. imprisoned again… [as has happened to Aung San Suu Kyi].
Shane was about to do his inaugural gig as a stand up comedian at Melbourne's Butterfly Club. He decided to dedicate what was raised to the NUG Humanitarian Relief Fund. Which he did. We all turned up on Tuesday. He was very funny, in tandem with his niece Caissie. The cash is on its way to help folk now also affected this week by the cyclone which hit Myanmar.
At a School Council meeting, the Principal Elisabeth was reflecting on what she saw at a School play rehearsal. How she saw someone notice that a year 8 girl was isolated and alone. She then saw this person skillfully link that girl into a group with others. Then keep checking to see she didn't slip back into isolation, shy and sad. Elisabeth spoke with delight and pride about how subtly and carefully this youngster was helped to find her place.
Elisabeth was speaking after a Retreat with other School Principals. I asked her how they all are, a year on from the demands of the pandemic period. "Still tired; still recovering", she said.
There is data telling us about the burn out amongst Principals. We are a knowledge – based society. To grow our Commonwealth we need a vibrant educational sector which is also attractive to overseas students. Burning out our key educators with relentless demands from various government agencies as well as from parents and others, is not very imaginative!
Here is a group who need to be listened to with a more sympathetic imagination!
A third little cameo? The beautiful invitation of the Uluru Statement from the Heart and the nation-building opportunity of the Referendum has faced another noisy week. There are those with a hostile imagination and there are wonderful moments, such as in the AFL's Sir Doug Nicholls Round. I walked past the lovely sculpture of dear Pastor Doug and Gladys Nicolls, near St. Peter's Eastern Hill and the Victorian State Parliament. This was after receiving a painting given to me by a First Nation youngster.
After a tough patch and much labelling as a 'welfare issue', she found a place where she was asked, instead, what she would like to learn. It's a long story but that simple shift from being treated as a problem to being seen as a youngster with gifts, opened up new horizons.
She painted 'Dragonfly' and placed on the back of the painting this descriptor: "The dragonfly carries the wisdom of transformation and adaptability in life. When the dragonfly shows up in your life, it may remind you to bring a bit more lightness and joy into your life. It's also an indication that it's time for change. Just like the dragonfly changes colours as it matures, so we may be called to and experience ourselves differently."
None of my little cameos from the week will have much immediate impact on the G7 or the Bonn Sessionals.
But they speak of a choice we can all make. We build national and international unity as we live with a more 'sympathetic imagination'.
Metaphorically, the 'Dragonfly' is calling us to live differently together. We can glimpse how beautiful this can be!
Australian Centre for Christianity and culture.