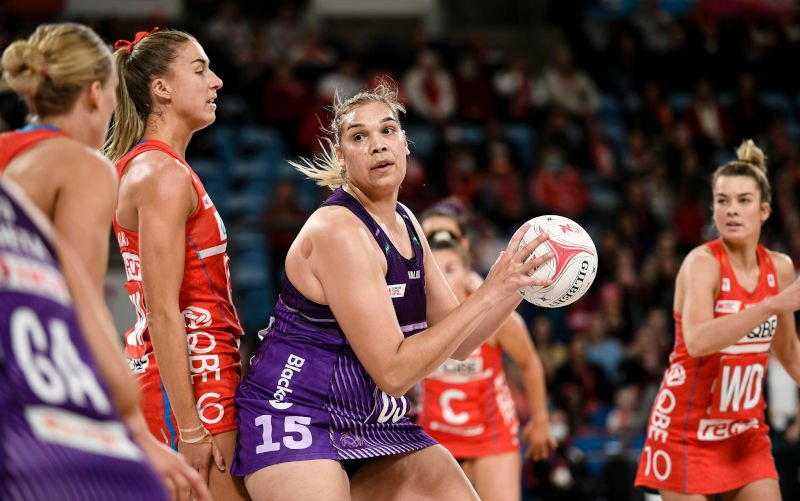 Although netball is highly popular among Australian girls, it also has a history of failing to retain and protect First Nations players.
Few First Nations participants advance beyond the grassroots, with only three playing on national teams since the first international match against New Zealand in 1938: Walbunga and Bidigal woman Marcia Ella-Duncan (1986-87); Dunghutti and Gumbaynggirr woman Sharon Finnan-White (1990-92; 1999-2000); and Noongar woman Donnell Wallam (debuted in late 2022).
Two safeguarding failures in two years
The national governing body, Netball Australia (NA), was recently engulfed by two crises for failing to safeguard First Nations players.
In 2020, Wakka Wakka woman Jemma Mi Mi was the only First Nations player in the Super Netball league and the face of advertisements for its annual Indigenous Round. This annual event is designed to celebrate the achievements and contributions of First Nations peoples to netball and the nation.
The round was held late in the season by which time Mi Mi's team had been eliminated from the playoffs. Though the game was inconsequential and Mi Mi's team was well ahead toward the end, the coach left her on the bench for the entire match. This caused a public outcry which the club exacerbated with a botched response.
Reflecting on the event in 2021, Mi Mi said being benched had been confronting and isolating, because her teammates did not understand how much pressure she was under. She also hoped that netball had learned from what had transpired so future First Nations players would not have a similar experience.
Instead, the next year Donnell Wallam was failed even before making her debut with the national team, the Australian Diamonds. This was due to NA's ill-considered sponsorship by Hancock Prospecting, a mining company that was founded by the late Lang Hancock. In 1984 Hancock said that one way to solve the "problem" of First Nations peoples was to dope their water so they would become sterile and "breed themselves out in future."
After Wallam expressed concerns about wearing the firm's logo on her uniform, Hancock's daughter Gina Rinehart cancelled the agreement and accused the Diamonds of "virtue signalling".
Sections of the conservative media praised Rinehart and denounced the team for being "woke" and Wallam was racially abused online.
A former captain of the Diamonds, asserted that NA should have protected Wallam and needed to be held accountable for the fiasco.
For Wallam the turmoil constituted "some of the toughest few weeks" of her life.
According to a senior reporter, the crisis "fractured" an already tense relationship between the team, the players' union, and NA's new CEO Kelly Ryan.
First Nations leaders were exasperated by NA's failure to safeguard Mi MI and Wallam. According to Ella-Duncan, Mi Mi was given "a burden that should never have been hers". Professor Barry Judd, Australia's foremost scholar of First Nations sport, stated that Wallam was the latest example of how First Nations athletes who speak out about racism are vilified.
Reactive and proactive inclusion policies
Failures like this are prevalent in organisations which use inclusion as a marketing tool. This means leaders generally can only react to policy disasters, which, in turn, exposes them to charges of tokenism. Conversely, proactive leaders embed inclusion as a core practice at all organisational levels.
An independent review of NA in 2020 recommended that it should develop a better inclusion plan for First Nations players with the principle "You cannot be what you cannot see". Since then there has been little substantive action. Prior to the debacle with Wallam, a veteran writer called NA's treatment of First Nations players a "glaring failure" and "shameful".
An ideal opportunity to do better
NA recently signed a $15m, four-year deal with Visit Victoria, which Ryan said would cover everything from pathways to the elite level. The deal also coincides with Victoria hosting the 2026 Commonwealth Games.
This is an opportune context for NA to implement a robust inclusion policy, provided it draws on readily available resources.
The 2002 Black Diamonds Report by Dr Rose Whitau showed the devastating effects racism has had on First Nations netballers. NA can learn much from the document's practical recommendations on how to increase engagement and retention by providing culturally sensitive pathways.
A key principle of social inclusion is "Nothing about us without us". By giving First Nations peoples seats as equal partners in boardrooms NA will bring a wealth of experience about how to establish comprehensive inclusion policies.
A significant step for NA would be to emulate the Do Better report on Collingwood Football Club. Members of Collingwood who were frustrated at being unable to break a succession of racist episodes asked a team of First Nations researchers on how to proceed.
Unless NA institutes proactive polices to redress the systemic socio-economic, racial, and cultural barriers faced by First Nations participants, it will only be a matter time until the system fails the next Jemma Mi Mi or Donnell Wallam.
By sustaining a truly inclusive culture in the lead-up to and after the Commonwealth Games, NA can make a valuable contribution to national reconciliation. It could show Australians how inclusion works in practice in one of the nation's most popular sports and showcase the Diamonds' motto of "Sisters in Arms".