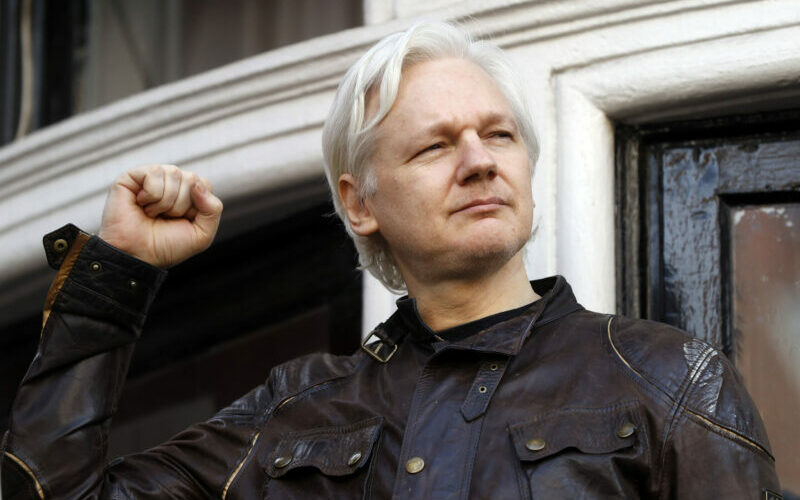 Julian Assange's pending extradition to the US allowed the Australian government a chance to show some ticker by demanding his freedom.
A British court's decision to allow Julian Assange to be extradited to face trial in the US is one more climax in years of compliance with whatever Uncle Sam wants, his desire for revenge obvious though dressed up as a concern to protect the great god — national security.
Into this cruel mix are prosecutors and judges, great at game playing, sniffing how political winds may be blowing, determined not to upset establishment interests. Powerless people always at risk. Remote, privileged operators can ignore calls for justice, but rely on grovelling support from Murdoch media. Anyone labelled a threat to proper conduct can be stereotyped as deviant, even as a menace to national interests.
Into this Orwellian mix are cowardly journalists, reluctant to stand up for Julian Assange though happy to have benefited from WikiLeaks revelations. Extraditing Julian puts the profession of journalism at risk, yet several scribblers have wasted print by telling us they'd prefer to be selfish. They need to polish their self image in contrast to the risk taking Assange who is not like them.
He is not like them. He has had the courage to expose the barbarity of US practices in war and the greedy interests of US corporations which continue to dominate world business. That is what Wikileaks cables revealed, and of course the whistle blower, journalist, publisher who did this must be punished. Freedom of the press means nothing.
Into this amoral swamp squirm Australian governments, from Julia Gillard falsely declaring that Assange had committed criminal offences to Scott Morrison cowering behind cliches about not interfering in the law of other countries. Foreign Minister Marise Payne appears as an extra to passively mouth that this Australian citizen receives appropriate consular assistance.
Cruelty has caught fire in Australian politics, cowardice has become the currency affecting exchange with Washington and London. To hell with human rights and a touch of humanity, we don't like to offend powerful patrons.
There are brave, principled exceptions to this disgusting mix of cruelty, cowardice and injustice. Assange's father John Shipton and Assange's partner Stella Moris have shown courage, stamina, selflessness and principle. They have also predicted the consequences for society and for democracy if a revengeful persecution of Assange persists. Journalism disappears. Justice is a concoction. Cruelty must remain a centre piece of policy.
Significant journalists, John Pilger, Mary Kostakidis, Phillip Adams, Alison Broinowski and a few gutsy lawyers, Greg Barns and Mark Davis plus contributors to Crikey, to Pearls and Irritations and to Green Left have maintained contact with Assange in the Belmarsh top security prison or have written and spoken on his behalf. Why not all lawyers, all journalists, even all politicians?
In the Australian parliament, an increasing number of politicians have expressed disgust and disbelief at the continuation of this decades long scapegoating of an unusually gifted and brave individual. Leading this protest, and he always stands out as a champion for common decency, is Independent Tasmanian MP Andrew Wilkie.
Wilkie has asked Prime Minister Scott Morrison to demand from the UK and US governments that Assange be set free.
Here is a test for Morrison, a chance to show ticker. By demanding Assange's freedom, the prime minister could demonstrate that justice means protecting citizens who have shown the skills and courage to hold a powerful state accountable for murder and mayhem in foreign lands. He could say that his support for the humanity and rights of an Australian citizen will not be affected by pressure from powerful allies.
If Morrison fails that test, questions about justice and courage should become key features of the coming federal election. Energy in that election must not be preoccupied with debates in a few coal mining constituencies.
There's a challenge for all candidates to outlaw the cowardice and cruelty which affects design of domestic and foreign policies. Robodebt victims, the Bilolea family let alone asylum seekers and refugees know a lot about injustice and could exchange notes with Julian Assange.
In the meantime, support Wilkie's demand, thank Assange, campaign for an alleged fair go country to end a shameful, cruel period of history.