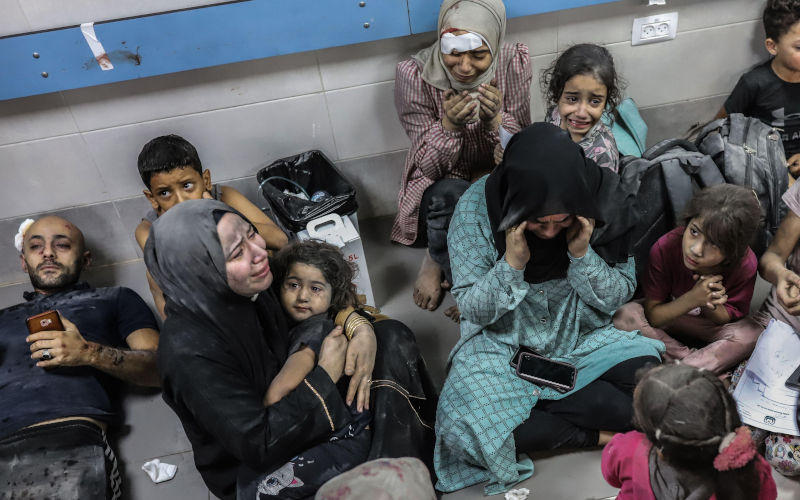 Doctors, nurses, patients and thousands of internally displaced Palestinians are being bombed, terrorised and held hostage in Al Shifa hospital, one of Gaza biggest hospitals. There is no water, no electricity, no oxygen and 37 pre-term babies are slowly dying due to lack of oxygen.
AL Shifa hospital is the Gaza Strip's major hospital with all the facilities of a modern hospital but right now it is home to 5,000 patients, the few lucky ones in bed the rest on the floor in wards, in corridors, in stair wells – anywhere they can find a space. Then add another estimated 60,000 people seeking shelter in an around the hospital. Israeli snipers deliberately hit the hospitals solar panels destroying any possibility of electricity so that operations are done using phone lights. The front gate of the hospital have been bombed and there is bombing all around the hospital. From November 9th the vicinity of Shifa hospital was hit five times during this period, with at least seven fatalities reported, along with damage to the maternity ward.
There is no food, now no water and no medicines available for anaesthesia. Emergency operations are conducted with limited pain killers and no anaesthetic and as there are no cleaning materials wounds are cleaned with vinegar. Very often with the large numbers of causalities coming in there is no operating rooms available so the doctors are forced to operate on the floor. Doctors are also carrying out cesarean sections without anaesthesia. And many women are delivering pre-term babies due to the severe stress of living in an horrific war zone. There are 50,000 women due to give birth according to the UN, 5,500 in the next two weeks. At the moment there is limited prenatal or post natal care across Gaza and women are reported as having to clip the babies' umbilical cords with hair pins, risking infection as nothing else is available.
No longer able to take the dead for a proper burial at Al Shifa hospital they are now organising a mass burial site for all the dead that are coming into the hospital.
On 10 November, the Emergency Relief Coordinator, Martin Griffiths, stressed following reports on attacks hitting Shifa hospital: "under international humanitarian law, hospitals must be protected" adding that "acts of war in places of grace must stop".
In addition to the Al Shifa hospital there is the Turkish Friendship Hospital in the central area of the Gaza Strip, which specialises in cancer treatments and is the only institution that, under normal circumstances, serves adult cancer patients in Gaza. They have run out of fuel and the electricity is cut off. The hospital is now out of service. The Director Dr Sobhi Skaik said "A cancer patient in Gaza dies three times. The first time because of cancer. The second time because of a lack of medicines. And the third time because of being targeted by Israeli warplanes during his treatment."
The Turkish Friendship Hospital is one of 16 hospitals that have shut down amid the war, according to the Health Ministry in Gaza. Others include Beit Hanoun Hospital, Al-Wafa Hospital, and specialised institutions like the International Eye Hospital. On the evening of 9 November, buildings surrounding the Indonesian Hospital, in Beit Lahiya (northern Gaza), were repeatedly bombarded from the air with an alleged 11 missile strikes resulting in deaths and injuries. On Thursday (Oct 9th) the hospital was partially destroying some areas and by now will have closed due to lack of fuel.
An Naser Children's Hospital in Gaza city was hit during an airstrike, reportedly killing three people and injuring dozens more. And Gaza's only psychiatric hospital stopped functioning. The lives of all patients with chronic illnesses at great risk. There are thousands of cancer and haemodialysis patients and tens of thousands of pregnant women — some due now, and some expecting to give birth next month.
Around the same time, the Rantisi Hospital in Gaza city was directly hit, causing fires and damage. In the early hours of 10 November, the vicinity of Al Awda hospital in Jabalia, and Al Quds hospital in Gaza city were bombarded; the intensive care unit at the latter sustained damage.
There have been hundreds of Israeli attacks that have affected health care workers and institutions in Gaza, killing health care workers and putting hospitals and ambulances out of service. Patients are either sharing beds or lying with their bleeding wounds in the hospital hallways, awaiting even just a minute of care. Hospitals are operating at 150% of their capacity while deprived of essential operational needs like fuel, electricity, and water. Operating rooms ran out of surgical supplies and anaesthesia, and the siege has depleted hospital warehouses.
The head of the International Committee of the Red Cross (ICRC) sub-delegation in Gaza stated today that "the destruction affecting hospitals in Gaza is becoming unbearable and needs to stop. The lives of thousands of civilians, patients and medical staff are at risk." According to MoH Gaza since 7 October there has been at least 192 medical staff killed. Of these, at least 16 were on duty when killed, according to the World Health Organisation (WHO). The fatalities further include 101 UNRWA staff; this is the highest number of UN personnel killed in a conflict in the history of the organisation. Eighteen Palestinian Civil Defence personnel and 44 Palestinian journalists have also been killed. About 2,700 people, including some 1,500 children, have been reported missing.
In its latest report from the United Nations Office for the Coordination of Humanitarian Affairs for the OPT (OCHAOPT) stated that over 1.5 million people in Gaza are estimated to be internally displaced. Among them, 588,000 Internally Displaced Persons IDPs are staying in 94 UNRWA shelters in the south, where overcrowding is a major concern. The average number of IDPs per UNRWA shelter exceeded 6,250, which is nine times higher than their intended capacity. On average, 160 people sheltering in UNRWA schools' facilities share a single toilet and there is one shower unit for every 700 people. The worsening sanitary conditions, along with the lack of privacy and space, generate health and safety hazards.
Gaza remains under a full electricity blackout since 11 October, following Israel's halt of its power and fuel supply, which triggered the shutdown of Gaza's sole power plant.
WHO warned on 8 November of the risk of the rapid spread of infectious diseases and bacterial infections due to the water shortage and related consumption of contaminated water. Since mid-October, over 33,500 cases of diarrhoea have been reported, mostly among children under five; by contrast, the monthly average of diarrhoea cases in the latter group in 2021 and 2022 stood at 2,000. Transfer of solid waste to landfills has largely stopped across the Gaza Strip, due to lack of fuel and insecurity. Waste is accumulating in the streets and outside IDP shelters, creating a high risk of airborne diseases and infestation of insects and rats. Since mid October the WHO reported nearly 9,000 cases of scabies and lice, more than 1,000 cases of chickenpox, more than 12,600 cases of skin rash and more than 54,800 cases of upper respiratory infections in Gaza. Many will develop respiratory conditions from explosive pollution and white phosphorus fumes. Some of those who survive the war will suffer from severe psychological trauma, and countless other medical problems, for many years to come.
The International Rescue Committee warned that diseases like cholera and typhoid "will inevitably spread" due to the lack of clean water and access to proper sanitation and hygiene.
"The humanitarian suffering in Gaza has already reached catastrophic levels, and it's set to get worse unless something changes immediately," said IRC VP of Emergencies Bob Kitchen in a statement. "While the overwhelming driver of mortality remains the ongoing violence and destruction, a humanitarian cease-fire now would also serve to help aid agencies get ahead of a looming public health crisis within an already vast humanitarian crisis."
IRC said 95% of Gaza's population has no access to safe water and 64% of primary health care facilities have shut.
The fatality toll reported by MoH in Gaza since the start of the hostilities stands at 11,078, of whom 4,506 are said to be children and 3,027 women. About 2,700 others, including some 1,500 children, have been reported missing and may be trapped or dead under the rubble, awaiting rescue or recovery. Another 27,490 Palestinians were reportedly injured.
Dr. Mads Gilbert, a Norwegian doctor with many years of experience in Gaza's hospitals also said that if Palestinians survive the Israel's attack, Israel's intention is to subject them to starvation, thirst, physical harm, and psychological torment with the goal of instilling fear and ultimately eliminating the population.
"If you're not killed during the Israeli bombing, they want to starve you, to thirst you, to bleed you, and scare you to death."
More children killed than in any other conflict in recent times according to Save the Children. Well done Israel, you have just made "Gaza a graveyard for children" described as such by the head of WHO. Parents who not knowing if their children will survive or that they themselves will be killed are writing the children's names on their arms and legs so that they will be known, injured, alive or dead. And according to MSF there is a new acronym WCNSF meaning Well Child with No Surviving Family.
The Fourth Geneva Convention makes it clear that civilians in armed conflict and in occupied territories are protected from murder, torture, brutality and discrimination on the basis of race, nationality, religion and political opinion. Collective punishment is also prohibited. Hospitals and health workers are also protected under this convention.
The ICRC has stressed: "The rules of war are clear. Hospitals are specially protected facilities under international humanitarian law. The ICRC urgently calls for the immediate protection of all civilians, including humanitarian workers and medical personnel. This protection is not only a legal obligation but a moral imperative to preserve human life in these terrible times".
It is obvious that Israel is violating all aspects of the Fourth Geneva Convention and the rules of war and violating international humanitarian law. And the leaders of the western world including our own (with France the standout exception) are calling for "pauses" instead of an immediate ceasefire. Their failure to end this catastrophic, horrific death and destruction and overwhelming human misery and suffering is best summed up with the words of one Gazan resident who asked, "Where is the civilised world and its lectures about humanity".
Where indeed.
For more on this topic, P&I recommends: