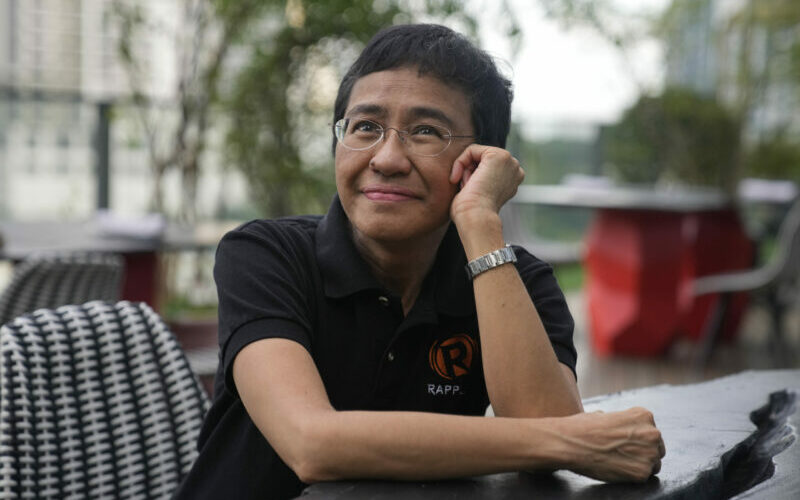 Australian journalists should try imitating the extreme courage of Nobel Peace Price winners Maria Ressa and Dmitry Muratov — justice needs to be done on many issues.

For safeguarding freedom of expression, journalists Maria Ressa from the Philippines and Dmitry Muratov from Russia have been awarded the 2021 Nobel Peace Prize. This brilliant choice recognises the value of opposition to abuses of power. Regarding the place of courage in public life, it also heralds lessons for Australia.
As journalists in authoritarian regimes, Ressa and Muratov risked their homes, their careers and lives. It took great courage to do so.
Human Rights Watch reports that under Philippines dictator Rodrigo Duterte, between 7000 and 8000 Filipinos have been killed in his war on drugs. Police, military and judicial institutions closed ranks in support of Duterte who instructed Philippine National Police to shoot those who opposed his policies.
Via her media company Rappler, Ressa investigated these deaths and conducted pioneering work on cyber harassment, online trolls and disinformation. Her concern with truths characterises a commitment to high quality journalism and to respect for basic tenets of democracy.
Duterte has fostered a dangerous authoritarian culture. The Washington Post reports that criticism of the government hasn't been allowed since 1992, adding coercion guarantees citizen compliance and 87 Filipino journalists have been killed.
Ressa says that being chosen for the Nobel Prize shows "how we're going to win the battle for truth, the battle for facts. We hold the line … Freedom of press is the foundation of every single right we have as a Filipino citizen."
In Russia, Muratov has also confronted a dangerous anti democratic political culture. He edits Novaya Gazeta, a newspaper which survives in spite of President Vladimir Putin's determination to stifle signs of a free press.
Faced with reminders of the assassination of his colleagues, the extent of Muratov's stamina and courage is salutary.
Since the turn of the century, many of the 60 murdered Russian journalists, including Anna Politkovskaya and Natalia Estemirova, were Muratov's colleagues. US non-government organisation Freedom House reports that less well known opposition figures have been eliminated together, along with well-known opposition figures Boris Nemtsov, Sergei Yushenkov, Alexander Litvinenko and the lawyer Sergei Magnitsky.
The plot to murder Julian Assange is being ignored by the mainstream media
In Australia, an almost infinite list of issues and people would benefit if courageous stands were taken similar to those crafted by Ressa and Muratov. Those peace prize recipients operate under authoritarian regimes. Australian citizens do not.
Ressa and Muratov's defence of press freedom says to Australia politicians, "Why have you not praised the work of WikiLeaks former editor Julian Assange? Why don't you express outrage at the revengeful conduct of a bullying US government?"
Because they know that reference to judicial proceedings is camouflage for a political trial, 30 federal politicians have joined forces to demand freedom for Assange. In the interest of that courageous Australian citizen, Prime Minister Scott Morrison could demand from his allies in Washington: "This cruelty to Assange has persisted for too long. End it."
Morrison cowardice prevails. No outrage is expressed.
If international law based principles of freedom were taken seriously, Australia would end cruelties towards asylum seekers and refugees. Regarding 4200 Afghan refugees on temporary protection visas, Ressa and Muratov might say, "Instead of Australian ministers demonstrating bravery by insisting that such people will never be allowed to stay in Australia, they could show courage by allowing family reunions and by ensuring these refugees become citizens."
If Australian politicians and journalists wanted to show respect for human rights, they could stand in solidarity with oppressed neighbours such as the indigenous people of West Papua. They can reveal the slaughter of these people and insist on their rights to self determination.
Australia's compliance with successive Israeli governments' murder of Palestinians, destruction of their homes and indifference to a people's identity, is an issue which Australian journalists and politicians have been frightened to address.
Bob Carr: Israel lobby's overreach far exceeded any other diaspora community
In common with Ressa and Muratov's courage, the Arab Australian Federation has at least published a significant "Sydney Statement on Anti Palestinianism". On related issues, author and former newspaper editor John Lyons, has done great service to democracy by exposing how criticism of Israeli brutalities towards Palestinians is prevented when journalists feel intimidated and self censor.
Influenced by Lyons' critique, Australian politicians and journalists could summon courage to be honest with themselves and admit that Israel is an apartheid state. The evidence is obvious. Consolidating an occupation, building more settlements, ethnic cleansing more territory, plus the 2018 passing of the Jewish "nation-state" law which claims that the right of self determination "is unique to the Jewish people", provide cues for courage in Australian politics.
Concerning truthful responses to an Israeli apartheid government's treatment of Palestinians, Israeli journalist Gideon Levy wrote in a recent edition of Haaretz, that any embrace of current Israeli Prime Minister Naftali Bennett is an embrace of apartheid: "Bennett's vision is for 5 million human beings who are fated to live as sub human for ever."
Although the Nobel Peace Prize committee's recognition of Ressa and Muratov's advocacy of press freedom and of their equally gutsy defence of democracy is admirable, justice needs to be done to their cause. On a range of issues, Australian politicians and journalists could imitate the peace prize recipients by being far more courageous.
Maria Ressa and Dmitry Muratov's stories have lessons. In public life, on matters of principle, try courage. Mentally and physically it will be good for you.