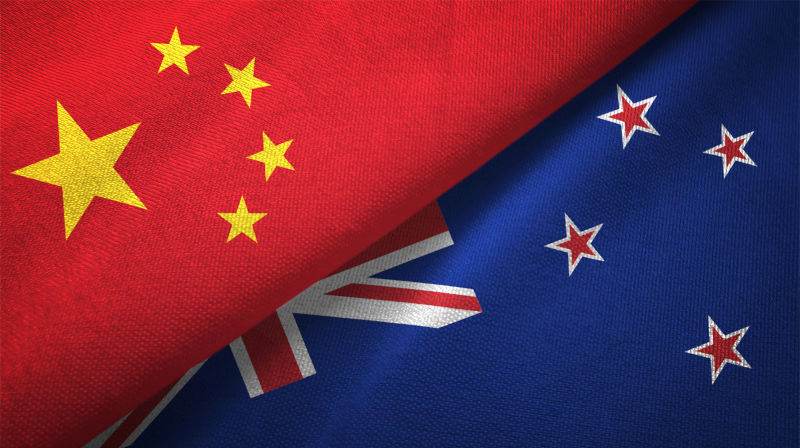 On 10 May New Zealand and Chinese military officials met in Xi'an, China for their 11th Strategic Defence Dialogue, the first after a Covid gap of three years. The press releases from both sides were brief, anodyne and uninformative.
The Chinese Ministry of National Defence said:
"The two sides candidly exchanged views on international and regional issues of common concern, and expressed their willingness to jointly promote / and cooperation. The meeting has enhanced mutual understanding and trust."
Chinese foreign language news channel CGTN replaced 'candidly with 'in depth'. Both renditions suggested a degree of disagreement.
The New Zealand version was more upbeat. The NZ Defence Force release described the meeting as 'cordial' and said that it 'offered a useful opportunity for both sides to exchange perspectives on regional security issues'.
We don't know what issues were actually discussed. NZ joining AUKUS? Probably. The Chinese security agreement with the Solomon Islands? Probably. NATO's wooing of NZ? Probably. Kurt Campbell's visit to NZ? Maybe.
But we don't know, any more than we can be certain of the atmosphere at the meeting. Slightly frigid but polite and correct is a fair bet, with both sides realising that their meeting was of little importance in the context of the shifting geopolitical tectonic plates. This is indicated by the lack of detail given and any joint statement.
Reports were more informative in the past, indicating that there was communication and a degree of diplomatic and military bonhomie. Back in 2012, on the occasion of the 5th dialogue meeting, there was a photograph of a smiling General Qi Jianguo of the People's Liberation Army shaking hands with a smiling General Tim Keating of the NZ Defence force. Both sides pledged to deepen the relationship and:
The New Zealand side spoke positively of the strategic dialogue between the two militaries and held that the dialogue would help the two militaries strengthen cooperation and jointly face various challenges.
Even the last dialogue meeting, in Wellington in 2019, was a much warmer affair. The Chinese delegate General Li Zuocheng extolled the roles of Xi Jinping and Jacinda Ardern in developing the relationship and was taken off for a meeting with Winston Peters, then Deputy Prime Minister and Minister of Foreign Affairs. No such enthusiasm was reported at the Xi'an meeting. Perhaps a visit to the Terracotta Army down the road?
Actually there is some ironic symbolism in the choice of Xian as venue. It was here in 1936 that the Xian Incident took place. KMT leader Chiang Kai-shek, was kidnapped by a couple of his local generals and forced to reactivate a United Front with the Communist Party, represented by Zhou Enlai, against the Japanese invaders. He broke the agreement in 1946, lost the resulting civil war and relocated his regime to Taiwan, so leaving a pretty problem for today, a peg on which the US may well hang the helmet of war.
In the present case it is New Zealand being kidnapped, as it were, by a declining America gathering in its 'allies' as pawns in the struggle with China. There was good reason, of course, for the KMT and CCP to join forces against Japan which had gobbled up Taiwan in 1895, Manchuria in 1931 and in the following year, 1937, attempted to conquer the rest of China. By contrast New Zealand has no disputes with China and no reason to fear China, although many in the 'national security industry' In New Zealand, in the US, and in Australia claim there is a clear and present danger.
The claims are tendentious and contrived, sometimes humorously so.
One example is an article published by the leading NZ media group Stuff [an improbable name, but there you are] in 2013 – Concerns over China's Pacific ventures. These concerns are shared in Australia and have, aside from US pressure, roots in imperial nostalgia, an anguish that the South Pacific nations, strengthened by Chinese aid, trade and investment may no longer require the benevolent guidance of Wellington and Canberra.
Japanese, US and Australian defence officials are increasingly wary of China's moves to develop port facilities in Pacific island nations, reflecting concern that those facilities could become Chinese navy footholds in the future…
In late July, a 1900-ton patrol ship from New Zealand was anchored at Vuna Wharf in Nuku'alofa, the capital of Tonga. The wharf for large passenger ferries was developed with full support from China. The pier is about 120 metres long and the sea is about 20 metres deep, making the wharf big enough to accommodate warships…
An Australian military source said China is trying to shift Tonga over to its side with such support and could make this wharf a foothold for its military vessels.
The horror that warships from NZ (and Australia, Japan and the US) might have to share the wharf with warships from China, along with ferries, and Chinese ships servicing tourism and trade is grossly overwrought. Ten years later there is no Chinese naval base in Tonga, or elsewhere in the South Pacific.
There is worse to come. A Dr Graeme Smith from ANU is quoted as warning:
"China is not the only external factor on the horizon," he told The Straits Times. "You have had the Russians and the Georgians running around the Pacific. And in the future, you will have India."
Georgians? Well you never know. Stalin was Georgian, and so is Mikheil Saakashvili.
In the real world, NZ is succumbing to American pressure, seconded by Australia and now there is another source- NATO. Jacinda Ardern attended the NATO summit in Madrid in June 2022 where China was added as a target for NATO expansion. Chris Hipkins, her successor, is briskly moving further towards NATO and is scheduled to attend the Vilnius summit in July. Foreign Minister Mahuta attended the NATO Foreign Ministers' meeting in Brussels in April, which focused on China.
No wonder the Xi'an meeting was frosty.