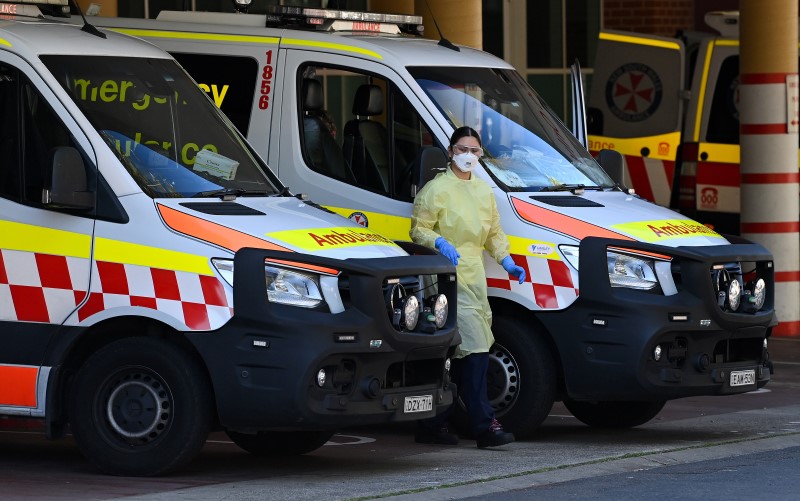 From my Omicron sickbed, I am watching my healthcare colleagues deal with a true disaster, writes Paul Komesaroff.
Now that the disaster is upon us we can start to analyse how it happened.
I am a front-line health worker, lying listlessly in bed battling an infection with the Omicron variant. My illness has provided me with the opportunity to reflect on our current predicament and what lessons can be learnt from it. I am not seeking blame or recriminations — only too popular these days — but root causes and future avoidable risks.
We do need to be clear, however: this is a true disaster. Unprecedented numbers of people have been admitted to our hospitals, which are now full. Deaths are mounting rapidly. Ambulances sit in line for hours waiting to discharge their sick patients to overrun emergency departments. Patients with serious non-Covid illnesses, like heart attacks and cancers, cannot find doctors to treat them. Those under 65 are told not even to try calling 000 or going to emergency.
Staff shortages present a major, imminent crisis. In the health services up to 10 per cent of workers are away sick, and many, unable to cope with the stress, have given up and resigned. Incredibly, it is possible that some hospitals will have to close when the need for them is greatest. In some other industries, absentee rates due to Covid approach 50 per cent. Food and other essential services are failing. The frantic determination to avoid lockdowns has produced a de facto lockdown, which is more intense than the official ones because of its unplanned, chaotic nature and the absence of safety nets.
Admittedly, not all the news is bad. Even if, as we now know, the vaccines are imperfect at preventing infections and hospitalisations, they do greatly reduce the risk of death — they may well have saved my life. Health care staff — doctors and nurses, young and old — are working tirelessly, often to the point of exhaustion, in heroic efforts to keep the system going. Students and surf lifesavers have stepped in to supplement the depleted ambulance staff.
But, regardless of the positive glimmers, from my sickbed it still looks like disaster. Despite the illness, I attend our hospital meeting — held remotely. In my febrile state I try to read the faces of the young doctors. I see their earnestness, their courage and commitment, and their disbelief and despair. There are nearly 200 urgent cases waiting for attention and we have a shortfall of 100 beds. What if we just can't cope?
So how did we get here? For nearly two years we had struggled as a community to work together and to protect each other. In Victoria, respected, political and public health leadership provided reliable information and a determined and clearly argued plan. There were lapses — like hotel quarantine — that were subjected to ruthless public scrutiny, but overcoming the challenges and setbacks heightened the sense of solidarity and mutual caring.
Volunteers — including teenagers on bikes — provided food for those in need. Neighbours checked up on the elderly. Suddenly, we were aware of the vulnerable members of our society and were caring for them. Although most of us have never encountered a war we were reminded of nostalgic stories from parents and grandparents about an ethic of mutual support that had flourished during extreme adversity.
But then it all unravelled. It seemed quick, but in reality the forces had been in play all along. An unrelenting campaign to undermine the collective purpose, to oppose all restrictions, had worn away at confidence in public health measures. Campaigns of disinformation, conspiracy theories, false narratives about how risks had been exaggerated, stimulated the rise of fringe Trump-like groups. The incessant talk about how injunctions to support the vulnerable and the elderly were in reality a device to undermine prized individual "freedoms" hit home. It was as though a cruel monster we had been incubating in our midst — perhaps through our tolerance of the treatment of refugees — was rearing up and seizing all of us in its tentacles.
A concerted effort by the federal government, supported by the NSW government, directly contradicting public health advice, attacked the few strategies that had been shown to work — even if only imperfectly. Ballooning numbers in NSW quickly led to the spread of infections across the country.
Then, exactly as Omicron emerged, as health workers looked on with incredulity and horror, even the most minimal remaining restrictions were lifted. Everyone with even rudimentary knowledge knew that this decision would produce disastrous consequences and would need quickly to be reversed. And it was true: the disaster happened and the restrictions were reversed. Mask wearing and density limits were restored. In NSW — in a quaint reminder of medieval Christian anti-plague superstitions — singing and dancing were even prohibited.
But the damage had been done and the effects were irreversible. Clumsy attempts at justification were provided. We were told that "letting Omicron rip" would produce herd immunity — a claim that is self-evidently untrue, not just because the evidence shows starkly that immunity against this disease is temporary and fragile but also because the fact of Omicron itself shows that the emergence of new variants will produce an endless cycle of waxing and waning infections. We were told that the aim was to ameliorate the mental health damage caused by restrictions, but there was no mention of the psychological impact of death on a large scale, of children losing their parents, of parents losing their children. We were told that the new policy was necessary to save the economy, but as we have seen, the reality was that it merely produced a new, more chaotic, lockdown.
An avoidable disaster was unleashed deliberately, in the face of scientifically informed public health advice. But this does not mean that the decision to do so was the result of simple incompetence. On the contrary, it embodied a fully coherent, carefully articulated, ethical world-view, on which we as a society now need to make a decision. The "let it rip" strategy is a potent statement that health and human life should be held to be of little value; that individual "freedom" is directly opposed to collective action and mutual care; and that our society is richer and better if we and our governments repudiate responsibility to weaker members, to those fleeing persecution, and to future generations.
Through the clouds of my delirium I fancy that this understanding of society as a war of all against all had long been discredited. I imagine that most of us have become aware that freedom is enhanced when the structures of mutual support and opportunity remain intact. I muse that there is abundant evidence — even if it has not yet been translated into action — that the safety of our children and grandchildren can only be assured if we work collectively and cooperatively to protect and care for each other and for our planet.
I try wearily to shake off the most obvious contradictions. Crazily, just as we are being projected from publicly funded health care to a system of "personal responsibility", we are being exhorted to prepare for a grand collective sacrifice in a noble war with China, to defend the "freedom" of Taiwan. While the values of family life are repeatedly exalted, a strategy is unleashed that deliberately and inevitably exposes every single unvaccinated child to a potentially deadly disease.
The reality is that we are indeed in the middle of a war — a war not just against the "invisible enemy" of the virus but also a new culture war, or more precisely, an ethics war. What is a stake is the vision we wish to have for our society: is it that of a collection of individuals opposed to each other, where security is limited to the powerful and the privileged? Or is it of a world of shared values, where the collective resources can be applied to those in most need, where each of us is prepared from time to time to defer our own comfort to assist and care for our fellow citizens?
The disaster of Covid has exposed the battle lines of the ethics war. In my fevered state, waiting for my clearance from infection control to return to the fray, I try to remain optimistic. I conjure up images of the purity of the young doctors and nurses and the kids on bikes delivering food and the overburdened essential workers. But, try as I may, confidence about the outcome eludes me.
A longer version of this article was first published in The Age and it is reproduced with permission.