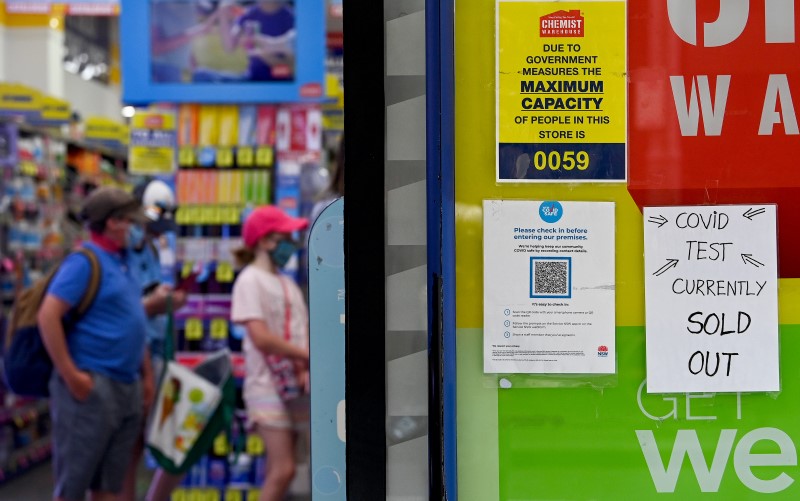 The country is mired in a directionless mess and will continue to flounder without a new narrative and a policy response that emphasises protection.
Australia is now in a new and dire pandemic stage with rocketing infection numbers – unhappily a world leader – causing needless suffering, struggling health facilities and a de facto people's lockdown, with severe business and job consequences.
We are now, in 2022, as the ABC's Norman Swan has observed, in a "policy free zone". Even more significant is the experience on the street, the gap between the Morrison government's rhetoric and the reality: the shortages of boosters in aged care homes and for overworked GPs, the shortage of children's vaccines and the absence of rapid antigen tests (RATs).
We need a new multifaceted policy and a new narrative. Throwaway lines come from Coalition politicians of "pushing through" or "riding the wave", and a couple of eccentric infectious disease experts even suggest that, after a peak, the pandemic will soon be over
Despite the understandable desire for a panacea, the pandemic is more complicated than either political grabs or epidemiological science will allow. Unfortunately, scientific and public policy and public opinion function in simple ways. The pandemic, like any major issue, elicits different narratives linked to news cycles and more.
Amid multiple clusters (medical experts/ government policies/media/ public opinions and behaviour), we only focus on one major narrative, and pandemic response, at a time. Consider the phases of our pandemic responses since autumn 2020.
Phase one response: The initial scientific emphasis focused on surface spread. It took a long while for the predominant role of aerosol transmission (first recognised by air quality scientist Professor Lidia Morawska and several Centers for Disease Control (CDC) researchers in June 2020) to become the new conventional wisdom. It was not fully recognised by the WHO until early 2021.
Phase two response: After long lockdowns and restrictions in some states, the "ticket to freedom" vaccination campaign became the go in spring 2021. It has been very successful, although with unintended consequences. Its "magic bullet" appeal often resulted in little focus on public health prevention. The public needs to know that vaccine effectiveness against serious disease and death is not 100 per cent. Public health protection and safe behaviour, a "vaccine-plus" policy as advocated by Professor Raina MacIntyre, constitute the second essential string to our bow.
However, at the moment, only one theme at a time gets a run, even when the virus changes. Omicron has led to "a different narrative", often erroneously putting economics before health, in the favoured words of our marketing-oriented prime minister, Scott Morrison.
Phase three: Our current response is a directionless mess amid rapid Omicron spread and unprecedented infection numbers. The rush by the federal and NSW governments to relax restrictions before Christmas and the summer holidays has been followed by other governments, with open borders and, in Victoria, density-limit reductions despite medical advice.
Understandably, the January focus has been on the federal government's major failure to order and provide enough freely available RAT tests and on long PCR test queues. The spread has resulted in the public focus moving to testing and away from prevention and treatment – two great omissions.
Pandemic fatigue or hesitancy has seen a slow movement to the third shot or booster. Do people just assume that Omicron is "mild" or agree with NSW Health Minister Brad Hazzard that "everyone will get it"? Or do they believe the social media noise about vaccine ineffectiveness?
A 2022 fourth phase: We need a fourth narrative, a policy response that returns the emphasis onto protection. That has already been anticipated in the scaling back of the ridiculous relaxations of December and in Queensland's deferred return to school.
The two great prevention omissions, pushed off centre stage by the predominant RATs theme, are:
Vaccination against Omicron – the third jab: Australia still has a low take-up rate of boosters, just over 20 per cent. The good news is that the 5-11 year-old campaign is beginning to address our real vaccination figure of just over 80 per cent of the total population, not the misleading 16-plus figure on the evening news. However, many of the vulnerable elderly are politely waiting for GP appointments rather than seeking boosters now.
High-quality health protection: masking (KN95, N95 or P2 masks, provided freely by the federal government), as advocated by occupational hygienist Kate Cole and Professor James Trauer of Monash; certified improved ventilation in schools and workplaces, as advocated by Morawska; and an outdoors reference and social distancing when visiting friends or family. Despite the return to mask-wearing in enclosed spaces, most people are still using the less protective blue medical masks or cloth masks.
Only a double-barrelled-plus approach to prevention will arrest the current exponential spread of Omicron, its human costs and the pressure on health services. That demands work on protection, testing and treatment. Australia needs a new narrative, real government action and an information campaign, or we will continue to flounder.