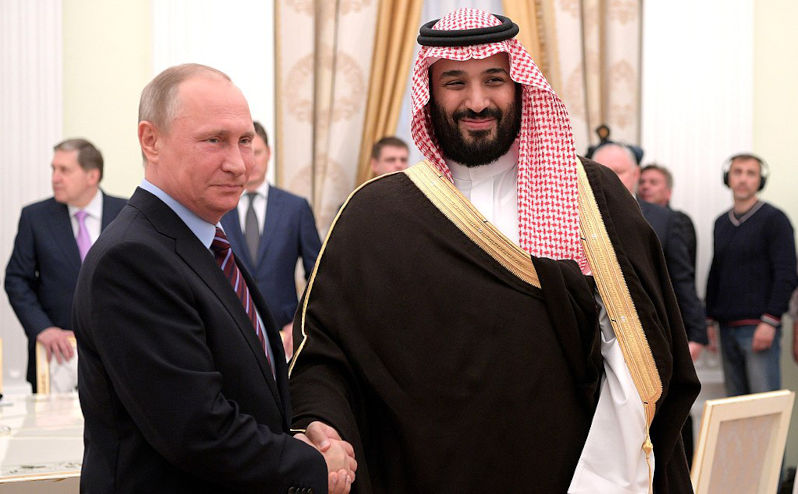 There will be myriad effects from the decision last week by the OPEC+ oil producers – led by Saudi Arabia and Russia – to cut production and increase the price of oil.
None of them are good. The energy supply and price squeeze in a Europe already bracing for brutal days and nights as winter approaches will be tightened. Inflation gets a boost – and the central banks will keep raising interest rates. Russia will reap revenues to ease the vice of Western sanctions imposed to punish Putin and his regime for the war in Ukraine. Saudi Arabia and the other OPEC partners will enjoy more money from petrol tanks flowing into their banks.
The OPEC+ decision also signals a deeper entente between Russia and Saudi Arabia: calculated strategic scheming by Vladimir Putin and Mohammed bin Salman, Saudi Arabia's crown prince and the effective leader of the country.
Putin, failing and flailing in Ukraine, wants maximum pain inflicted on the NATO countries, and their people, for NATO's expansion and exceptionally effective support for Ukraine and President Zelensky. Putin wants President Joe Biden to be seen as a loser.
MBS wants the petrodollars and to inflict injury on Biden for his animus towards Saudi Arabia.
But there is a collateral blow from this raw petrol power play that Putin and MBS have found common cause in executing:
To take Biden down by weakening his political standing as president in the United States.
The easiest way to do that is to do all in their power to ensure Biden and the Democrats suffer a defeat in the midterms in November by losing control of Congress – thereby neutering Biden's presidency.
To this end, nothing is more effective than a significant hike in the price of gasoline for a full month before voters make up their minds which way to vote as they drive to cast their ballots in the November 8 midterm elections.
Putin and the Russians have form in interfering in US elections. Their activities in 2016, when Russia engineered wanton manipulation of public opinion through covert cyber and social media activities, were exposed by Special Counsel Robert Mueller in his investigation of Russian interference in the presidential campaign. 12 Russians were indicted in 2018 by the Department of Justice:
All twelve defendants are members of the GRU, a Russian Federation intelligence agency within the Main Intelligence Directorate of the Russian military. These GRU officers, in their official capacities, engaged in a sustained effort to hack into the computer networks of the Democratic Congressional Campaign Committee, the Democratic National Committee, and the presidential campaign of Hillary Clinton, and released that information on the internet under the names "DCLeaks" and "Guccifer 2.0" and through another entity.
These efforts helped Trump win the presidency. In a report issued in 2020, the Senate Intelligence Committee found that "specific intelligence as well as open source assessments support…that President Putin approved and directed aspects of this influence campaign," and that that Moscow sought "to denigrate then-candidate Clinton."
For the 2020 presidential election, Putin doubled down on his winning hand. Last year, the National Intelligence Council issued an official intelligence community assessment, that Putin continued these efforts in the 2020 presidential election:
"We assess that Russian President Putin authorised, and a range of Russian government organisations conducted, influence operations aimed at denigrating President Biden's candidacy and the Democratic Party, supporting former President Trump, undermining public confidence in the electoral process, and exacerbating sociopolitical divisions in the US."
Trump lost, but the US remains profoundly divided, and is a weaker example to the world of the virtues of its democracy.
In 2022, there is no need to go covert to wreak political chaos against Biden. It is much more effective to spike the price of gasoline in broad daylight every day.
MBS wants oil money for his kingdom – and his power – first and foremost. But he also wants to pay Joe Biden back for the president's very public, and what MBS clearly feels was very humiliating, efforts to hold MBS directly accountable for the assassination by Saudi agents of Jamal Khashoggi, a journalist for the Washington Post and a US resident. The outrage over Khashoggi's murder in Istanbul in 2018 has only increased since.
In a Democratic Party presidential debate in 2019, Biden said, in discussing US policy towards Saudi Arabia:
"I would make it very clear we were not going to in fact sell more weapons to them. We were going to in fact make them pay the price, and make them in fact the pariah that they are… [There is] very little social redeeming value in the present government in Saudi Arabia."
MBS never forgot – nor forgave – the "pariah" slur.
It took Biden 18 months to seek to square his humanitarian principles with the realities of the Middle East and engage in a make-up trip to Saudi Arabia, replete with a fist-bump as his meeting with MBS got underway. The White House touted the results of their July 15 summit discussions in their official Fact Sheet:
New Cooperation on Energy Security: Saudi Arabia has committed to support global oil market balancing for sustained economic growth. The United States has welcomed the increase in production levels 50 percent above what was planned for July and August. These steps and further steps that we anticipate over the coming weeks have and will help stabilize markets considerably.
If that was the deal, MBS broke the deal.
If MBS wanted some accommodation with Biden, nothing could be more counterproductive than embracing Putin and the horror of his inflicting on Europe the biggest military conflict since World War II and the disastrous economic shocks to Europe, the US, and their allies.
If MBS and Putin want Biden to pay a political price at home in America, all it takes is to tighten the spigot.
In the midterm elections a month from now, the biggest drivers for the Republicans are inflation, the economy and interest rates. Yes, the Democrats have a president with strong legislative achievements, and they are capitalising on an extreme Supreme Court that repealed a woman's constitutional right to abortion and on the radical Trumpist candidates. But current polls indicate the economic pressures on American households are gaining more sway.
The biggest political hit Putin and MBS can inflict on Biden is to take away his control of Congress.
Putin and MBS know that the best way to do that is to make Americans pay more at the pump every day between now and when they drive to the polls to vote.
All that needs to be flipped are a net loss of 5 Democratic House seats and a net gain of one Republican Senate seat. And Putin and MBS can make money doing it.