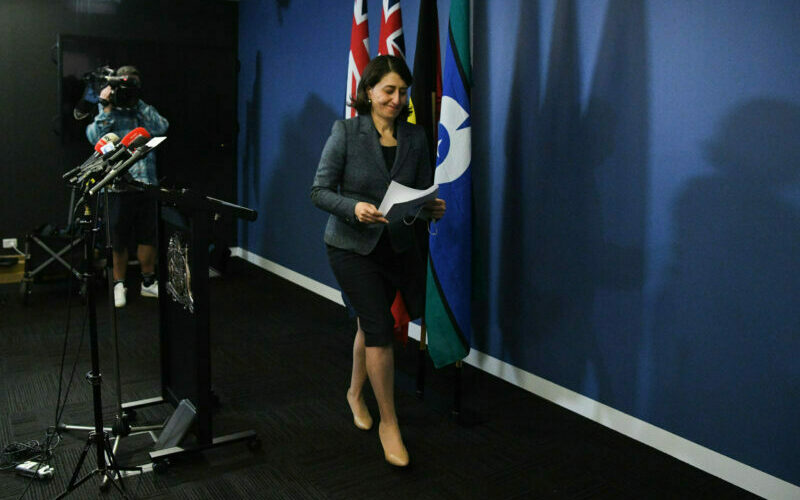 When former NSW premier Gladys Berejiklian faces an ICAC hearing, we might finally have a debate on whether we can call politicians doing favours for political or personal mates "corruption".
Gladys Berejiklian may end up doing us all a favour if her case moves quickly through the NSW Independent Commission Against Corruption (ICAC) and the result is available for comment and debate, if there is one, about whether the Commonwealth is to have an integrity commission, and, if so, with what openness, procedures, and safeguards.
On that account, however, it could be wise to watch the case unfold, hear Berejiklian tell her side of the story at greater length, and have an opportunity to hear a full-scale legal debate about whether and to what extent conduct of a particular sort — shall we call it partisan political action designed to favour one's political or personal friends — is capable of being described as corrupt conduct.
Ministers in the federal government, accused of blatant corruption and improper process over recent years, have put forward several propositions in support of their actions. Among these have been the suggestions that:
Possibly improper or partisan conduct — for example the distribution of a grant scheme to government-held electorates, or marginal seats the government was hoping to win — could retrospectively lose their moral stain or question marks if the government is returned. The electorate has approved the questionable behaviour. (We do not know yet whether the loss of a general election means that government agencies, previously obliged to dole the money out, are now obliged to get it back again.)
Even where legislation specifies a means of giving out for governments — for example after assessment by a neutral and independent body, which ranks the objective worthiness of the grants in rank order — it is open to ministers to tear the recommendations up, and to hand it out any old how. This is, apparently, on the constitutional theory that ministers, or groups of them, can do anything they like, because they are ultimately responsible for what the government does.
That there is no constitutional, legal or practical difference between promising particular rewards to electors, or an electorate, provided that the government is returned, and actually doling out the money, or the favours, seconds before the election is called, long before the supposed "authorising" Cabinet minute is cited or sighted, and, in many cases, long before the particular project has been put to government in any sort of coherent form.
That it is "OK" for governments to pork barrel money to favoured electorates, favourite cronies or favoured causes because "everybody does it".
Whether these are statements of how good and honest government is carried out in an Australian state, or even at the federal level, are likely to be traversed before ICAC.
One way or the other, they form part of the alleged factual background to the inquiry in which Berejiklian is engaged. By, no doubt, a complete coincidence, a good number of federal government actions, including rorting grants schemes ostensibly supposed to be distributed by merit rather than party tags, are being defended as perfectly regular by ministers from Scott Morrison down, using much the same language as has been used by Berejiklian.
The writ of ICAC might not run at the federal level, and won't even after or if we are to have an integrity commission.
But there has been a remarkable unanimity over the years between corruption commissions, royal commissions into public administration, inquiries into government or public service bodies which have gone awry, and even the conduct of banks, on the subject of treating public money as if it was in one's own personal gift.
Berejiklian is not on trial, nor is she charged with anything that is a criminal, even a civil offence. Words like "guilty" or talk about legal penalties or jail simply do not arise.
But her conduct, and that of her erstwhile boyfriend Daryl Maguire, is under examination. In one sense (and by Berejiklian's own story) Maguire is the real villain.
He was her secret boyfriend, and she was for too long unaware that he was at heart a rotter, not least in allegedly seeking success fees, introduction fees, and sometimes a share of the action when one or another of his schemes was being successful.
She has admitted, more or less, that she knew he was forever on the make, with lots of plots, plans and hopes. She says, in effect, that she tended to turn off and not listen when he was discussing some possibly dodgy pipedream. Others have spoken of his seeking to "monetise" his parliamentary position, and to use his status as a politician for his own personal gain.
So far so good if that was all that happened.
But the investigation is said to have found evidence that Maguire was peddling access to her, first as treasurer, later as premier, and sometimes using his own access to her to pretend to be something he was not.
Moreover, he was pushing her to make decisions to give at least two substantial grants to projects in his electorate. One was a clay pigeon facility, another a conservatorium of music.
The suggestion is that Maguire put these projects to Berejiklian during their relationship (unknown to anyone else in government) and that she was involved in some official acts equivalent to her shepherding the proposals through the system.
Berejiklian has denied this and has claimed that at most she signed recommendations coming up from the system, but correspondence has emerged showing that she was making inquiries about the progress of the submission, perhaps because of nagging from the boyfriend.