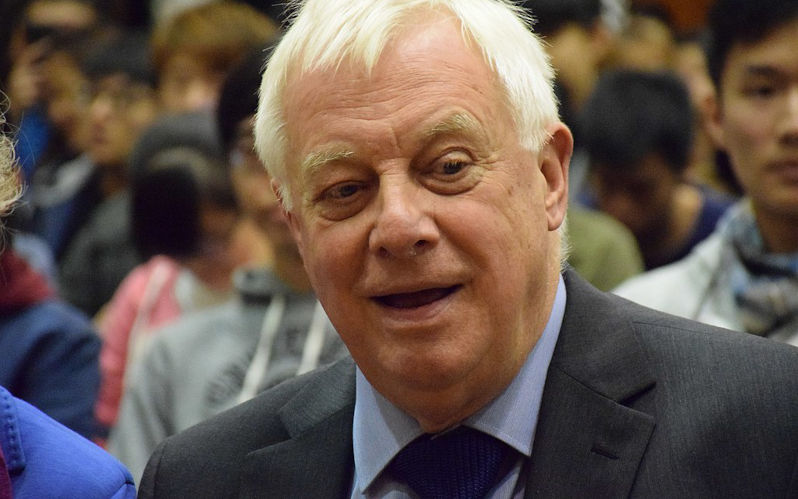 In legal circles, outsiders who hold forth on legal issues without understanding the law or knowing the facts are held in particular contempt. They are known as "barrack-room lawyers", a term that originally derived from military slang.
According to the Collins Dictionary, a barrack-room lawyer is "a person who freely offers opinions, especially in legal matters, that he or she is unqualified to give."
In the UK, the anti-China propaganda outfit, Hong Kong Watch, which is operated by the serial fantasist, Benedict Rogers, is awash with such people. They inhabit a world of make-believe, worthy of Alice in Wonderland, in which those who commit crimes are victims of persecution, while the legal system that holds criminals to account is itself at fault. However irrational, such notions are welcomed by Hong Kong Watch, and this is largely down to its patron, the former governor, Lord (Chris) Patten, who rejoices in being its "barrack-room lawyer-in-chief".
An early example of this arose in 2017, when the Court of Appeal imprisoned three fanatics for their role in a violent unlawful assembly at the start of the Occupy Central disturbances in 2014. Although Patten was unfamiliar with the case details and the legal niceties, he waded in with a letter to the Financial Times, calling the judgment "a deplorable decision". This was despite the street thuggery involved being of a type that would never have been tolerated during his own time in Hong Kong.
In 2019, moreover, when Patten appeared before the House of Commons' Foreign Affairs Committee, he even claimed that those who had occupied the streets for 79 days were "extraordinarily moderate", and "believers in the rule of law". Some listeners were undoubtedly conned, not least because he failed to disclose, for example, that the three individuals who were imprisoned had stormed into a restricted area, leaving 10 security guards injured. Had he revealed that the Court of Appeal called their actions "a large-scale unlawful assembly, involving violence", it might, if nothing else, have given his listeners pause for thought.
Anybody wishing to understand Patten's motivation need look no further than May 28, 2020, the day he announced that "China is an enemy to us now". This, of course, delighted the US State Department, and, when its then-secretary, Mike Pompeo, visited the UK shortly afterward, on July 22, 2020, he immediately called Patten in to see him at Winfield House, the US ambassador's London residence, before he met with Nathan Law Kwun-chung, one of the three convicted felons whose violence Patten had earlier whitewashed.
Pompeo used his fleeting visit to the UK to call for a global alliance against China, and, if he imagined that Patten could help him out, he would not have been disappointed, and he has been on board ever since. Patten, however, was by no means Pompeo's only "person of interest".
When the media magnate, Jimmy Lai Chee-ying, visited Washington DC, on July 8, 2019, he was red-carpeted by Pompeo, and also by the then vice-president, Mike Pence, which was highly unusual for a private citizen. Although it is not known what, if anything, Pompeo asked Lai to do for him upon his return to Hong Kong, Lai was in no doubt over what his role should be. When interviewed by CNN on Aug 28, 2019, just weeks after meeting with Pompeo, he declared "we in Hong Kong are fighting for the shared values of the US against China, we are fighting their war in the enemy camp".
In other words, therefore, Patten and Lai were, by 2020, singing from the same hymn sheet, with both calling China the "enemy", and the lyrics could well have been written for them by Pompeo. Indeed, Patten's protege from Hong Kong Watch, Benedict Rogers, even went so far as to announce, on Sept 22, 2020, that he hoped Pompeo would "run for the White House one day." Be that as it may, once Lai was charged with various crimes in Hong Kong, Patten weighed in on his behalf, brandishing some half-baked legal theories of his own.
Since 2000, Patten has been a contributor to Project Syndicate, an online platform that grandly calls itself "the world's opinion page". Although he regularly uses his columns to diss China, his column of Dec 19, 2022, entitled Free Hong Kong's Fiercest Defender, is even more fantastical than usual. It is largely devoted to Lai, and, determined to propagandise, he gives his barrack-room lawyer instincts free rein, and it is not a pretty sight.
Having announced that press freedom in Hong Kong is being "effectively curtailed", he began by declaring that the Hong Kong Journalists Association chairman, Ronson Chan Ron-sing, had been "arrested in September while reporting a story and charged with obstruction merely for doing his job." Anybody reading this would, as intended, be alarmed, but what he did not disclose was that the police have explained Chan was only charged with allegedly obstructing police after he was "uncooperative", refusing multiple requests to show his identification. Whether he is ultimately convicted after trial is, of course, another matter, but that is an inconvenient detail of no interest to Patten.
Thereafter, clearly unsure of his ground, Patten resorted to crude invective, claiming that the "persecution" of Jimmy Lai is a "terrifying example of the authorities' unprecedented attack on press freedom." In support, he then referenced Lai's 13-month sentence for "attending an unauthorised vigil", and left it there. What, however, he withheld from his readers was the actual basis of Lai's conviction, which was that he and his co-defendants deliberately flouted the COVID-19 restrictions that were imposed on public gatherings in 2020, in order to protect public health.
As Judge Amanda Woodcock explained, Lai and the others "ignored and belittled a genuine public health crisis", and "wrongly and arrogantly believed in commemorating 4 June rather than protecting the health of the community". In other words, Lai, whatever he may have thought, was not above the law, and he, like everybody else, should have obeyed it, such being the essence of the rule of law. Anybody, however, reading Patten's crude commentary would have been wholly unaware of any of this.
As if this was not bad enough, Patten then switched to Lai's two fraud convictions of Dec 10, for which, after trial, he was sentenced to 5 years 9 months' imprisonment. As the case had nothing to do with national security or public protests, he was clearly hard-pressed to find any basis for impugning the judgment. All he could come up with was a statement from the (post-Pompeo) US State Department about "spurious fraud charges", which was really scraping the bottom of the barrel. The State Department was not privy to the evidence or cognisant of the legal issues, and, like him, was simply another barrack-room lawyer, shooting from the hip.
As Patten had no legal grounds for impugning the judge's reasons for convicting or sentencing Lai, he was thrown back on smearing the judiciary itself, a sure sign of desperation. He claimed that the "government and the judges hand-picked to do its bidding do not seem to care about the difference between civil and criminal law (a reference to a defence unsuccessfully run at trial), much less about human rights", which, even for him, was a new low.
If Lai is dissatisfied with his fraud convictions or his sentences he can obviously appeal to the Court of Appeal (just as he has done over his unauthorised assembly conviction), although Patten concealed this. Indeed, even though Hong Kong has one of the most professional judiciaries in the Asia-Pacific region, comprising experienced judges of great integrity from various jurisdictions, including the UK, all of whom have sworn to "administer justice without fear or favour, deceit or self-interest", he was happy to malign them in order to strike a blow at the country he now calls the "enemy".
In a previous incarnation, Patten was a British Member of Parliament, and, in that world, this type of scurrility is known as "the politics of the gutter". Although, in years past, he would have had no truck with such poison, his hatred of China has now warped his judgment, and he no longer has any bottom lines. However sad, the rising star of the Margaret Thatcher era has now become an embittered shadow of his former self, and, in his dotage, is easily manipulated by the likes of Pompeo, Rogers, and even Nathan Law.
It comes, therefore, as no surprise to discover that Patten failed to inform his Project Syndicate readers that the World Justice Project's Rule of Law Index (the world's leading source for original, independent data on the rule of law) has consistently, despite the best efforts of its detractors, rated Hong Kong highly. In the WJP Index 2022, for example, released on Oct 26, 2022, Hong Kong ranked 22nd out of the 140 countries and jurisdictions surveyed.
This was clearly remarkable, particularly in the wake of the failed insurrection of 2019-20, and it shows the strength of the city's legal system. Although Hong Kong came behind the UK (15th), it ranked higher than the US (26th), and ahead of a slew of European Union countries, including Spain (23rd), Portugal (27th), Cyprus (28th), Malta (30th), Slovenia (31st), Italy (32nd), Slovakia (35th), Poland (36th), Romania (38th) and Greece (44th).
Instead, however, of praising Hong Kong's latest achievement, Patten has swept it under the carpet, knowing it reflects so well on the "enemy". By such tactics, he has brought the standing of barrack-room lawyers into even greater disrepute, no mean feat. However, even the most convincing of them are invariably exposed at some point, and, as Project Syndicate hopefully realises, Patten's time is up. He has, after all, taken its readers for a ride for far too long, and, if it is truly "the world's opinion page", it has a journalistic duty to discourage propaganda on its pages and to promote accurate commentary.
First published in China Daily HK, December 30, 2022.