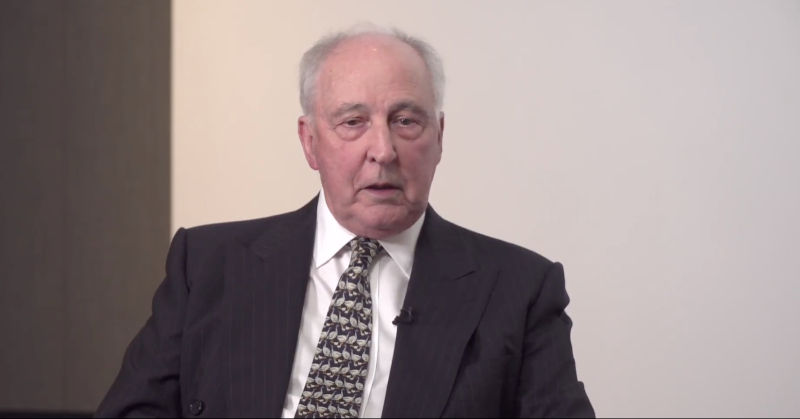 There are few who think as clearly, who are as articulate, and who are prepared to speak out in the face of incredible stupidity in Australian politics as Paul Keating. And, as he made clear in his address to the press club this week, AUKUS is nothing if not an exercise in security policy stupidity.

Paul Keating is perhaps the most abrasive public figure of any stature in Australia today. In the space of a single appearance he can be pugnacious, whip-smart, arrogant, snarling, and then all of a sudden he can switch to being witty, charming, and inspirational.
As Treasurer in the Hawke government, he was the leading champion of neoliberal economics, an ideology he happily absorbed from America.
Yet Keating has been consistently correct about the need for Australia to become "engaged" with its Southeast and East Asian geopolitical neighbours. He has been very clear that we need to find our security in Asia, not from Asia. When he was in politics he implicitly (and sometimes very explicitly) warned about Australia's dependent security relationship with the United States. He also warned about the role of Australia's intelligence community in entangling Australia in the Americans' determination to remain the dominant power in the Asia Pacific, whatever the cost to Australia. Like its American counterpart, the Australian intelligence community is largely ideologically driven and inadequately educated.
At his latest appearance at the National Press Club (NPC), his tough – even ruthless ­– side was very much to the fore as he excoriated the Albanese government – focusing especially on Anthony Albanese, Penny Wong and Richard Marles – for what he argues is the massive blunder they have signed up for in the AUKUS submarine deal with the US and the UK. He was also magically dismissive of some of the hack journalists and naïve neophytes in the media. Mostly their questions showed that they had not been listening to him, or that they were incapable of understanding the importance of his argument.
That AUKUS seems to have become a fait accompli is now a regrettable and potentially fatal fact. The hype surrounding it, from the day its self-proclaimed "father" (Morrison) announced it, to the carefully contrived photo ops of Albanese with Biden and Sunak in San Diego has been unrelenting. The role of the mainstream media, especially the Murdoch press, has been to uncritically and fulsomely celebrate the AUKUS proposal. More recently, the spreads by the so-called defence experts in The Sydney Morning Herald and The Age, warning that war with China is likely to occur within three years, turns out to have been a softening up exercise aimed at manipulating public opinion into supporting what Paul Keating thinks (with justification) is the AUKUS madness.
Keating's argument is a straightforward one. He believes that Australia does not need to purchase the hyper-expensive nuclear-driven submarines. He argues plausibly that the existing Collins class submarines should be upgraded and augmented (up to 15 at sea at any one time) at far less cost to the Australian taxpayer and that they would be more effective than three AUKUS boats in defending Australia's shores.
He also presented a strong case that China is not intent on invading Australia, nor is it wanting a war with the United States. Its massive military build-up is, he noted, is characteristic of a great power. In constructing, for example, the military bases in the South China Sea, its focus has been on defending itself from American and allied powers strategic manoeuvrings off the Chinese periphery in the Pacific. He correctly noted that if China were to conduct sea-based exercises off the coast of California, all hell would break loose in Washington and abject hysteria in Canberra.
Keating also pointed out the great beneficiaries of the AUKUS deal are the moribund ship-building firms in post-Thatcherite Britain and the US submarine makers (those egregious members of the US military-industrial complex). Australia, he pointed out, was the only member of the alliance to be providing cash – massively more, as it turns out than we were originally expected to believe – to the other two participants in the deal. They must be laughing all the way to their banks.
Paul Keating can be his own worst enemy when he is trying to make a case about Australian public policy – be it superannuation, climate change, or Australia's defence and security policies. But there are few who think as clearly, who are as articulate, and who are prepared to speak out in the face of incredible stupidity in Australian politics. And, as he made clear, AUKUS is nothing if not an exercise in security policy stupidity.
No doubt the journalists he offended, or treated with the contempt they deserved at the Press Club will seek their revenge by attacking his analysis of AUKUS in their various outlets. In doing so, they will display yet again the depths to which Australia's third rate media have plunged in recent years. They are incapable of taking seriously the very serious case he is making.
It is to be hoped that Labor Party branches around the country will listen carefully to what Paul Keating is saying about this issue of vital importance to the country's security future. When asked whether he was separating himself from the ALP on the issue, he first pointed to the long tradition of Labor astuteness on security policy matters. But he also noted that this was an issue that requires one to put country before party, displaying his capacity for statesmanship.
If the entire Labor organisation, at local, regional state and federal levels, falls tamely into line with Albanese, Wong and Marles on this profoundly bad AUKUS arrangement then, as when Malcolm Fraser walked away from the Liberal Party because of the Howard government's asylum seeker policies, so Paul Keating may have to walk away from the Labor Party. And so may many others.