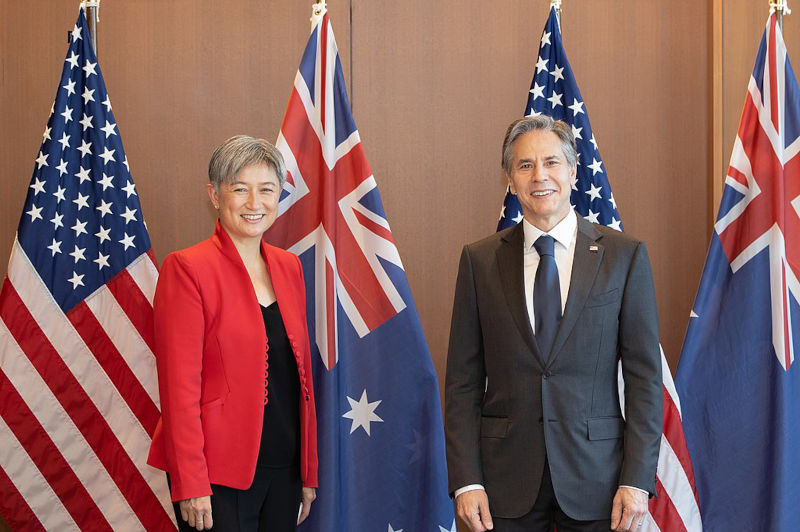 Little that was distinctive about Penny Wong's foreign policy has survived the signing of the AUKUS agreement.
In her first speech to DFAT staff she observed that the department had lost influence under the outgoing coalition administrations and she intended to bring it back to the centre of government. And here we are now with an agreement negotiated in secret by Scott Morrison with no input from DFAT. The bureaucratic pre-eminence of the Defence Department and Prime Minister and Cabinet has been ruthlessly reasserted. Did anyone in the Cabinet take note of Wong's observation that the countries of our region were not enthusiastic about great power competition and did not want to be forced to take sides? And perhaps more poignant was her desire to project an image of a new multi-cultural country which had shed its British heritage and which saw itself as not only being in the Indo-Pacific but 'of the Indo-Pacific'. And all the while our leaders are rattling on with atavistic enthusiasm about our 'forever' Anglo friends on the other side of the world and sharing with them plans to 'stand up' to China.
How other aspects of Wong's foreign policy will fare is anyone's guess. In her speeches overseas she has frequently referred to the First Nations reminding her listeners that they were representatives of the oldest living culture in the world and that she would incorporate an indigenous perspective in her approach to international relations. DFAT issued a paper on the government's Indigenous Diplomacy Agenda in early February announcing:
"We have a vision for a world where the rights and traditions of indigenous people are respected…and where indigenous people are participants and beneficiaries of the international system…We will call for international processes and institutions to factor the interests of indigenous into decision-making."
DFAT reaffirmed Australia's support for the objectives of the 2007 UN Declaration on the Rights of Indigenous Peoples which we endorsed in 2009 have not yet been ratified. The provisions of the document are not widely known. How many people appreciate that Article 30 relates to military activity on indigenous land? There are the relevant two clauses:
Military activities shall not take place in the lands or territories of indigenous peoples unless justified by a relevant public interest or freely agreed with or requested by the indigenous people concerned.
States shall undertake effective consultation with the indigenous peoples concerned, through appropriate procedures and in particular through their representative institutions prior to using their lands or territories for military purposes.
The immediate relevance of these provisions is self- evident. Two matters need to be considered. One is the projected rapid militarisation of north Australia by both Australian and American personnel, logistics and weaponry. No one has made a secret of these plans. But it is by no means clear that anyone has taken into consideration the fact that very large areas of the north are 'the lands or territories of indigenous people'. The figures are striking. Somewhere around 50% of the land mass of the Northern Territory and 85% of the coastline is Aboriginal land. In the north of Western Australia 93% of the Kimberley is held under native title. The islands and waters of Torres Strait and large areas of Cape York are similarly situated.
It is not unreasonable for us to wonder if anyone in DFAT, or even the Minister herself, has taken this up with the Department of Defence. Will there ever be 'effective consultation' with the indigenous peoples concerned? Has anyone made plans to hold meetings with their representative institutions, in this case the assorted Land Councils, and outlined their plans for a future war with China? This will be the critical test as to whether DFAT's new found enthusiasm for indigenous rights is any more than modish window dressing. If that is the case we will have continuing reminders of the infamy of an earlier generation when indigenous rights were shamefully neglected in order to meet the demands of the second of our 'forever' friends. Between 1952 and 1963 Britain used three sites to explode 12 nuclear weapons and carry out 23 minor tests with assorted fissile material.
On the 7th of this month Penny Wong, Linda Burney and Patrick Dodson collectively announced the appointment of Justin Mohamed as Australia's Ambassador for First Nation's People. Government inspired reports explained that it is the first time that Australia will have First Nations representation 'to inform the way Australia engages with the world, and for the government to deliver on its commitment to embed Indigenous perspective, experiences, and interests into Australia's foreign policy.' The ambassador will represent Australia at the upcoming session of the UN Permanent Forum on Indigenous Issues in New York in April.
It is fanciful to suppose that before he travels to New York he will have a high level briefing at the Department of Defence to enlighten them of the relationship between their extensive militarisation of indigenous land and territory in north Australia and the principles outlined in the Declaration on the Rights of Indigenous People. It is even harder to imagine that he will be asked to brief Pentagon officials both about the Declaration and Australian memories of the disaster of Maralinga. It is one thing to embed indigenous perspectives, experiences and interests in our foreign policy. It is a different matter for DFAT to try and impose these constraints on the armed forces of Australia and those of our 'forever' friends.