Over the past 35 years, people movement between Australia and China increased at an extraordinary rate. The deterioration of Australia-China relations, which has now been locked in by comments about war with China by new Defence Minister Peter Dutton (as well as the 'drums of war' comments by his former Secretary Mike Pezzullo) and China's indefinite suspension of the China-Australia Strategic Economic Dialogue, will reverse that trend for the foreseeable future.
That reversal started well before covid. There will be many in Australia, particularly those with a xenophobic disposition, who will celebrate the reversal. But there will also be many industries, businesses and employees of businesses who will be disproportionately impacted by the decline in people movement between China and Australia. Moreover, a decline in permanent and temporary migration from China will make it doubly difficult to realise the forecast for net migration to rise to 235,000 per annum in Treasury's December 2020 Population Statement and now brought forward in the 2021 Budget.
Migration to Australia from China
Migration to Australia from China had steadily increased driven largely by growth in the overseas student industry. The China born in Australia's resident population in 1996 was 0.65 percent (118,640) and by 2019 had increased to 2.63 percent (667,960). 2020 was the first year in Australia's recent history in which the percentage and absolute number of China born in Australia's resident population fell (see Chart 1).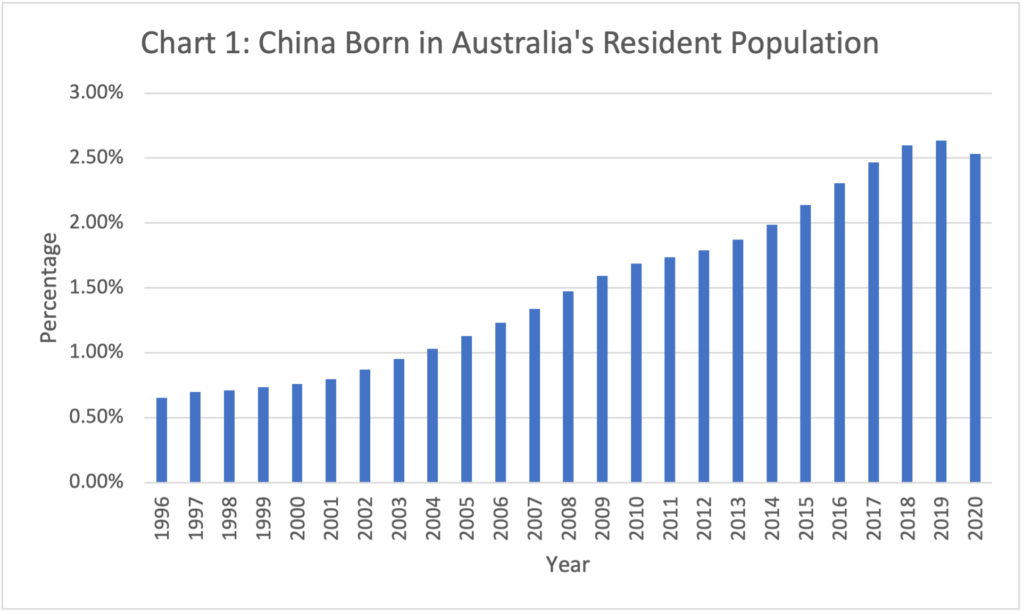 While the decline in 2020 was partly due to covid, other factors suggest the overall trend will be an ongoing decline after an initial burst of arrivals when international borders reopen.
Permanent visas granted to Chinese citizens has declined since peaking in 2015-16 at 28,270 (see Chart 2). This decline was partly due to the smaller migration program but also due to a fall in applications from Chinese citizens.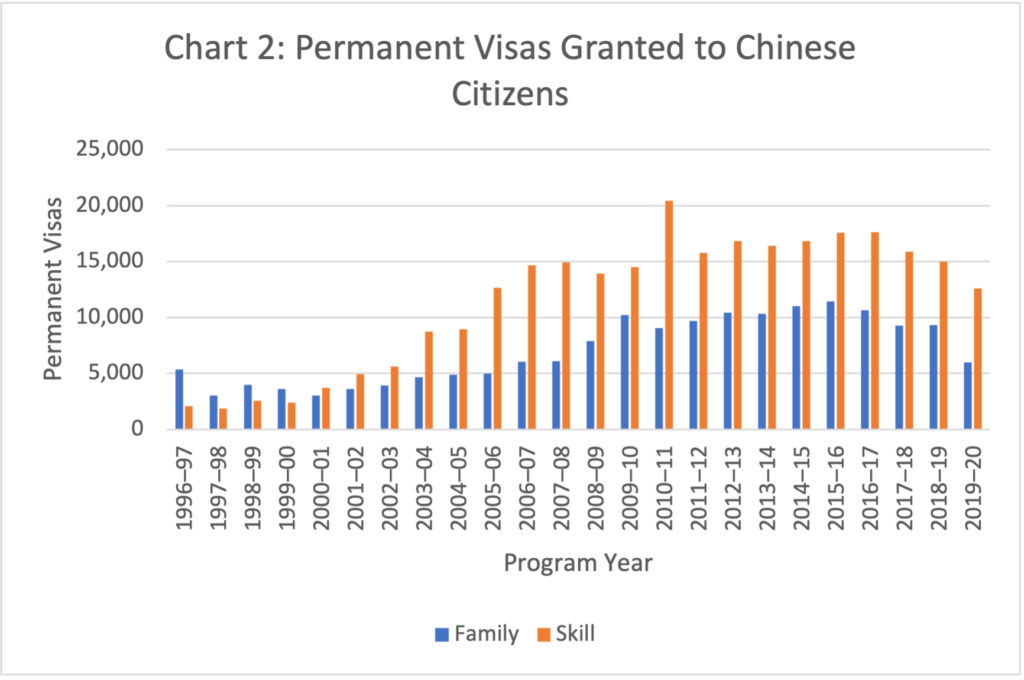 There will likely be a small rise in family and business visas granted to Chinese citizens in 2020-21 predominantly due to backlog clearance. But the long-term trend will be decline even after international borders reopen and even if the Government increases the migration program as assumed by the Treasury Department in its December 2020 Population Statement. The tightening of the business skills program and increased use of the new Global Talent Independent for business migrants and investors, where decision-makers have much more discretion in who they approve, will lead to a decline in visas granted to migrants from mainland China. That will be partly offset by increased grants to migrants from Hong Kong.
Overseas Students
China has for most of the last three and a half decades been the biggest driver of our overseas students program, albeit with a hiatus between 1991 and 2000. The number of Chinese student visa holders in Australia peaked in March 2019 at just under 170,000 (see Chart 3).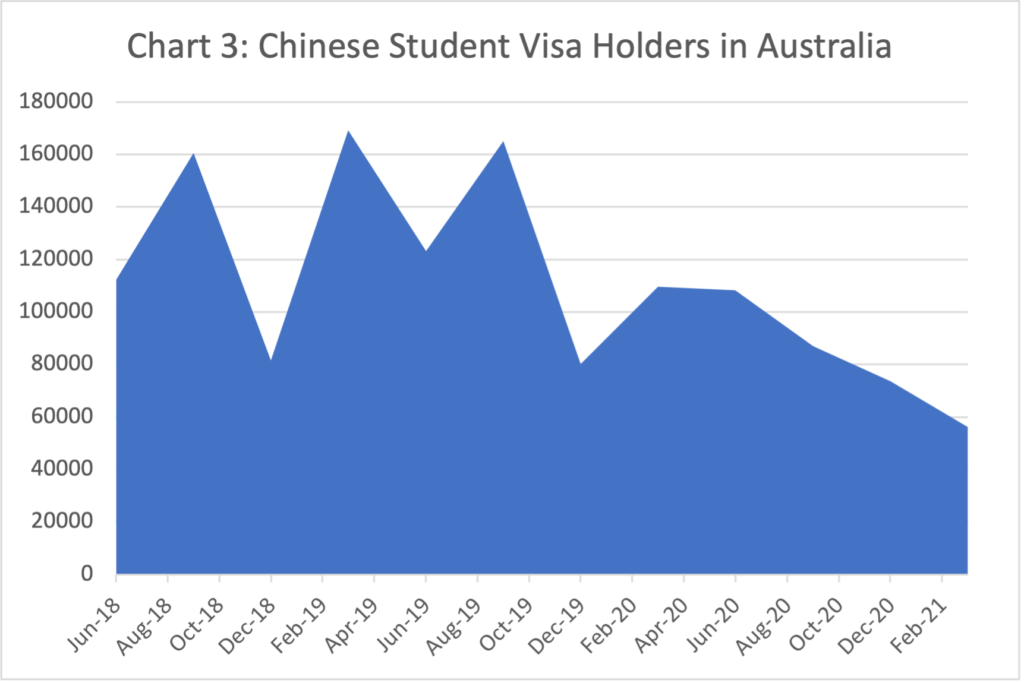 Chinese student numbers in Australia began declining before covid-19 and have been declining ever since. Offshore student visa grants to Chinese students peaked in 2018. Offshore student visa grants to Chinese students declined sharply in the June quarter of 2020 as the Department of Home Affairs slowed processing but then cleared the subsequent backlog in the September quarter or 2020 (see Chart 4).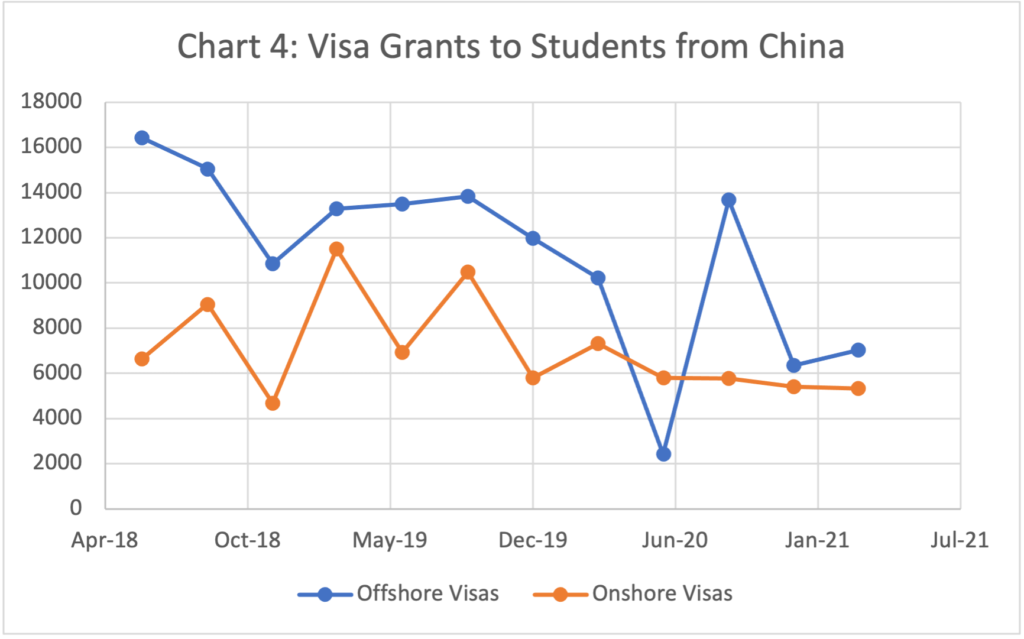 Offshore student visa grants to Chinese students are unlikely to return to 2018 levels. Onshore visa grants to Chinese students have also declined due to the decline in the stock of Chinese students in Australia although there will be some onshore student visa applications in the very large bridging visa backlog.
There is now also a substantial backlog of students from China who are outside Australia waiting to enter. This will result in a small surge in Chinese student arrivals when international border re-open but this will be a once-off phenomenon. Given Australia-China relations, students from China will inevitably seek other overseas destinations to study, including Europe, Canada and New Zealand. Applications for student visas from China will continue to trend down.
Temporary Graduates
Australia offers overseas students who successfully complete higher education and relevant VET courses in Australia the opportunity to apply for a temporary graduate visa. The overall number of temporary graduates in Australia had been rising for a number of years and has continued to rise during covid-19 as more students complete their courses.
However, the number of Chinese temporary graduates in Australia fell in the last two quarters to March 2021. Temporary graduate numbers generally rise in the March quarter of each year but fell in the March quarter of 2021. This may partly be due to slow visa processing by Department of Home Affairs but is more likely the result of the steady decline in Chinese overseas students in Australia. This trend is likely to continue whist Australia-China relations remain paralysed.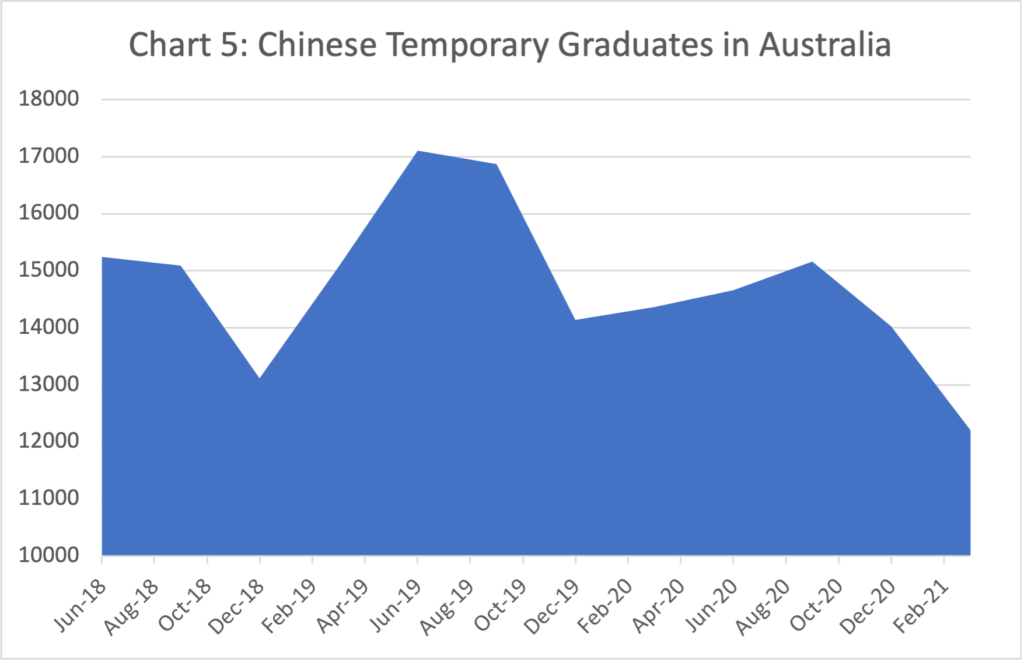 China Work and Holiday Agreement
The Work and Holiday (W&H) agreement with China provides for 5,000 first W&H visas per annum with no limit on second or third W&H visas.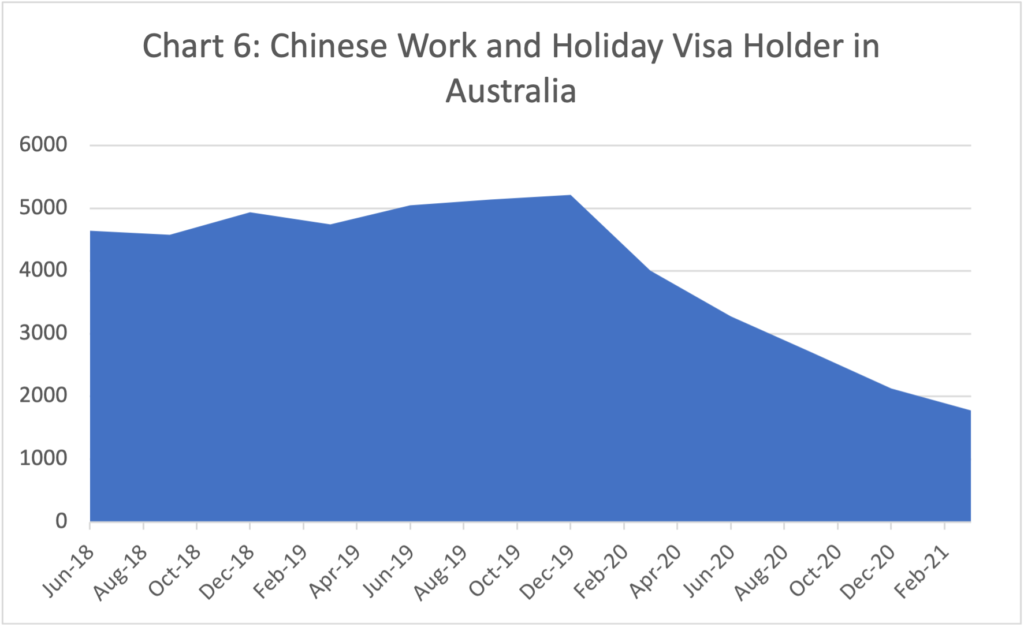 Since the start of covid-19 the number of W&H visa holders from China has steadily declined. Given relationships with China, this is unlikely to recover even after international travel resumes. There must be substantial uncertainty whether China or Australia will allow the agreement to continue.
Visitor Visas
Over the past 25 years, Chinese citizens have become Australia's biggest source of visitor visa holders of all types combined (tourist, business and family).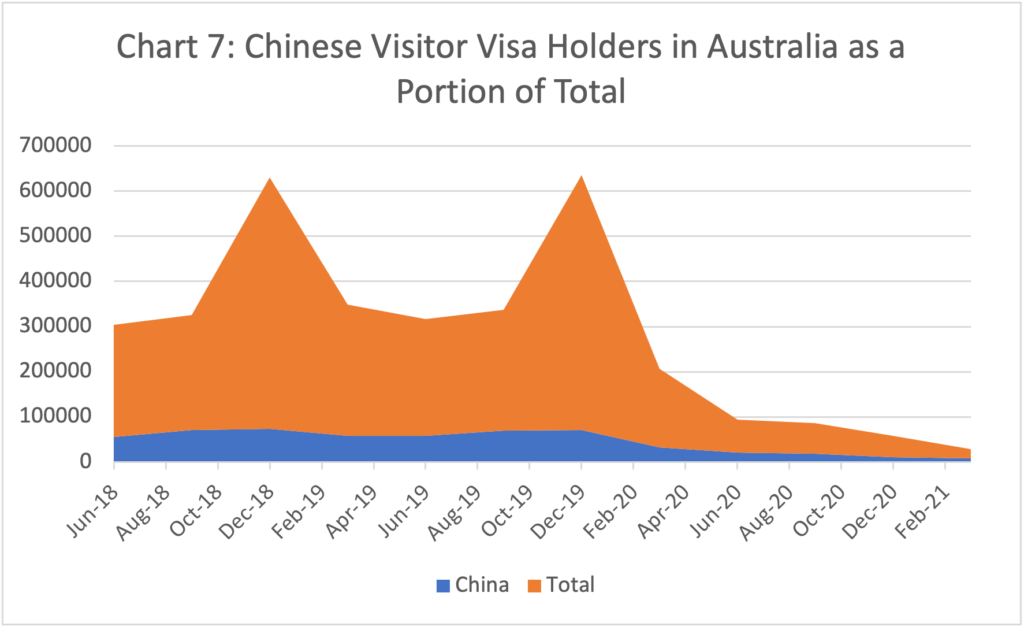 Visitors from China tend to remain in Australia longer with less fluctuation through the year compared to visitors from other nations. Visitors from China are also high yield – they have a high daily spend rate compared to visitors from most other nations. During non-peak periods, the number of visitor visa holders from China in Australia has averaged around 25 percent while during peak periods around December, this portion falls to a still very high 12 to 13 percent.  
The number of visitor visa holders from China in Australia has declined with covid-19 (see Chart 7). There must be real doubts whether visitor numbers from China will return to pre-covid levels once international border reopen given the deterioration in the Australia-China relationship.
Conclusion
In many of the last 25 years, China was Australia largest source country for migrants, students and visitors. That must now be in serious doubt once international borders reopen.
That will have serious consequences for both the forecast of net migration that the 2021 Budget is relying on as well as for Australia's international education industry and international tourist industry.