Climate change is already causing injuries, illness and premature death. This is only going to get worse. Health professionals, individually and collectively, are taking action to highlight the health problems, including being arrested for blocking development of the Adani mine.
Clermont is a sleepy country town about five hours north-west of Rockhampton, Queensland. One evening recently a friendly local shared with me a novel explanation for why solar energy is not a good idea. He said that if we install solar panels all over the world it's going to draw more energy out of the sun and that is going to warm the earth even more.
For those who don't know, Clermont is also about two hours south of where the Adani coal mine is beginning to be built. Banners proclaiming 'Start Adani now' and 'Adani gets our vote' are common across town. My conversation about solar panels was outside a pub in the main street where there was also a sign saying 'Protesters will not be served'.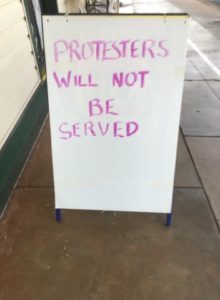 Photo: Lisa Fitzgerald
Stepping back, I should explain why I, a retired doctor from the Eastern Suburbs of Sydney, who was ineligible to be served inside, was outside the pub at 6.30pm.
I and six other health professionals had been progressively released from the police station twenty yards from the pub over the previous hour. We had all been arrested earlier in the day at the camp for workers building the Adani mine. From 5am to 10.30am we had blockaded the entrance, or more importantly from our point of view the exit, of the camp to prevent the workers leaving and beginning work for the day at the mine site.
The vast majority of Australians are now fully aware that climate change presents a serious threat to the environment – they can see the damage with their own eyes and many are experiencing the dangers. Most Australians also want action to limit global warming.
What is not so well known is that climate change is already a serious health issue in Australia and around the world and that as warming increases, as it inevitably will, the harms caused to people's health are only going to increase. As a result of climate change, extreme weather events such as heatwaves, bushfires, floods, droughts and cyclones are becoming more severe and are being experienced in places not previously exposed. The injuries, deaths and mental health consequences of these events are obvious to all.
Climate change is also having a less dramatic, more slowly developing but no less important impact on people's health through, for instance, exacerbations of asthma and other respiratory diseases and heart conditions, and changes in the distribution of infectious diseases such as malaria and dengue that are transmitted by mosquitoes.
Global warming will also reduce the supplies of healthy, nutritious crops, possibly leading to famines, and of clean, safe drinking water. These changes may precipitate tensions and even conflict between countries – indeed climate change is thought to have been involved with initiating the war in Syria. Shortages of food and water and sea level rise will also greatly increase the number of people who migrate as a result of changes to their local living conditions.
The threats to people's health are so severe that the highly respected medical journals The Lancet and the Medical Journal of Australia last month published major reports on climate change and health. And the Australian Medical Association, the Royal Australasian College of Physicians, the Australasian College of Emergency Medicine and the Australian College of Rural and Remote Medicine have all declared a health emergency precipitated by the climate emergency and have called for appropriate emergency action.
The principal cause of climate change is the burning of fossil fuels – coal, oil and gas. To prevent catastrophic climate change the world must rapidly reduce its dependence on these harmful fuels. One essential element of this transition is not to build any new coal mines. But Australia, which is still heavily dependent on coal for its own electricity supply, is also one of the world's largest coal exporters and is planning to export even more by opening new mega-coal mines in the Galilee Basin in Queensland. The Adani mine is the first one.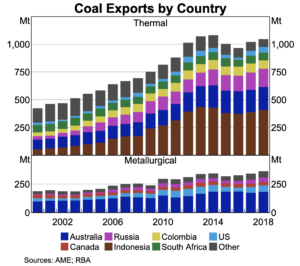 The seven arrested health professionals, and others who were not arrested, blockaded the workers' camp for several reasons. First, we believe that is essential that everything must be done to delay as long as possible the building of the mine and the shipping of yet more health-damaging coal to Asia. The longer it takes to build the mine the more time there is for political pressure to mount to stop the mine in its tracks.
Second, we want to highlight that climate change is a major health issue, already damaging human health and causing premature deaths, and that this will inevitably get worse. People value their own, their family's and their friends' good health. Being aware of the serious and unnecessary damage to human health caused by climate change is a powerful motivator for people to take political action.
Third, we wished to demonstrate, like the ex-fire chiefs who declared their position so forcefully last month, that Morrison's 'shouty Australians' are ordinary, responsible Australians who are truly concerned about and committed to protecting the health and safety of their fellow citizens. It is the members of the Federal government, individually and collectively negligent, who are the real threat to people's health and safety, not those who see highlighting important issues as one of the few ways left to generate the change desperately needed.
My solar power critic was a big supporter of Queensland coal – 'the cleanest coal in the world' he said. He thought it was an essential part of Clermont's, Australia's and the world's future. This is hardly surprising and is not to be condemned. Workers, families and communities in central Queensland deserve decent jobs, decent incomes and a decent future.
What should be condemned is the failure of Australian governments, particularly the current Federal government, to plan for the future. Their failure to respond to the risks presented by climate change; their failure to work with communities and local industries to prepare economic and social development plans not only for areas such as central Queensland but also for existing coal-dependent regions such as the Hunter and Latrobe Valleys. Plans that generate employment and are economically, socially and environmentally sustainable.
The crime of deserting workers and communities in central Queensland lies with weak and ignorant politicians, not with concerned protesters.
Peter Sainsbury is a retired public health doctor who is appalled by Australian governments' efforts to suppress dissent and peaceful protest.