This week's articles all have visual cues. Climate change is already affecting people's lives and it's not always the environment itself that causes the harm. In various ways though people are resisting, as demonstrated in three short videos from around the world. And finally, rising water temperatures are devastating salmon breeding and stocks in the Pacific.
The chart below does not refer to deaths from wildfires or floods or heatwaves or earthquakes or anything such as that. These deaths are the number of people murdered for defending their environment, their community, their culture. Most of the killings occurred in the Philippines, Columbia, India, Brazil, Guatemala and Mexico. Only about 10% resulted in a conviction.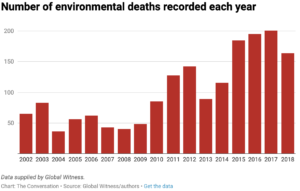 The people murdered were just like the three Indigenous resistance leaders from Brazil and Columbia in the 3-minute video below. People who are motived by a sense of responsibility to their country, their culture and future generations.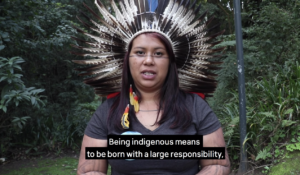 Fortunately, Evelyn Cahill and Lucy Carlisle have not needed to be quite so heroic in their commitment to the environment. Evelyn and Lucy directed, produced, wrote and starred in their 3-minute film 'Polar Bears Need their Ice, Ice Baby' for the Sleek Geeks Science Prize at the Australian Museum's 2019 Eureka Prizes. The category recognises primary school children who communicate a scientific concept in an engaging way. Using air conditioners, polar bears, glad wrap, cardboard and Lego, Evelyn and Lucy explain how fossil fuels cause global warming, the albedo effect and what we need to do to control climate change.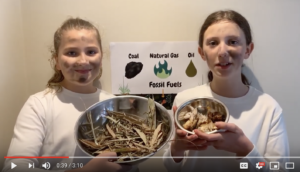 The next video is somewhat longer, 14 minutes. It describes the fightback by residents of western Turkey against the destruction of people's health, livelihoods, communities, histories and traditions, and fertile agricultural lands for coal mines and coal-fired power plants. A graphic illustration of Glenn Albrecht's concept of solastalgia – the homesickness you have when you haven't left home.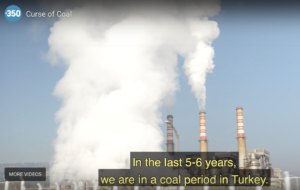 Finally, an explanation in the article containing the infographic below of 'why it's not as simple as that' for those who ignorantly opine that fish should just swim to cooler water as climate change increases and their usual homes get warmer.