Hunger is on the increase again and the world will need yet more food over the next three decades. How can we properly feed 10 billion people and save the planet? Do the solutions lie in technology, behaviour change or socio-economic change? While the Australian government continues to ignore climate change, state, territory and local governments, of both political persuasions, are getting on with the job in multiple ways. As is Kenya, but not without some policy contradictions. Feral cats kill millions of Australian native animals every day. Endangered species are being released into feral predator-free compounds.
Both the number of people and the percentage of the world's population who are suffering from hunger decreased for a decade (largely due to progress in China). However, according to reports from the UN and the World Resources Institute (WRI), the trends have reversed in the last 4 years and there are currently about 820 million people around the world who are malnourished and a total of nearly 2 billion who suffer moderate or severe food insecurity. Complex interactions between economic problems, conflict and climate change create the conditions for high national and regional rates of hunger, with Africa and Asia most affected. With the world's population expected to increase by about 25% by 2050 the demand for nutritious food is bound to increase (for instance, according to the WRI calories from crops will need to increase by 56% by 2050 compared with 2010).
So how can food systems respond? The UN report emphasises a 'system that first protects the planet and second provides nutritious and diverse food' and helping small-scale farmers become better equipped to withstand weather extremes. The WRI report (interestingly produced with different branches of the UN) identifies 10 breakthrough technologies that will contribute to achieving five goals that will 'help feed the world without destroying it': reduce growth in (food) demand and decrease waste; increase food production without expanding agricultural land; increase fish supply; reduce agricultural greenhouse gas emissions; and protect and restore natural ecosystems. I must confess that I was surprised by the first breakthrough technology: plant-based meat. Yes, producing beef and lamb is resource-intensive and produces tons of greenhouse gas emissions. No, all the world cannot eat as much meat as rich 'westerners' eat. Yes, we need to eat much more plant food. But really, using plants to produce 'meat' that satisfies carnivores is a priority?? Can't say I'm that keen either on spray-on films and nanotechnology to extend the shelf-life of fruit, or CRISPR technology (a form of genetic modification) to increase crop yields. 'Magic bullet' approaches such as these completely fail to tackle the systemic social and political economy issues that must be addressed in concert with tackling climate change and hunger. Talking of which …
… beyond the food system, what about the deeper issues, mentioned above, of climate change, conflict and economic stagnation? And underlying those, the capitalist system that has created the problems the world currently faces. Putting ideology aside, does the economic and social system that we call capitalism possess the necessary tools to get us out of this mess? Or do we need, as some argue, to transition to a radically different economic system such as ecosocialism? If so, what might it look like and how would we get there from here? Hans Baer provides a brief introduction to this dilemma, concluding 'Even though some version of green capitalism might bring down greenhouse gas emissions to some degree, it would not address the social inequalities, limited democracy, militarism, and the threat of nuclear warfare that are part and parcel of global capitalism'. You don't need to be a card-carrying commie to get something out of Baer's piece.
With little hope of the federal government taking any effective action on climate change or energy policy in the next three years, concerned state, territory and local governments are pursuing their own courses. For example, Wagga Wagga council has declared, not to everyone's pleasure, a climate emergency; Sydney's Inner West council has fully divested from fossil fuels; South Australia's electricity supply will be 100% 'net' renewable by 2030; the NSW government has initiated an Enquiry into the Sustainability of Energy Supply and Resources; and the NT government is planning to build the world's largest solar farm and export electricity to Singapore. Not surprisingly, the situation is similar in the USA: Charlottesville City council is divesting from fossil fuels and weapons; and the US Conference of Mayors has resolved to oppose any limits on cities' ability to sue fossil fuel companies for damages and to request Congress to put a price on carbon.
A couple of interesting stories from Kenya. First the good news. Kenya has officially opened Africa's largest wind farm (310MW) and is planning to be powered entirely by renewables by 2020 – currently renewables supply about 70%. Now the confusing news. Plans for a new, largely Chinese-financed coal fired power station have been put on hold after community activism led the National Environmental Tribunal to cancel the licence given by the National Environmental Management Authority and ordered the proponents to conduct a new environmental impact assessment. And to top it all, the Chinese Ambassador said he was opposed to coal power and that the Kenyan people must decide if they want the plant of not. Don't get me wrong, I'm not poking fun at anyone here. Just indicating first that countries with much lower emissions than Australia aren't taking the 'too small to matter' approach, and second that all nations face dilemmas and contradictions. In a delightful swipe at 19th and 21st century colonisation, an alliance opposing the development of coal power in Kenya is called DeCOALonize.
Feral cats alone kill 3 million native Australian mammals, 2 million reptiles and 1 million birds every day (Cats in Australia). Australian Wildlife Conservancy is reintroducing the Mala (Rufous Hare-wallaby), now extinct in the wild, into Australia's largest feral predator-free area at Newhaven in Central Australia.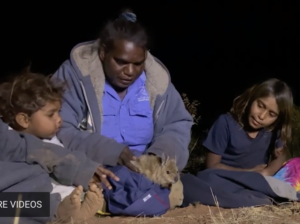 Endangered Mala being released at Newhaven