It's not difficult knowing what to do to prevent an environmental and human catastrophe. What's difficult is making it happen and starting it now, especially in Australia. Today's articles highlight some recommendations for governments. Finally, a couple of wins in court, and reproduction and Raymond Chandler.
It's difficult to turn (or click on) a page at present without reading someone's recommendations or predictions for the future of society, the economy, the family, work, education, the environment etc. The Australian government remains determined to flog our fossil fuel stocks until the coal and gas, the environment and most of humanity are all gone. Untroubled by the facts about natural gas's high greenhouse gas emissions, a gas-led recovery is the government's current mantra. They will throw money at it and ensure that developments are unencumbered by those perennial terrible twins red-and-green-tape, pesky environmental legislation or any consideration of community views. Not that they will be forsaking coal, just not shouting its fictitious benefits from the rooftops at present. For more environmentally and socially aware views, below are summaries of a couple of reports.
Oil Change International (OCI) has published five reasons why governments must grab the opportunities provided by COVID-19 and the collapse of demand for, and price of, oil to actively manage the phase-out of fossil fuel production. This may be governments' 'last chance' to keep global warming under 1.5oC and avoid the chaos associated with uncontrolled warming, and invest in a just transition to clean energy and an environmentally sustainable economy: 'if governments leave the "when" and "how" of the end of oil and gas up to tumultuous markets, the outcome will not be good for either people or the planet'. OCI's five reasons for government action now are:
Staying within 1.5oC of warming requires rapid systematic change across the whole of the economy and society. Greenhouse gas emissions must decrease by at least 7.6% per year but oil, gas and coal production is set to increase by 120% by 2030. The market will not deliver the change required; only governments can ensure a rapid and sustained decrease in fossil fuel production.
Markets will not deliver a just transition for workers and communities affected by the changes. For example, in the USA between 2010 and 2019 oil and gas production increased by 80%, while jobs per barrel decreased by 40%. No just transition there.
Low oil prices may slow current exploration and development but they don't stop long term oil industry expansion even if it creates financial pain for the industry. 'Stranded assets can turn into carbon "zombies", oil and gas fields that never turn a profit for investors but nonetheless keep producing fossil fuels.' Only a government-led managed decline of the industry can keep warming under 1.5o
OPEC may masquerade as a cooperative group of oil producing nations but they don't act in concert. If every oil producing country tries to maximise its oil revenue before the industry dies, it will be a recipe for climate catastrophe. International cooperation among governments is essential to manage production cuts equitably among rich (e.g. USA, Norway and Saudi Arabia) and poor (e.g. Bolivia, Nigeria and East Timor) oil producing nations.
Fossil fuel phase-out plans must support a Just Recovery. This means that as governments plan their post-COVID economic recovery (i.e. now), they must listen to civil society organisations, not the oil and gas industry. They must 'build back better'.
Second, those revolutionary socialists at McKinsey have been doing the sums on the requirements for the world to keep warming under 1.5oC. They developed three scenarios, all of which would 'require immediate, all-hands-on-deck efforts to dramatically reduce GHG emissions', and all requiring a reduction in global CO2 emissions from 41 gigatons in 2016 to 19 gigatons in 2030, and net zero by 2050. The scenarios differ mainly in the rates of decarbonisation of the transport and electricity generation sectors but all scenarios require rapid shifts in agriculture, forestry and industrial processes, and widespread electrification.
Looking just at McKinsey's 'significant and steady decarbonization' scenario, all sectors of the economy must reduce their emissions by at least 30%, with the largest absolute reductions occurring in the electricity (12.4 down to 3.0 Gt), deforestation (5.6 to 1.3 Gt), industrial (11.2 to 7.3 Gt) and transport (7.9 to 5.4 Gt) sectors. Global requirements by 2030 to achieve these reductions include: deforestation must fall by 75%, reaching almost zero by 2050; sales of petrol- and diesel-driven vehicles must fall by 50%; coal powered electricity generation must decline 70-80%, and gas powered 30%; and annual construction of solar and wind capacity must be eight and five times larger respectively than today. Additionally, an area twice the size of Tasmania must be reforested every year, and by 2050 an area equivalent to Queensland and the Northern Territory would need to have been reforested.
Those goals seem pretty challenging to me but McKinsey concludes that a 1.5 degree pathway is still 'technically feasible'. However, the sums are 'daunting [and it] would require dramatic emissions reductions over the next ten years – starting now'. Echoing the OCI report, coordinated government action will be essential, including economic incentives for companies to invest (in the right things of course), a markedly different regulatory environment and carbon markets. Are you reading this, Scotty?
The bottom line keeps coming out the same whoever does the sums, whichever way they do them, with and without COVID. If we want to avoid the worst consequences of climate change, we must stay under 1.5oC of global warming. To achieve that we have to reduce total greenhouse gas emissions by at least 7% per year, starting today. If we simply hold emissions at their current level and delay reductions until 2025, the rate climbs to 15% per year.
As you are probably aware, the climate change Conference of the Parties (COP26) scheduled for Glasgow in November this year has been postponed. It has now been rescheduled for the first two weeks of November 2021, still in Glasgow. To all intents and purposes, a year will be lost in promoting (not necessarily achieving) greater international climate action. It certainly gives the Australian government another year of doing next to nothing to reach their completely inadequate Paris targets without facing the international music.
In late breaking news, Australia's fragile environment has had two great wins in court this week. First, the Federal Court ruled in favour of the Friends of Leadbeater's Possum to protect from logging by VicForests habitats of threatened Leadbeater's Possum and Greater Glider in Victoria's Central Highlands. Second, Victoria's Supreme Court rejected a challenge to Parks Victoria's feral horse management program in Kosciuszko's Alpine National Park. This is great news for the Park's native animals and plants.
In a good year the male cones of a deodar tree (Cedrus deodara) can produce 14 billion pollen grains. Totally reliant on the wind for pollination (like all conifers), the deodar releases them all together in a huge yellow cloud. Sydney's Royal Botanic Garden website explains how a female cone on another deodar tree can catch and give the stamp of approval to a living deodar pollen grain but reject a dead grain or pollen from other species or a speck of dust, any of which might clog up the female sex organ and waste an egg. It's a remarkable story of chemistry, physics and engineering, with a clue in the picture below, from a species of Juniper rather than a deodar. (I'd never heard of a deodar until I came across mention of one a few years ago in the second paragraph of 'The High Window' by Raymond Chandler. If you haven't read any Chandler, give him a go. He has a great turn of phrase and his hero, Philip Marlowe, is wonderfully laconic.)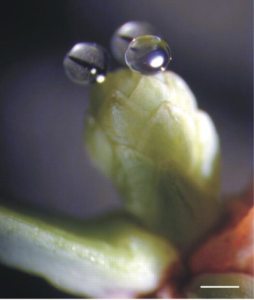 The white line represents 0.3mm.