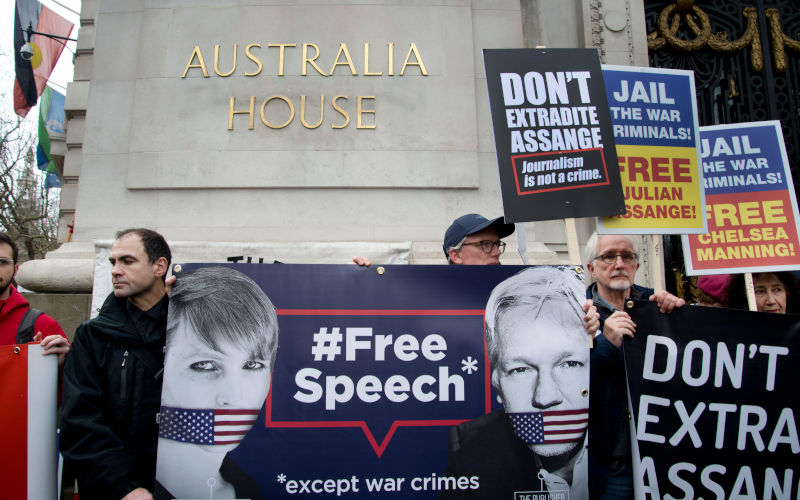 Julian Assange could hardly be blamed for considering a possible plea deal that would alleviate the immense suffering he has endured since becoming the object of state persecution. Terms less brutal than those he potentially faces – anywhere up to a 175-year prison sentence in the cell of a US supermax – can only be seen as appealing.
But one of the world's foremost political prisoners, and his legal team, may likely be careful about it.
Plea deals are nasty creations, designed to demean the accused and secure leverage for the accuser. Much in the same fashion as the sordid treatment of David Hicks, an Australian national shoved, prodded and encouraged into an agreement on terrorist charges in a foreign jurisdiction, a thick rumour is doing the rounds that Julian Assange may well be availed of a similar arrangement.
The WikiLeaks publisher, currently the most famous resident of Belmarsh Prison, faces 18 charges, 17 nonsensically based upon the sharp-edged US Espionage Act of 1917. Having exhausted most of his legal options, he faces extradition to the United States from the UK.
Australia's role in the whole affair has tended to be minimal, generally as a notetaking spectator, too afraid to barrack for the cause of one of their most prominent nationals. The current government claims to have done more than its predecessor. Prime Minister Anthony Albanese has even publicly expressed his frustration at the lack of progress in finding a "diplomatic solution" to Assange's plight. But such frustrations have been tempered by an acceptance that legal processes must first run their course, a rather shallow way of saying that we await instructions.
What shape that diplomatic solution will take is unclear. On August 14, the Sydney Morning Herald, drawing upon comments from US Ambassador to Australia Caroline Kennedy reported that a "resolution" to Assange's plight might be in the offing. "There is a way to resolve it," the ambassador suggested. The nature of such a resolution might involve a reduction of any charges in favour of a guilty plea, subject to finalisation by the US Department of Justice. In making her remarks, Kennedy clarified that this was more a matter for the DOJ than the State Department or any other department. "So it's not really a diplomatic issue, but I think there absolutely could be a resolution."
In May, Kennedy met members of the Parliamentary Friends of Julian Assange Group to hear their concerns. The previous month, 48 Australian MPs and Senators, including 13 from the governing Labor Party, wrote an open letter to the US Attorney General, Merrick Garland, warning that the prosecution "would set a dangerous precedent for all global citizens, journalists, publishers, media organisations and the freedom of the press. It would also be needlessly damaging for the US as a world leader on freedom of expression and the rule of law."
In a discussion with The Intercept, Assange's brother, Gabriel Shipton, observed that, "The [Biden] administration appears to be searching for an off-ramp ahead of [Albanese's] first state visit to DC in October." In the event one wasn't found, "we could see a repeat of a very public rebuff delivered by [US Secretary of State] Tony Blinken to the Australian Foreign Minister two weeks ago in Brisbane."
That rebuff was particularly brutal, taking place on the occasion of the AUSMIN talks between the foreign and defence ministers of both Australia and the United States. On that occasion, Foreign Minister Penny Wong remarked that Australia had made its position clear to their US counterparts "that Mr Assange's case has dragged for too long, and our desire it be brought to a conclusion, and we've said that publicly and you would anticipate that that reflects also the [position] we articulate in private."
In his response, Secretary of State Blinken claimed to "understand" such views and admitted that the matter had been raised with himself and various offices of the US. With such polite formalities acknowledged, Blinken proceeded to tell "our friends" what, exactly, Washington wished to do. Assange, he went on to explain, had been "charged with very serious criminal conduct in the United States in connection with his alleged role in one of the largest compromises of classified information in the history of our country. The actions that he has alleged to have committed risked very serious harm to our national security, to the benefit of our adversaries, and put named sources at grave risk – grave risk – of physical harm, and grave risk of detention."
Such an assessment, lazily assumed, repeatedly rebutted, and persistently disproved, went unchallenged by all the parties present, including the Australian ministers. It was a shameless exercise of connivance. Nor did any members of the press deem it appropriate to challenge the account. The unstated assumption here is that Assange is already guilty for absurd charges, a man condemned.
Any offer of adjustment and reduction regarding the charges and ultimate sentence pronounced upon Assange must be treated with tingling disdain. The US government is intent on revenge upon him, wishing to deter all those seeking to publish US national security information. Don Rothwell, professor of international law based at the ANU, observes that any plea deal may well take into account the four years Assange spent in UK captivity, but is unlikely to either feature a complete scrapping of the charges, or exempt Assange from travelling to the US to admit his guilt. "It's not possible to strike a plea deal outside the relevant jurisdiction except in the most exceptional circumstances."
Were Assange to return to Australia, a couple things could take place. He could stand as a powerful symbol of a publisher harmed by state brutality yet talismanic, a boon for political debates on power, accountability and transparency. But behind that lurks a danger: that he will be prevented, under Australia's own harsh national security laws, from ever returning to publishing the material that made his name. Australia's own journalists know only too well the risks they face in publishing material regarding misdeeds and atrocities. The call of the prison cell may never be far for the WikiLeaks founder.
The broader implications of a possible plea deal should also be considered. Beyond the obvious point that accepting it would be humanly understandable given the extent of suffering Assange has endured for over a decade, there is a central US strategy at play. Having exposed, critiqued and condemned the predations of power, Assange may be coerced to an admission that he was guilty in pursuing that object. In so doing, the United States' message will be clear: the publisher be prosecuted, persecuted and be damned, wherever you are in the world.