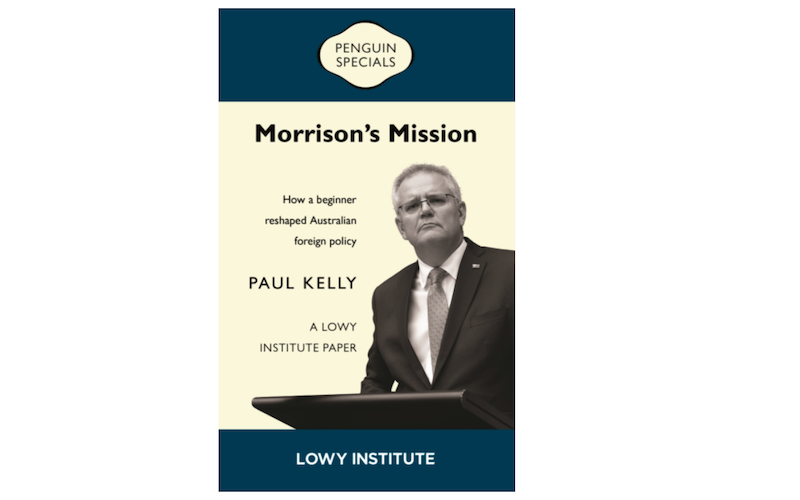 Geopolitics Recent rhetorical pyrotechnics reveal the dissolution of any prudent, rational, bipartisan dimension in the Morrison government's China policy.
Until mid-2021, Morrison refused to echo his ''wolverine'' backbenchers, cabinet colleagues and various advisers in and out of government.
He said he would not indulge the ''loud atmospherics'' of the China debate.
Now, he invites criticism from Beijing to prove his tough-on-China credentials. He deploys the very epithets of a Cold War mindset he once eschewed.
But witness the contradictions in Morrison's tactics.
The Prime Minister calls for national unity amid strategic uncertainty, yet wilfully plays the China card to sow discord, stoke fear and engineer partisan division where none exists.
He spruiks for greater military preparedness and extols the ''urgency of doing'', yet extends the capability gap in the nation's defences to the 2040s.
He claims a ''Morrison doctrine'', yet sources it to a 2002 speech by former US national security adviser Condoleezza Rice: a brand of American neo-conservatism that inspired disaster in Iraq.
In his recent Lowy Institute analysis, Morrison's Mission, journalist Paul Kelly depicts the Prime Minister as an activist foreign policy leader reshaping Australia's international outlook.
But the picture that emerges from Kelly's portrait is equivocal.
Kelly awards Morrison full marks for resilience against Chinese economic coercion, a stance that has backfired badly on Beijing. It is Chinese behaviour that has prompted the coalition-building with India and Japan required to constrain the troubling manifestations of Xi Jinping's brand of Chinese exceptionalism.
But Kelly also underlines the risks and limitations in Morrison's approach. He highlights his tendency to emotionally overreact and compulsive over-selling of initiatives. The handling of the French over the cancellation of the submarine deal revealed the ''flaws in his personal diplomacy''; his inflation of AUKUS was ''unwise''. Kelly says the durability of any ''Morrison doctrine'' – if there is one remains ''to be tested''. In a particularly revealing disclosure, Kelly reveals that the AUKUS agreement remains unsigned. That it was not inked during Morrison's visit to Washington last September was apparently ''contrary to Australian expectations''.
As Kelly concludes, the Prime Minister's ''activism does not constitute a strategy'', finding him bereft of any plan to re-establish a functioning relationship with China.
Here lies the true damage of last week's destruction of a bipartisan approach to China. Even if the responsibility lies as much with Beijing to return to a working relationship, the government recklessly trashes the national interest – either for its next term or for a new Labor government.
But Labor, swallowing the bait, joined the frenzy. Some Labor parliamentarians, and former prime minister Kevin Rudd, attacked the government for overseeing the granting to a Chinese-owned company of a 99-year lease on the Port of Darwin, for pulling the plug on the first iteration of the Quad, even for signing the Free Trade Agreement with China and elevating the relationship with Beijing to a ''comprehensive'' strategic partnership. Labor leader Anthony Albanese then repeated the insult that Morrison first threw at him, labelling the Prime Minister the real ''Manchurian candidate''.
It is even more galling to watch this irresponsible, cavalier politicking as Ukraine is poised on a knife's edge. Some appear relaxed about a shooting war, which few could have forecast a year ago. It is enough to point out that Xi will monitor the implications of this episode for allied resolve and American credibility. But any Russian invasion of Ukraine, combined with more Chinese flexing in the Taiwan Strait, will mix a potent cocktail for a khaki election in Australia.
The unedifying political squabbles of the previous week only distract Australia from the seriousness of the strategic challenge. As the two sides bicker, a Chinese navy vessel aimed a laser beam at an RAAF surveillance aircraft in Australia's Exclusive Economic Zone.
The conventional wisdom is this use of national security for domestic gain has its origins in the Cold War. That's true, but last week's rhetorical pyrotechnics mirror more closely those preceding the 1937 federal election. Then Labor leader John Curtin was desperate for a debate on national security, free of the emotional trammels that had plagued him and his party over the previous two decades, especially since the poisonous debate over the conscription referendums of 1916-17.
Those pleas fell on barren ground. A year earlier, Curtin had questioned the viability of imperial defence, expressing public doubts about Britain's capability to come to Australia's aid in the event of a simultaneous war in Europe and the Pacific. Never mind that Curtin's warning proved tragically accurate when Singapore fell in February 1942: his stance attracted the charge of ''disloyalty'' to Britain and the Empire.
During the subsequent election campaign, prime minister Joe Lyons depicted Curtin's ''policy of isolation from Great Britain'' as ''suicidal''. And he was backed by The Sydney Morning Herald, which thundered that ''Mr Curtin would leave the seas open to our enemies, deprive us of the right to any succour from Great Britain and her navy, and wait for invasion to prove that a fool's paradise is only the ante-chamber to a wise man's hell''.
Yet, Curtin it was who shouldered national leadership in the darkest days of late 1941 and early 1942. He had restored Labor's credibility on foreign affairs and defence. He did so by espousing a practical patriotism and by articulating an affection for the country and its wellbeing that wasn't strangled by a Union Jack.
This article is reproduced with permission. It was first published in AFR on 21 February 2022.