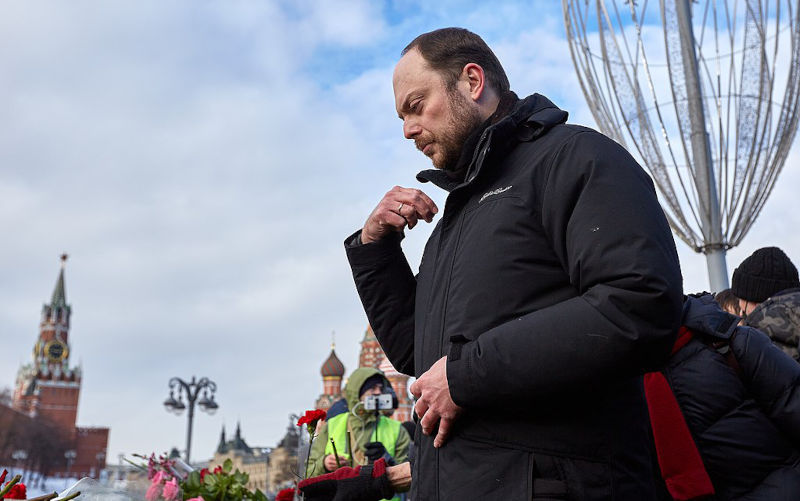 For denouncing Russia's war in Ukraine, the brave dissident Vladimir Kova-Murza has been found guilty of treason and sentenced to twenty-five years in prison. This savage punishment, the longest sentence given to any opponent of Putin, shows the Kremlin waging cruel authoritarianism as their preferred means of government.
This sentence on a dissident who had already been imprisoned for challenging Putin, and in 2015 and 2016 had survived two attempted poisonings, offers several lessons and warnings.
In authoritarian regimes, if citizens disagree openly, extremes of punishment are certain.
There's also a warning for commentators on the Ukraine war who might be tempted to be Russian apologists. Identifying NATO/US/Ukrainian abuses of power should not be used to deflect attention from the savagery of the Putin regime. We owe it to Vladimir Kova-Murza to say so.
The courage of Kova-Murza and dissidents like him highlight the significance of courage in public life.
Numerous Russians have been sentenced for openly opposing Russia's war in Ukraine. In December 2022, opposition politician Ilya Yashin was imprisoned for eight and a half years on charges of discrediting the Russian Army by spreading false information. March 2023, a Russian court sentenced Alexei Moskalyov to two years in prison because his thirteen year old daughter Maria had drawn anti-war pictures. After her father's arrest, Maria was reported to have been placed in an orphanage.
In a barrage of publicity about atrocities in Ukraine, it's easy to forget that punishment for criticising Russia at war follows years of violent suppression. Opposition leader Alexei Navalny can explain. Having survived poisoning in Siberia, and already serving three and half years for allegedly breaking bail conditions, in March 2022 a new trial sentenced the opposition leader to nine years in a penal colony for fraud and contempt.
The fate of Putin critics shows lives at risk if Kremlin policy is criticised. In 2003, Russian politician Sergei Yushenko, leader of a fledgling party Liberal Russia, was shot dead as he gathered evidence to prove that Putin was behind the bombing of an apartment block.
In September 2001 the crusading journalist Anna Politkovskaya wrote Disappearing People. In October 2006 she was shot dead in the stairwell of her Moscow apartment.
In July 2009, Natalia Estemirova, a journalist friend of Politkovskaya was kidnapped outside her home before being shot in the head and dumped in nearby woodland.
On November 1 2006, in London's Millennium Hotel, Putin critic Alexander Litvinenko drank green tea left behind by Russian visitors. The teapot had been poisoned with polonium 210, a rare radioactive isotope. Litvinenko died on November 23.
On February 27 2015, two days before he was to lead a protest against Russia's war in Ukraine, opposition leader Boris Nemtsov was gunned down outside the walls of the Kremlin.
In 2008, lawyer Sergei Magnitsky, having uncovered evidence of corruption in the Russian Interior Ministry, was held in detention, beaten up by police and denied medical help. He died in custody in November 2009.
To comprehend present day events in Russia, it should be obvious that reactions to the courageous Vladimir Kova-Murza mirror the elimination of other dissidents. A year ago, before his arrest and detention, Kova-Murza described the Kremlin as a 'regime of murderers', and implied that Putin's Russia was descending to the Stalinist era of government by brutality and fear.
From his prison cell, Alexei Navalny says that the 25-year sentence on Kova-Murza was 'illegal unconscionable and simply fascist, an act of revenge for the fact that he did not die from earlier poisonings.'
Kova-Murza's wife Eugenia praises her husband for his courage, consistency and honesty.
Vladimir has blamed himself for only one thing. 'I failed to convince enough of my compatriots and politicians in democratic countries of the danger that the current Kremlin poses for Russia and for the world.'
Politicians, journalists and diverse authors might imitate aspects of the Navalny, Kova-Murza courage and heed their warnings about the spread of a brutal authoritarianism. Instead, in search of so-called balanced reporting, inhibitions caused by awareness of democratic countries' lousy human rights record, appear to turn some writers into apologists for Russia in Ukraine, or make them willing to overlook events in Russia.
In the Pearls and Irritations issue of December 20 last year, I wrote about the humanity of Nobel recipients, Alex Bialiatsky, Yan Rachinsky and Oleksandra Matvichuk, whose conduct stood in stark contrast to Putin's bestiality. A couple of international relations specialists whom I usually respected, judged the article one sided, and implied that if I had been equally critical of NATO and the US, comment about Putin bestiality would have appeared 'more balanced.'
Opposition to President Putin's policy of eliminating critics must include support for the courage and principles of Russian dissidents, but speaking truths about horrendously abusive power is not achieved by balance.
The names, lives and courage of Russian dissidents deserve to be remembered. Vladimir Kova-Murza, Alexei Navalny and their slain predecessors have not asked for sympathy. They have asked that people who do not live in dictatorships should watch Putin policies very carefully.