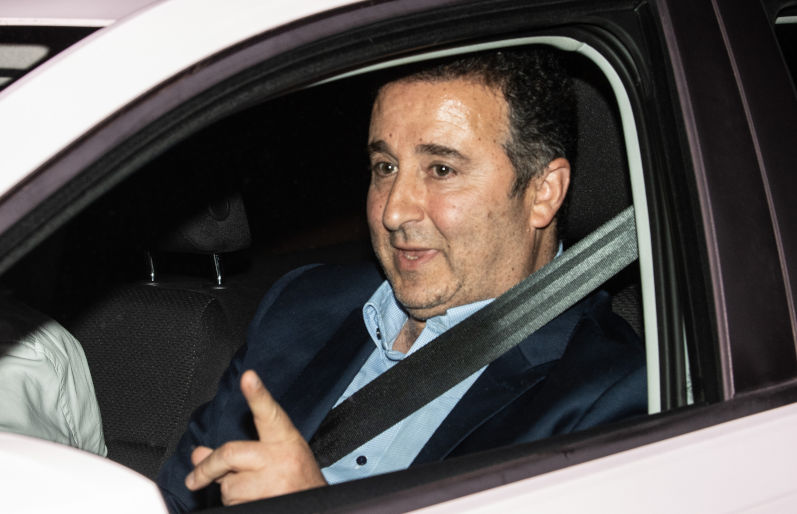 On October 19, before a crowded public gallery and in a packed Upper House of the NSW parliament, Labor MP Shaoquett Moslemane gave his valedictory speech. He did so with dignity, with no bitterness and with gratitude to his many supporters. His standards in public life have been impressive. His treatment by powerful operatives has been disgraceful.
Via the secret trickery of senior members of the NSW ALP, Shaoquett had been ousted from nomination for election to an Upper House position in the forthcoming State election, but this was the last act in years of political bastardry. It is salutary to know why.
Of Arab descent, Shaoquett was the first Moslem MP in the State Parliament. He supported the human rights of Palestinians, had made positive observations about the Chinese government's early handling of the Covid pandemic and had championed the interests of diverse community groups, including citizens of Chinese origin.
In early 2020, members of Murdoch sponsored media and of the Zionist lobby in NSW, contributed to a 'let's get him campaign.' In an atmosphere of paranoia encouraged by the Morrison government's foreign interference legislation, citizens could be placed under suspicion if they supported Chinese community members, Palestinians or were of Islamic faith. Moslem MP Shaoquett was an easy target.
Between March 31 and April 10 2020, as though in search of sensation, journalists and broadcasters produced 32 articles attacking Shaoquett for alleged disloyalty to Australia, 12 items from the Daily Telegraph, 10 from the Sydney Morning Herald, 7 from Sky News, Radio 2GB and 2 from Jewish News.
Peta Credlin of Sky News joined radio shock jocks Ray Hadley, and Alan Jones in attacks on Moselmane. Aided by comments from Peter Dutton and Israel supporting Labor MP Walt Secord, these individuals' taste for character assassination knew few limits.
On April 2, needing to show how to stifle signs of 'foreign interference', Peter Dutton spoke to Radio 2GB's Ray Hadley, 'You can't have an allegiance to another country and pretend to have an allegiance to this country at the same time.'
Hadley amplified this hint that the Labor MP was a traitor. As leader of the head kicking brand of journalism, he demonised Moslemane and influenced the attitudes of ALP leaders. He described the MP, 'a rather regrettable fellow', 'this jerk', 'a train wreck', 'a Chinese PR spokesperson', 'a lunatic' 'a low filthy bludger,' 'this low life.'
On April 3 2020, in his interview with Labor leader Jodi McKay, Hadley announced that the people of NSW 'expect leadership from you and they want this bloke sacked… Can you shut him up.' Unable to stand up to the shock jock, Mckay said she would comply. 'Ray his conduct has been appalling.'
On April 7, Moselmane resigned as Assistant President of the NSW Upper House but the bullies persisted. The next development was more characteristic of a dictatorship than a democracy.
High on their James Bond like concern that Chinese government agents may have infiltrated Shaoquett Moselmane's office, Canberra politicians, members of the AFP and ASIO officials planned a raid on Moslemane's home.
At 6 am on Friday June 26, a large media contingent waited outside Shaoquett's house ready to welcome the arrival of 40 Federal police. In two shifts of 20 each, the AFP stayed for 19 hours, told Shaoquett that he was not suspected of any wrong doing, but searched his home, his car and traumatised his wife, his elderly parents and young son.
A couple of days later, in her contribution to paranoia about Australia's security, State Labor leader Mckay suspended Moselmane from parliament and from membership of the Labor Party, each act conducted without a shred of evidence against the MP or his staffer.
On October 22 2020, the NSW Parliamentary Privileges Committee exonerated Shaoquett. He returned to the Labor party and to parliament.
Labor leaders McKay and Minns, journalists and senior AFP officers were never brave enough to apologise for their actions.
In Senate Estimates hearings in late 2020, the AFP Commissioner Reece Kershaw was asked who was involved in freezing Moselmane family bank accounts, who had tipped off the media about the police raid. Concealment remained the name of the game. Kershaw needed to 'take such questions on notice.' No-one will ever receive answers to those questions.
This story of struggle between principled conduct and political trickery teaches several lessons. To restore trust in politics and civility in public life, there must be no repetition of the persecution of a citizen who committed no wrong.
There has been a complete mismatch between the selfless, principled conduct of Shaoquett Moselmane, who championed disadvantaged communities in Australia and internationally, and the shameful behaviour of those who scapegoated him but were never sufficiently brave to apologise.
Even some supporters of Shaoquett Moslemane may argue it is best not to expose the cowardly behaviour of powerful people, better to let sleeping dogs lie. However, the attacks on this unusual politician have frightening implications. His experience suggests that in public life, being trustworthy, principled and courageous may count for little.